Date: 07.14.2016Modified: 05.26.2023
eMagicOne introduces new Store Manager version compatible with Magento 2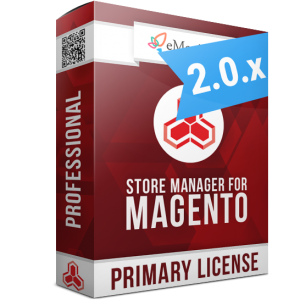 Date: 07/12/2016
eMagicOne, the company delivering innovative eCommerce management solutions, is proud to announce stable release of new Store Manager for Magento version (v.3.0.0) fully compatible with Magento 2. It has been verified and tested since early Beta and now the software can be efficiently used for managing both 1.x and well as 2.x Magento stores from the same installation.
Our team has worked hard to make new version of Store Manager for Magento 2 both functional and easy-to-use for each and every client. The software provides online merchants the facility to quickly perform mass product data and inventory updates using Multi-editors as well as enhanced and flexible import/export tools. It also enables users to smartly manage customers' accounts, create orders offline using POS (with the help of barcode scanner), diagnose Magento for issues and fix them, make use of helpful reports for planning marketing campaigns etc.
There are more functional capabilities available in the application. The complete feature-list you can check at:
mag-manager.com/product-information/features/
Apart from the advanced facilities the software has already offered to its clients, the new version has introduced a few more important enhancements like:
Сompatibility with Magento 2.0.x (in addition to previously supported 1.x versions)
New type of connection with Magento 2 database via Magento Store Manager Connector is now available
Support of new bridge.php version (7.56) that is used for re-index in Magento 2.0.x.
Magento order export to XML, HTML and XLS files options have been added (orders CSV import/export has been added in previous versions)
Now in invoice generated via Store Manager will be included ordered products with custom options
More info on latest changes you can read at this page -
mag-manager.com/discover-the-latest-updates-of-store-manager-for-magento/
Moreover, with our solutions online entrepreneurs can make their Magento stores more robust and productive by integrating with various sales channels and systems using Store Manager addons (also compatible with Magento 2 and earlier versions) like: eBay Integration, Amazon Integration addon, QuickBooks Integration etc. The full list of plug-ins you can find at:
mag-manager.com/product-information/store-manager-magento-addon/
eMagicOne team does not plan to stop at its current achievements and will continue working on useful features and improvements to be implemented in the future releases of Store Manager for Magento.
---
About eMagicOne
eMagicOne, a leading software development company, concentrates on all aspects of eCommerce and offers advanced applications for online store handling that cope with present-day tasks as well as accommodate to future needs. It delivers award-winning solutions for the following shopping carts: Magento, PrestaShop, WooCommerce, Zen Cart, VirtueMart, OpenCart. You can also access your store anytime using intuitive Mobile Assistants.