Date: 11.21.2018Modified: 10.11.2023
Magento 2 stock control
Well-organized inventory control system is the key for a successful web-store. The faster your business grows up, the bigger is the risk to get a mess with your stock. Probably, the best solution would be to resort to some advanced tools enabling the automation of the most frequent and tedious inventory management procedures.
If you are looking for advanced Magento 2 inventory management software, Store Manager is just the thing. It comes with the wide range of Magento 2 stock control instruments that can do the half of work for you. Here what you can get:
Update Magento 2 inventory in bulk
With the help of Inventory Multi Editor you can massively manage the following inventory details:
Product quantity
Stock availability
Maximum and minimum quantity allowed in cart
Minimum quantity for the product to be set as out-of stock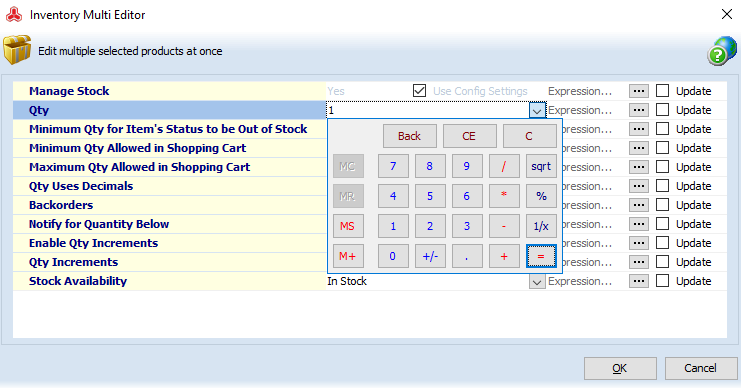 It is possible to conveniently write and apply expressions to any of the above inventory data using Expression editor.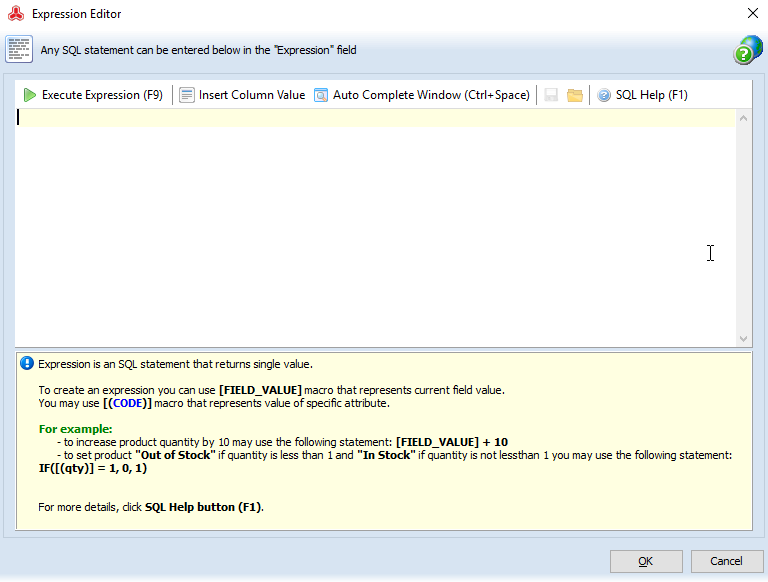 Flexibly update stock level of a certain product
You can check the inventory of any product at the lower grid of 'Category & Products' section. You don't need to open any additional windows. Such possibility allows viewing every major product detail at once.
Open the 'Inventory' tab and manage the following data:
Quantity
Stock availability
Minimum and maximum quantity allowed in cart
Quantity decimals
Backorders (selling goods that are temporarily out of stock)
Notifications about product getting out of stock (you can set the quantity)
Quantity increments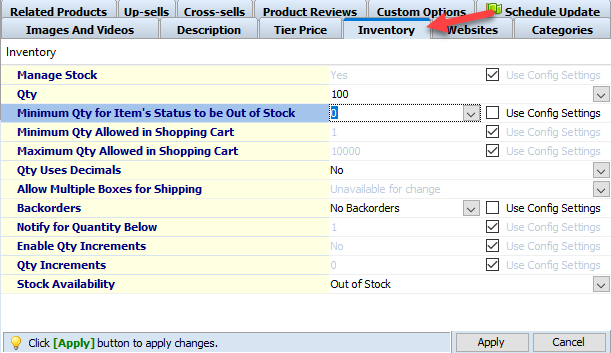 All of the values can be set to the ones inputted in the inventory system configuration by checking the 'Use Configuration Settings' box next to the necessary field. In this case the field will not be editable.
Automate stock level updates
You can enhance Store Manager stock control possibilities by installing the Automated Import & Export addon on the program. This will allow you updating product inventory on a scheduled basis according to the preset time.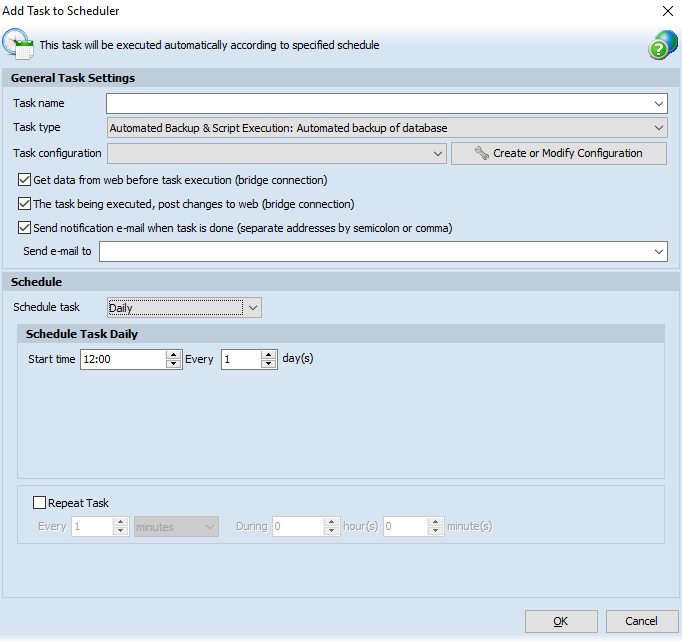 Beside stock levels, the addon enables automated update of product prices, images, descriptions etc.
Update inventory via import with 2 columns in CSV file
Store Manager brings the possibility to massively modify inventory level with only product SKU and product quantity columns contained in the .csv import file. The procedure can be accomplished via Import wizard in few steps.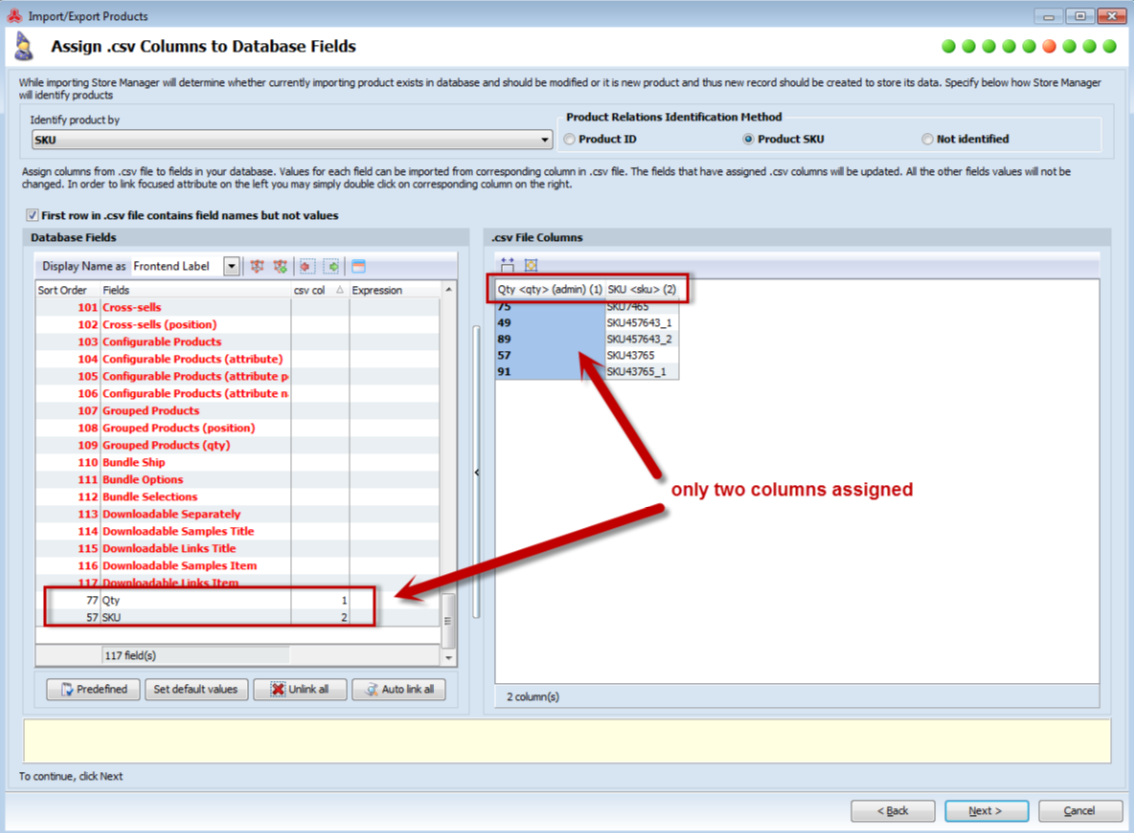 Schedule product export
Using Automated Import & Export addon it is also possible to set time for product feeds export to be accomplished either once or repeatedly. The configuration can be prepared in a flexible and personalized way due to the possibility to select a particular store view and highlight specific goods to be exported.
The feature is available starting from version 3.3.0.1802
Advanced Magento 2 stock control
Store Manager can provide you with maximum flexibility and convenience of Magento 2 inventory management procedures that can be applied to specific websites and store views. Using advanced product filters you can manage stock levels of particular goods. Besides, such important and effortful tasks as product import and export can be executed automatically based on the pre-defined time and frequency.
---
Try managing Magento 2 stock in an advanced way for 14 days free - Try now
---


Related Articles:
COMMENTS