Date: 11.23.2017Modified: 09.29.2023
Edit orders in Magento 2
When we are talking about order management, it is worth saying, that it is an inalienable procedure any e-commerce website owner needs to perform and oftentimes you need to edit orders in your Magento 2 store basing on different factors, beginning from purchasers' shipping address to deleting orders if there is a need. Every step of managing orders, starting from placing the order to shipping is an important part of your business to go smoothly and make your clients go back to you for purchases again and again.
Therefore, you have to organize your order management in fast and flexible way.
Does Magento 2 Allow to Edit Orders?
In some situations, there might occur a need to change the order status, for example, if your customer has placed the order for a particular merchandise and then decided to buy a different one.Or if the buyer prefers to make a defrayal via bank transfer instead of online payment during the checkout and you need to replace Pending status to Processed.
When it comes to editing orders in Magento 2, one important thing you should know about Magento 2 admin side, is that by default, it does not allow to edit order that has already been invoiced.So, how should store owner act when he needs to edit existing orders?
In such case, Store Manager application will help you out. Let us size up the benefits this software brings in comparison with the shopping cart.
Edit Orders in Your Magento 2 Using Store Manager
With Store Manager, you get a good opportunity to edit your Magento 2 orders in a few clicks with no efforts.
You can change order payment information to the exact product after it has been created using the context menu or in the lower grid: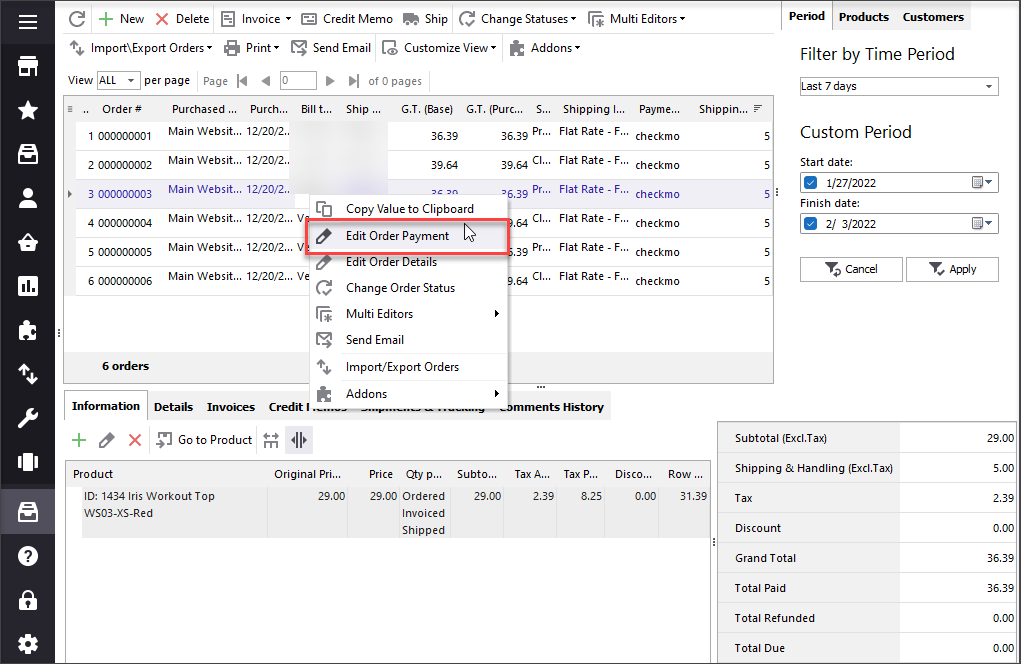 change payment method of the order;
edit shipping and handling information, such as description and amount.
Also, order details data can be edited in the same way: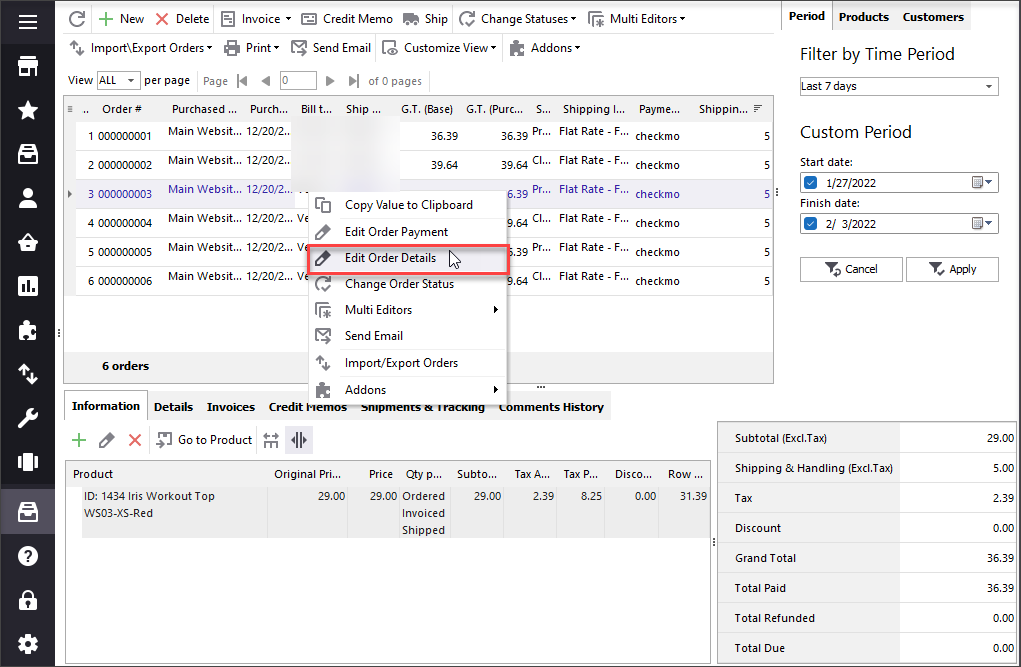 Change account information, billing address and shipping address of the specific order(s). For most people, billing and shipping addresses are the same, however, there are cases, when the purchased items need to be delivered to the place that differs from the address of the credit card.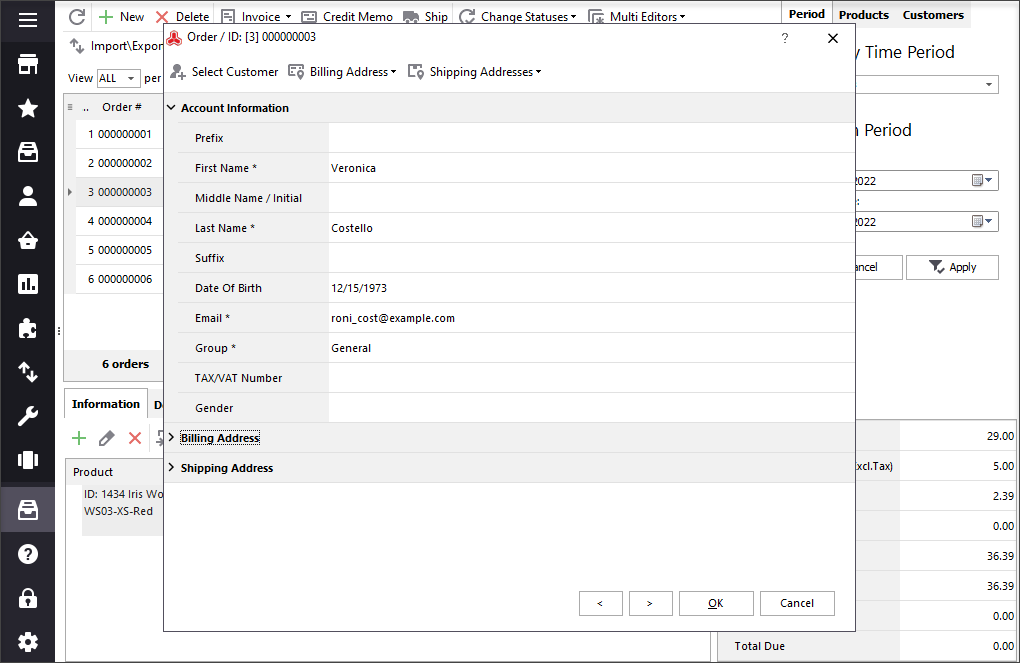 The separate thing you should pay attention to, is that Magento 2 does not allow to comprise additional items to already created order. It will create a copy of the order basing on the old one, re-order, so to say, and you will have to cancel the previous order, that is not very convenient.
On the contrary, Store Manager allows to add the products to the existing order using Add icon in the Information section in the lower grid.
Change Any Order Status You Have to Whichever You Need With Store Manager
By default, Magento 2 does not allow to change the order status and usually, the one and only status to select from is Pending, as it is set right away the order has been placed by the customer.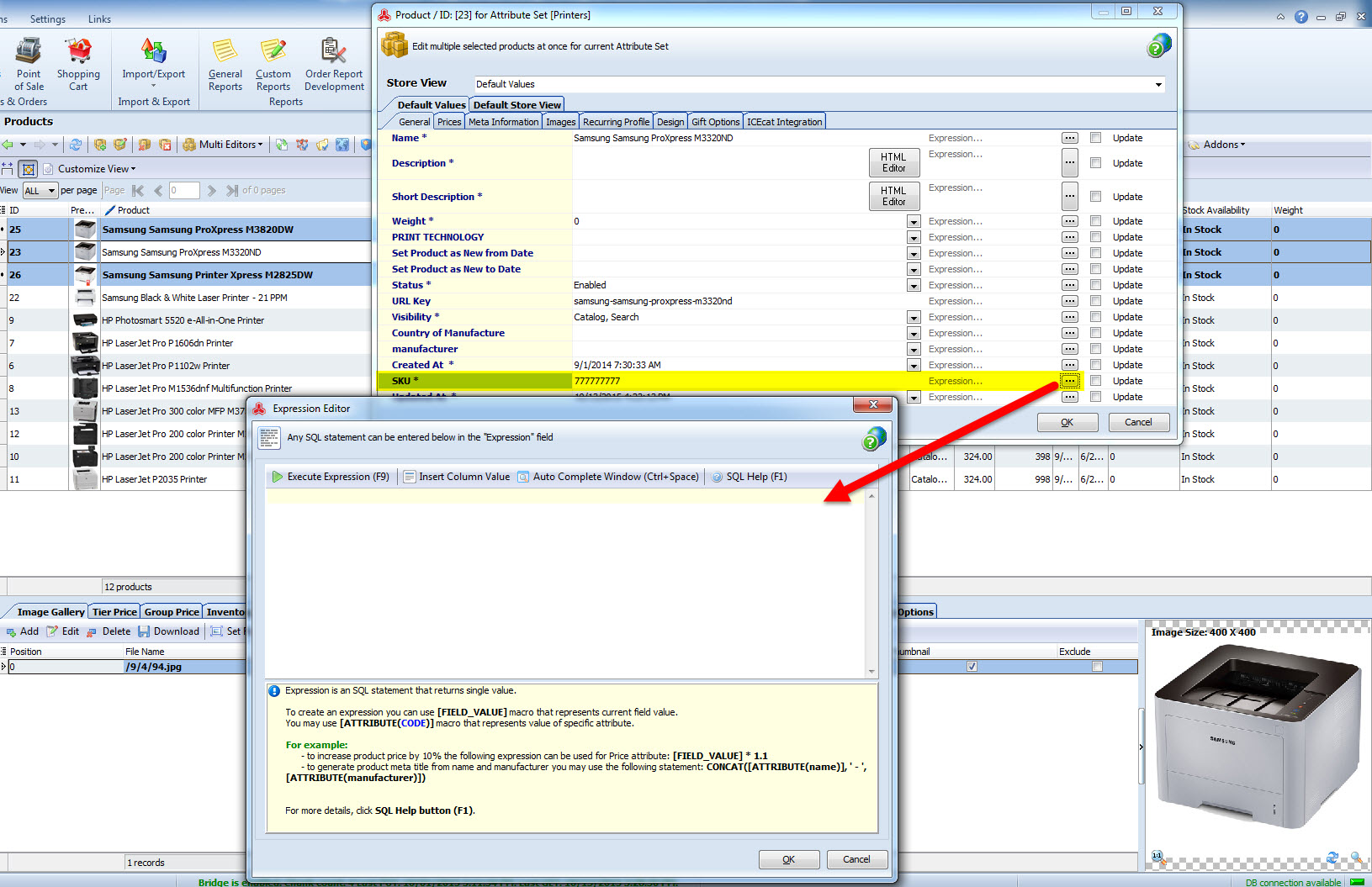 So, in general, there is only a possibility to cancel pending orders, hold and unhold them.
Still, as it was mentioned, at times, there is a necessity to change the orders status due to different reasons, be it because of the fraud suspected or delivery issues.
Store Manager for Magento manages your order status from any to whichever you need with ease without cancelling. Simply select the necessary product orders to update the status for and in the next window you will be offered to choose the imperative status from the drop-down, even from Complete to Pending.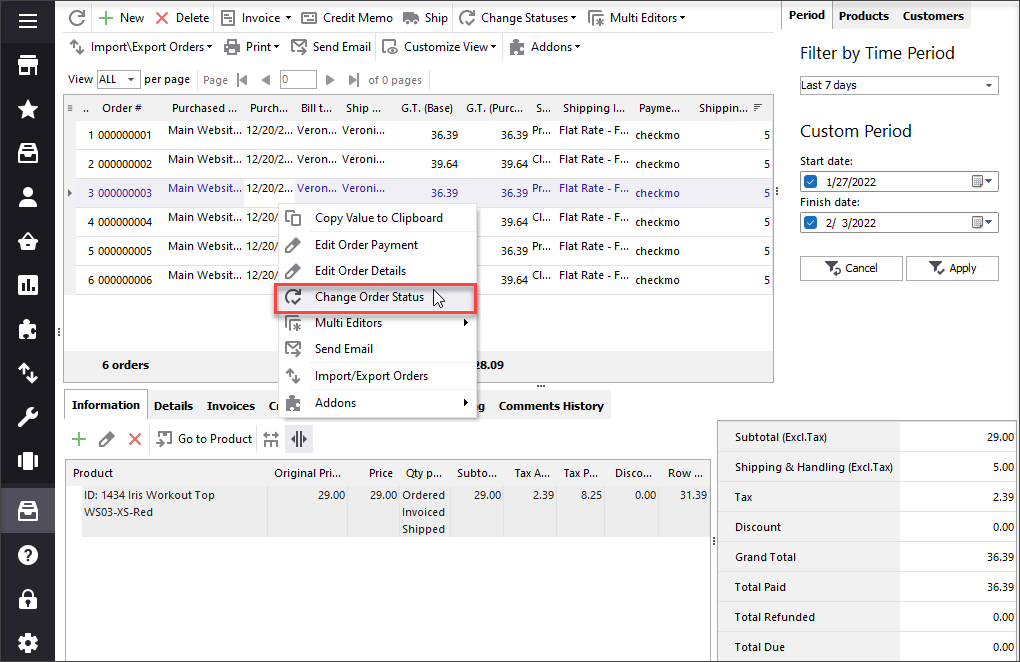 If there is no order status that fits your needs, you can customize the existing one or add the new one in the order toolbar with the Order Statuses button.
Change Your Magento 2 Order Status for FREE With Store ManagerEdit orders now
Is It Possible to Delete Orders in Magento 2?
When you create your Magento 2 website, add category tree and enrich it with your product catalog, fulfill it with all necessary details, then, most likely, your next step will be checking the orders section to see how it works for your customer and how the process goes starting from placing the order to the checkout. Correspondingly, you will create a few orders for testing.
And here...you will be surprised to see that there is no "delete" button to remove your try-out orders.
One of the specificities of Magento 2 admin is that it does not allow to erase already existing orders, only set Cancelled status, as by its logic, the orders should be stored anyway.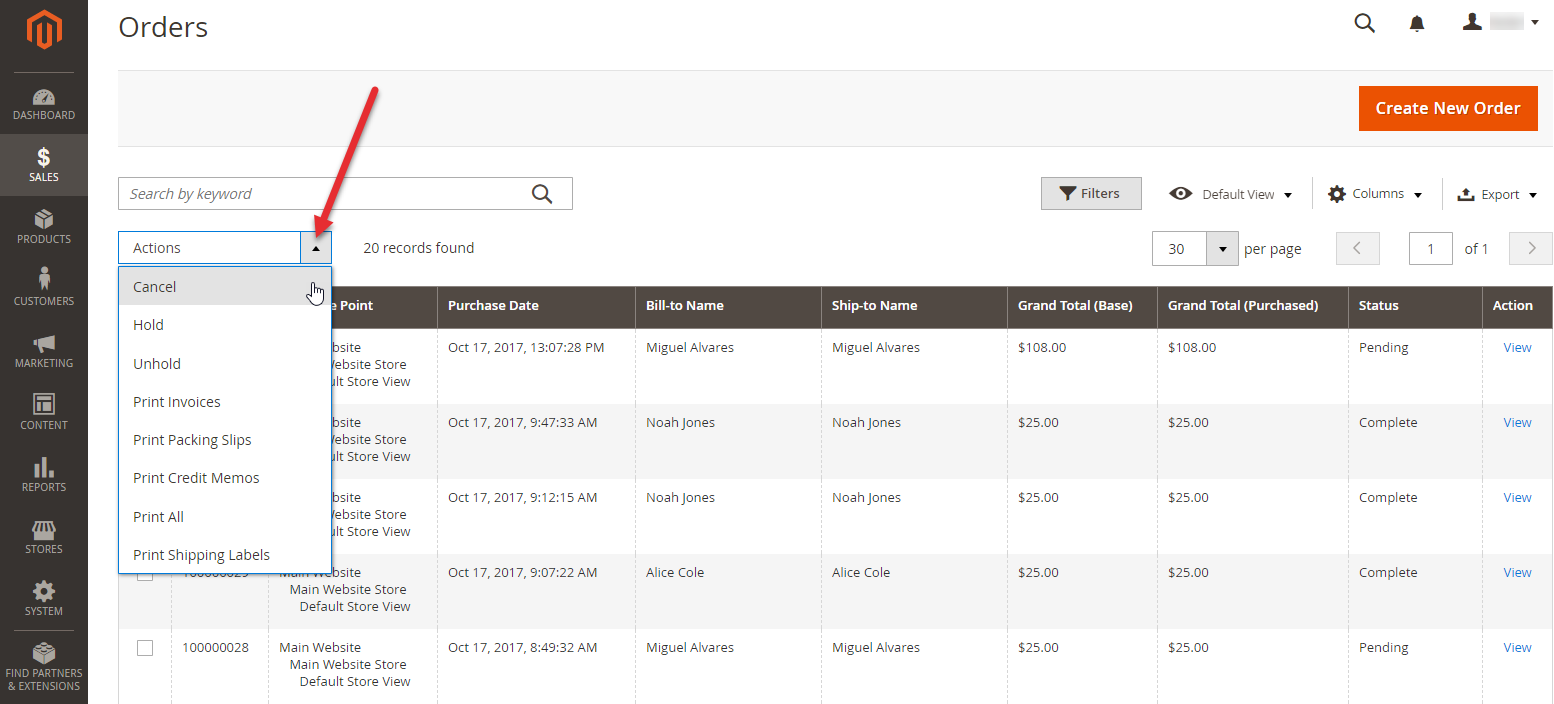 So what is the solution that will help you get rid of test orders or the ones, that include the item you don't sell anymore ?
In this situation, Store Manager for Magento will be a great solution for you.
To delist orders you do not want to have in your store anymore, simply highlight the needed one from the list and launch the Delete button in the order toolbar.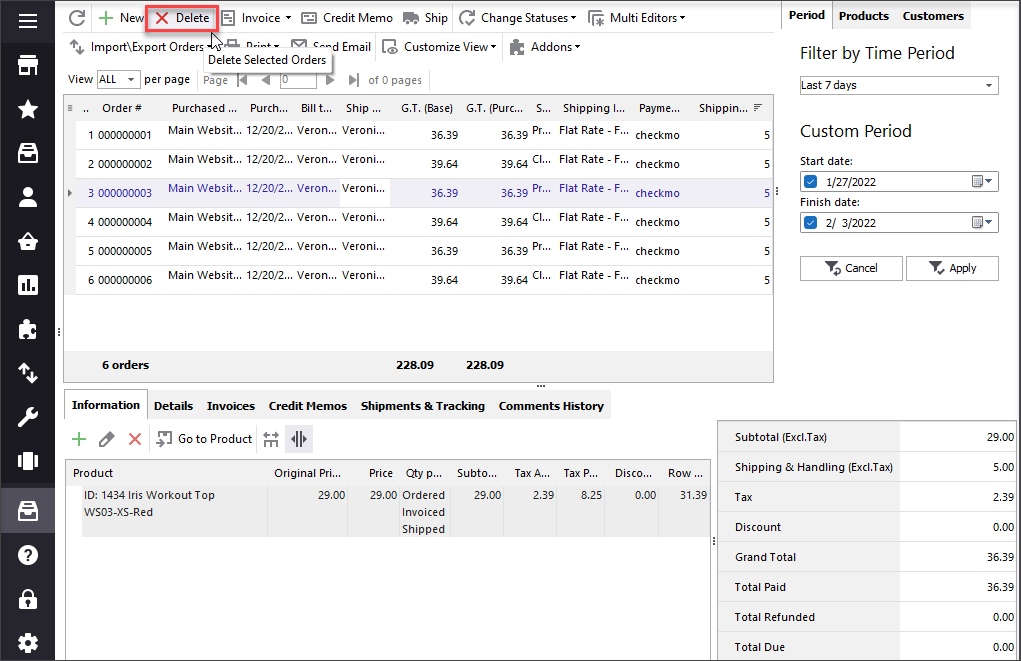 Magento 2 Order Multi Editors
Certainly, when your e-store business starts to grow and when it comes to handle wide array of orders, you will think about a solution that will spare time and help you quickly update them in bulk in a few moments instead of doing it manually one by one.
To implement massive managing operations over the list of orders you have, highlight the ones you need and reach the Multi Editors option in the context menu or in the order toolbar.
You will be offered to pick Orders payment Multi Editor or Order Details Multi Editor.
Depending on the option selected, you will be able to adjust the payment, shipping&handling, account information and billing and shipping details mentioned in this article earlier.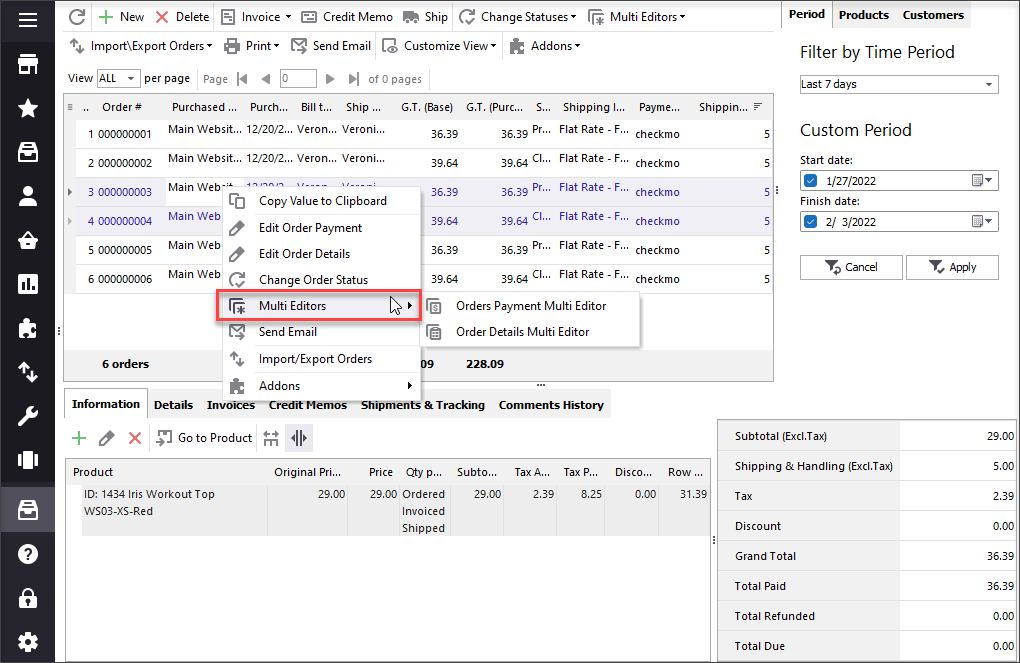 After editing order details using Multi Editors, do not forget to check Update box next to the corresponding fields you are making changes to.
You can also apply the specific customer to a few orders. For this, choose Multi Editors, proceed to Order Details Multi Editor and hit the Select Customer icon. At the next step, you will receive a window with a search form where you will need to specify the conditions to search the customers by.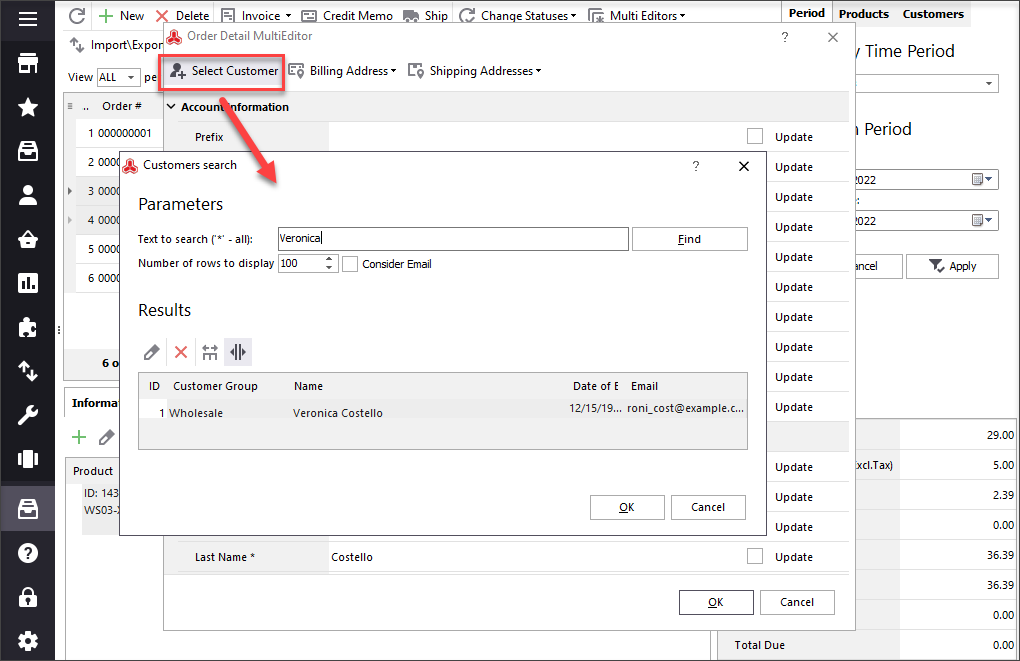 ---


Related Articles:
COMMENTS