Date: 03.15.2018Modified: 11.14.2023
Export/import Magento order history for accurate order management
Order management takes an important part of Magento store management and having the possibility to export order-related details is a great opportunity to receive CSV data feeds for their further processing. For example, if there is a need to move the orders from one store to another, herewith keeping all the smallest trifles, such as comments concerning shipping or invoices, or order status change, so your customers could be able to access their order history in the new store, and you as a merchant, could keep all the data saved and organized.
Starting from version 3.9.0, Store Manager for Magento gives an opportunity to export/import Magento Order history, making orders administration and transfer more convenient and accurate. Export/Import Magento Order history option is available for users who own Professional and Adobe Commerce (Magento Enterprise) Editions of the application.
Launching Import/Export Orders Wizard for Order history export, you should proceed with a few steps, namely specify file name orders will be exported to, also the list of orders you would like to export (all orders, filtered by some criteria or only selected ones), specify fields delimiter settings.
For more convenient order details export, Order history Group of Fields, available from the drop-down consists on the following fields:
Order status history (date and time of order status change);
Order credit memo comment;
Order shipment comment;
Order invoice comment, submitted by store owner.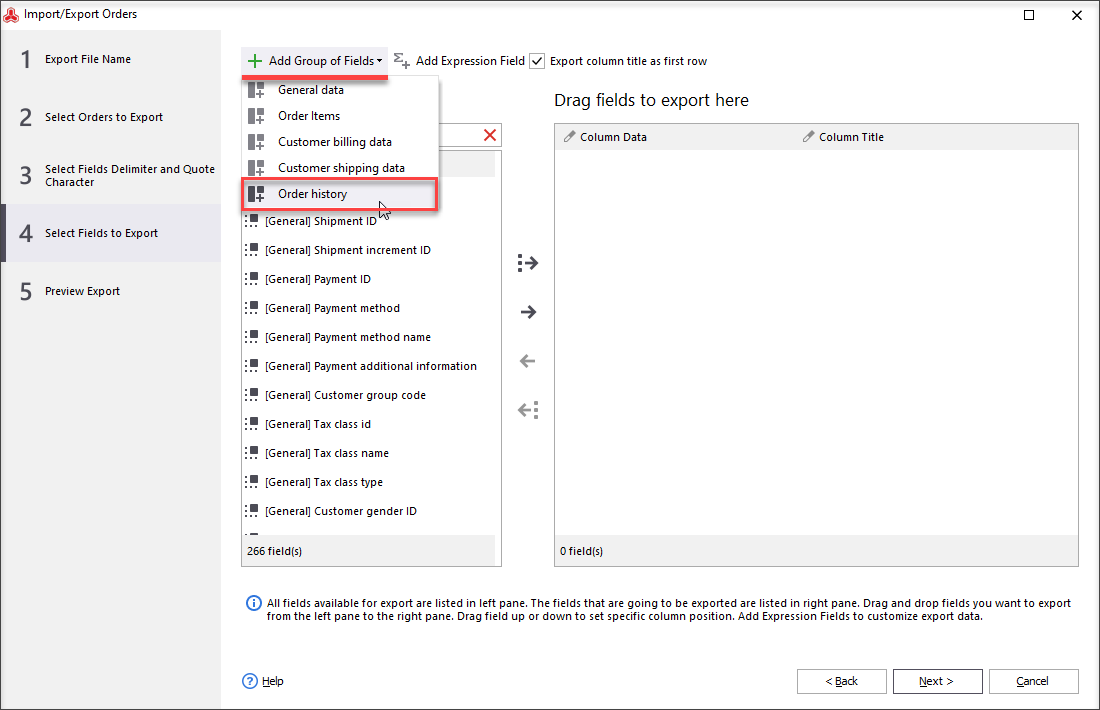 Check the article on how to export Magento orders here - Export Magento Orders.
When performing Order history import, choose the source file, orders will be uploaded from, setup delimiter settings, choose store view they will be uploaded to, link CSV columns to database fields (it is convenient in case of data transfer and the database structures between the target and source stores differ).
Important note!
Import of orders is a specific process and requires more than 260 fields to be imported. If you want all the data to be uploaded correctly and order record added properly, you should include all the general data, customer billing and shipping order-related details, order items in the import file and Order history group should come along with all the rest required fields.

Check detailed article how to import orders here - Import Magento Orders.

Once you have finished, you may check the outcome of export/import Order history with all the related fields and Customer Notified checkbox gathered in Comments history tab in the lower grid of Orders section of the application.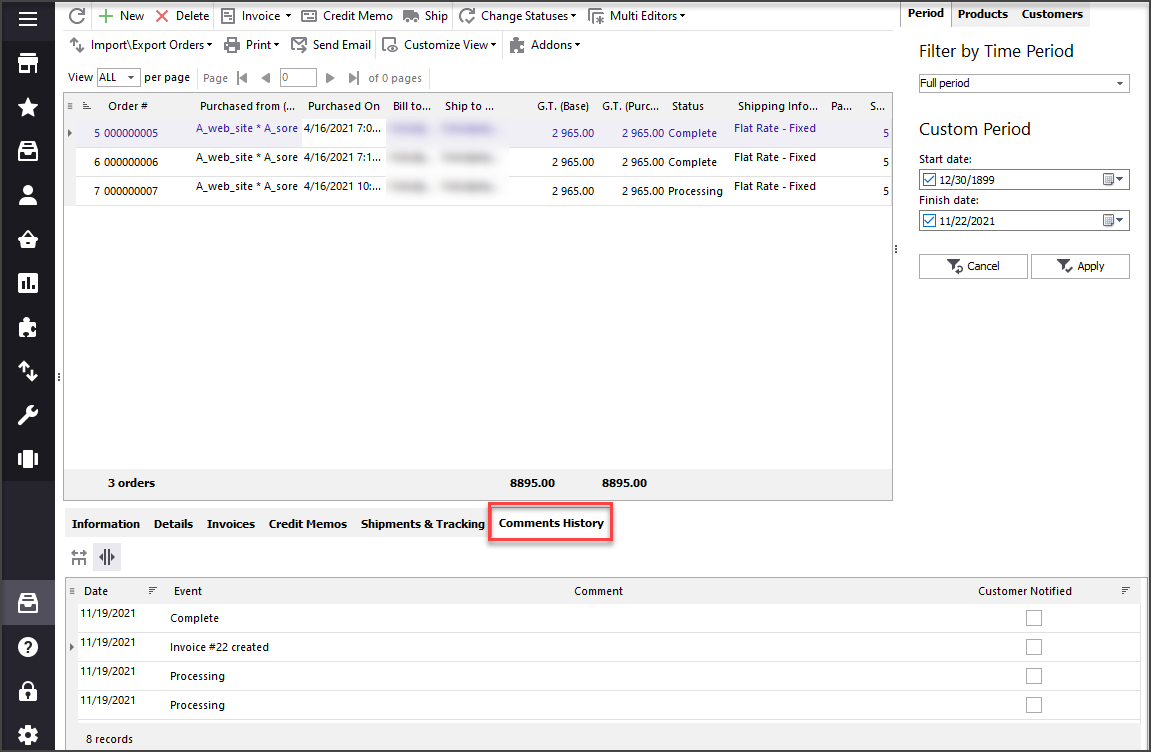 Read related tutorial and find out how to export orders with ordered products, shipping data and customer details - Export Magento orders with ordered products, shipping data and customer details.
Export/Import Magento Order History FREE with Store Manager for Magento
Try Now


Related Articles:
COMMENTS