Date: 02.23.2016Modified: 07.24.2019
Rating 4.5 stars - 2 votes
How to Sort Magento 2 Category Positions
Once the number of categories in online store is increasing and category tree is enriching with multitude of levels, you might need to change position of Magento 2 categories, rearranging the list in the way you want your customers to view it.
You might need to improve navigation of your site, adjust the order of categories to show most popular first or perhaps take the standard approach and reorder them alphabetically. Whatever the aim you pursue, if you are reading this article, most likely you are looking for instructions on how to do that.
You are in the right place and tutorial below will guide you how to sort categories in Magento 2 in various ways possible.
The tutorial is relevant for both Magento 1 and Magento 2 versions.
Reorder Magento 2 Categories Using Drag and Drop (One-By-One)
In Magento admin panel you can manage categories if you go to Catalog -> Manage Categories.
On the left you will see category tree. To view all parent categories and subcategories click 'Expand All' button.
To rearrange the placement of a category, all you have to do is drag and drop it within your category tree to another position. Make sure that after changes you hit 'Save Category' button.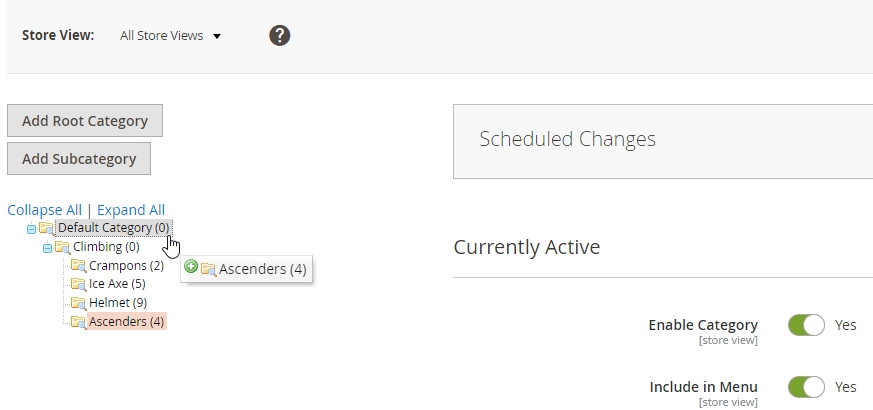 After that you can check how changed the way you categories are reflected on the front end of your store.
Note: Do not forget to flush Magento cache and perform reindex to make changes visible from clients' side.
The small drawback of this method is that you need to move each category one-by-one and there is no option to reorder a few Magento categories at once.
Rearrange Magento 2 Categories Massively
You can ease this task, extending the possibilities of default Magento back-office using smart solution for your store management - Store Manager for Magento.
Download 14-day fully-functional version to try right now! TRY FREE!
Drag and Drop Bulks of Magento 2 Categories
With Store Manager application you can change position of a few categories at once. Just select Magento 2 categories to be repositioned, pressing Control button on your keyboard. After that drag categories and drop them to necessary location within your category tree.
Set Order of Categories (Position Number)
In Store Manager next to each category you will see column where you can put its position in category tree. Type digit corresponding to category sort order you would like to set and see now category placement is changing.
Update of Categories Positions via Export/Import
In default Magento there is no way to export/import categories independently from products. Store Manager for Magento has separate import/export wizard that allows to get/upload category info.
First of all, run export wizard and at the step where you select fields to be exported there is no need to bring to CSV all the columns with data. You can export only category ID and position (and maybe category Name for you to see visually what categories there are).

Change Display Sort Order of Magento Categories



Next open the file and set number corresponding to sort order you want to assign to particular categories. Save spreadsheet with changes.

Change Display Sort Order of Magento Categories



Open Import categories wizard and upload the file with changes back.



Mind to map CSV columns you are importing to corresponding database fields at the appropriate step of import.

Change Display Sort Order of Magento Categories




Check re-built category tree with new items position in them.




Important: If changes you have made are not displayed at the front-end, again do not forget to clear cache or perform reindex from Magento back-end.
Adjust the display order of the categories faster with Store Manager for Magento! FREE Download!


Related Articles:
COMMENTS