Date: 01.17.2014Modified: 09.25.2023
How to bulk clear Magento 2 (Magento Open Source 2, Adobe Commerce) product data?
Magento 2 (Magento Open Source 2, Adobe Commerce) provides you with solid catalog management possibilities and therefore you have abundance of options used to describe merchandise and customize product catalog.
It can be implemented by custom options, defined as an apt way to represent product variations or Magento 2 (Magento Open Source 2, Adobe Commerce) upsells, cross-sells, regarded as efficient means to promote goods you sell online. Magento 2 (Magento Open Source 2, Adobe Commerce) images that accompany your products not only help visualize the content but work like incentive and persuade customers to make an order.
These and other product properties are variable and from time to time you might need to replace them with new ones or delete them at all. Let's say tier prices for these or those products need to be changed or removed. Would you be lingering about editing products one after another deleting tier prices, images or clearing product relations? Most likely, you will say "no" and show a preference for more productive tool of product data handling.
Store Manager for Magento incorporates the functionality, designed for more flexible and fast product details managing. You can clear details associated to numerous products within short span of time relying on Store Manager and its functional capabilities.
What tools have you at disposal and how they function is described below in this article.
Use Clear Product Details Option
For your convenience Store Manager has been equipped with Clear Product Details option. It is disposed on product toolbar and in the context menu. Firstly, decide on what products you need to clear data for. Afterwards open Clear Product Details in the way described above and indicate what details should be removed checking box for them in the dialog box. The following fields are available here:
Magento 2 (Magento Open Source 2, Adobe Commerce) images
product custom options
product group price
Tier price, current items possess
associated related products
Upsells
Cross-sell products
Product reviews
product tags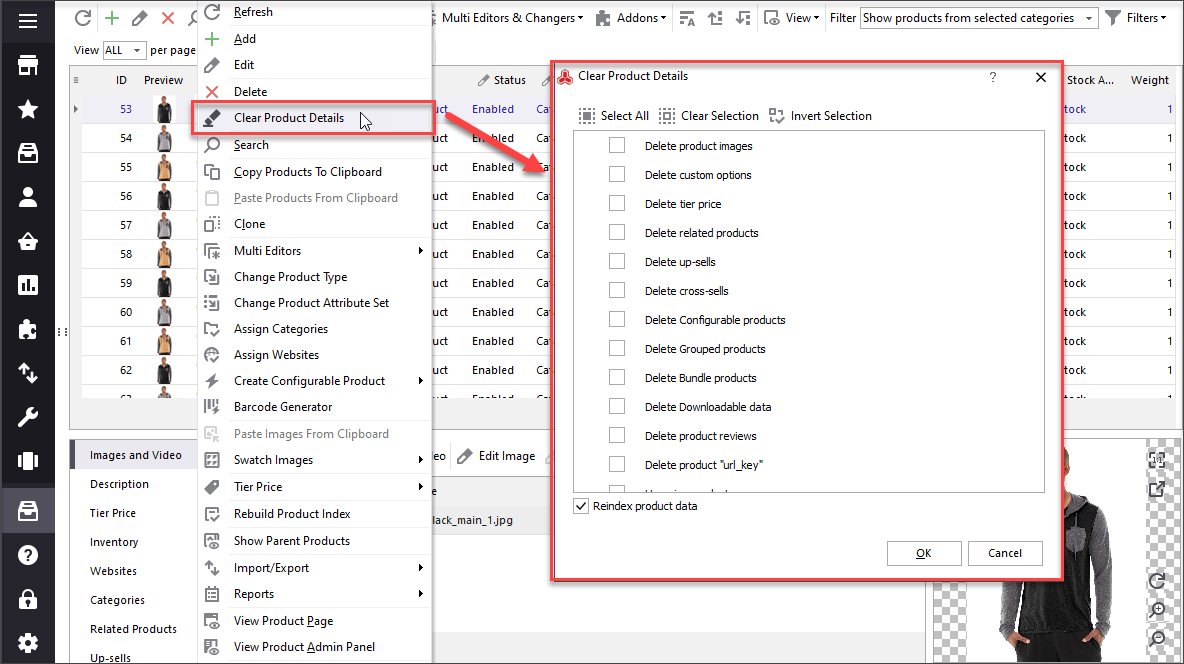 After you choose the fields and confirm deleting, selected products will be cleared and you will find corresponding fields of the lower grid empty. So, if you added inappropriate custom options or unsuitable cross-sells, you can remove details or relations for multiple products at once.
Clear Product Relations in the Process of Import
Product relations can be managed in the process of data import from the file. When running web shop you won't go without complex products products, such as configurable, grouped, bundle, related, upsell products and other. Their relations can be cleared in the process of import. The last window of the import wizard expects you to designate import options, among which you can find Clear Relation option.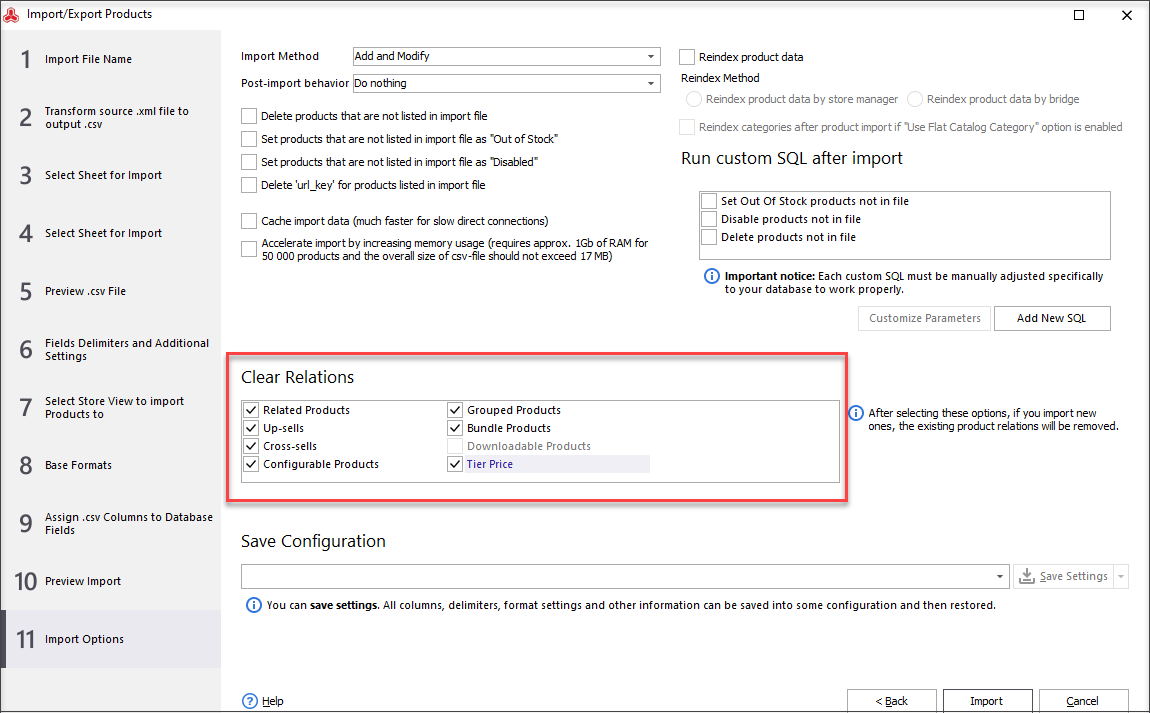 As you noticed, all the product relations are accessible here and in order to remove some, check corresponding box(es). You can unlink related products, configurables, grouped, bundle products, Magento 2 (Magento Open Source 2, Adobe Commerce) upsells, downloadable products or cross-sells. After you specify what relation(s) should be cleared and perform data import from the file, you will not find them linked to main shopping cart merchandise.
Make product management less time-consuming and more convenient with Store Manager for Magento. Say "no" to everyday routines and automate their performance.
You should also know what is the most efficient method to update your catalog - www.mag-manager.com/product-information/magento-product-management/how-to-make-mass-product-changes/
Try FREE Store Manager for Magento yourself! Get It Now!


Related Articles:
COMMENTS