Date: 06.07.2019Modified: 05.26.2023
How to transfer products from Magento 1 to Magento 2
Advanced store management possibilities available in Magento 2 attract more and more users. Consequently, transferring product data from Magento 1 to Magento 2 becomes a common issue.
In case you are looking for a product migration tool, check Store Manager for Magento. The application provides migration via export & import and offers multiple options to adjust the process to your purposes.
How to Migrate Products from Magento 1 to Magento 2?
The migration of products can be accomplished by the way of exporting products from Magento 1 and uploading them to Magento 2. You can use this tutorial to guide you through the export and import procedures in a step-by-step manner.
Before proceeding with the product transfer, it is highly recommended to backup Magento 1 database. This will prevent losing any product data when migrating the products.
Step 1: Export products from Magento 1 to CSV
From Magento 1 panel go to 'System => Import/Export => Export'.





Select 'Products' entity from 'Export settings' dropdown.





Scroll down and check product attributes that you want to be exported. You can quickly find necessary attribute using filters.





When you are done with checking attributes, press 'Continue' at the bottom of the page.
Things to bear in mind before import
Attributes & Attribute Sets
Before importing products to Magento 2, make sure to create there attributes and attribute sets identical to the ones that you use on Magento 1. If they don't match, there may arise multiple errors.
Bundle products
During product export in Magento 1, bundle products lose their product relations. Thus, you will need to add simple product options in manual way.
Also, Magento 1 does not export bundle product attributes including price_type, sku_type, weight_type, price_view, shipment_type, so you will have to add them manually to the CSV. Or you can avoid manual work if migrating with Store Manager for Magento.
Step 3: Adjust CSV file to Magento 2 requirements
In Magento, titles of some columns are changed, so before importing products to the newer version, you should first download Magento 2 sample import file and adjust the exported CSV to new requirements.
Here how you can download CSV sample:
From Magento 2 admin go to 'System' and under 'Data transfer' select 'Import'.





In the 'Import settings' select products entity type and click on 'Download sample file' button.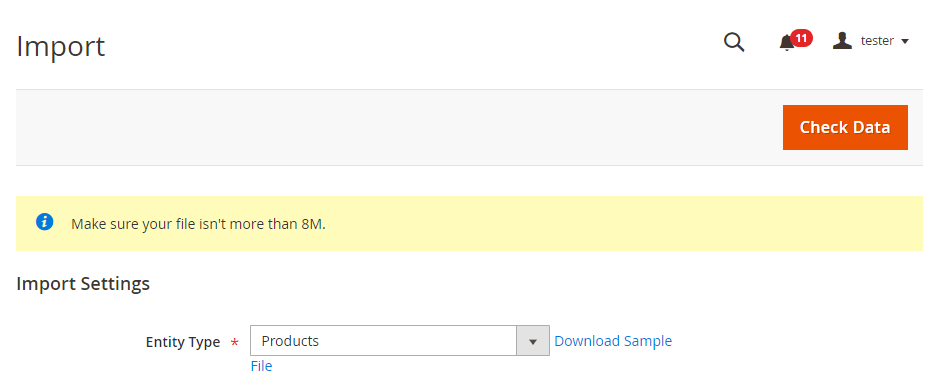 Compare the file with exported products from Magento 1 to the downloaded sample and modify it correspondingly.
Step 4: Import products to Magento 2
From Magento 2 admin go to 'System' and under 'Data transfer' select 'Import' (look at the screenshot above).
In the 'Import settings' select 'Products' entity type.
Choose 'Import Behavior' option:






Add / Update - generate new products and update the existing ones
Replace - replace products whose SKUs match the ones included in CSV
Delete - remove items whose SKUs match the ones from the import file


Specify whether the import process should stop in case an error occurs. If yes, set the number of errors allowed before the import stops.





Specify the field separator, multiple value separator and empty attribute value constant.






It is a good idea to check 'Fields enclosure' box to avoid incorrect data import. With this option enabled, such characters as space, equal sign etc. will be enclosed by Magento into additional double quotes.

Choose the file to import.






To upload products with images, input the path to folder with media into 'Images File Directory' field.

Press 'Check data' button in the right upper corner.





If you get 'File is valid' message, press 'Import' to launch the process.





Once you receive the 'Import successfully done' message, then the products were correctly transferred from Magento 1 to Magento 2.





If you need to transfer Magento 1 customers, orders, attribute sets, custom options, cart price rules or abandoned carts to Magento 2, Store Manager can assist you with it in a very suitable manner.
In case you still hesitate whether to migrate to Magento 2 or not, this article might help you take the decision - Why Migrate to Magento 2.
---
Try migrating from Magento 1 to Magento 2 with Store Manager for free - Try Now
---


Related Articles:
COMMENTS