Date: 01.05.2018Modified: 05.26.2023
Magento 2 related product generator for up-sells
To make more profitable sales, e-commerce store owners quite often resort to associated products, such as related products, cross-sells and up-sells. What distinguishes up-sells from other associated products is that offering them is a great way to encourage customers to buy other versions of product instead of those they are viewing, as these items are more improved, have better quality and often higher-priced. With their help merchant gets the possibility to increase average order value and help customers choose better merchandise and feel more satisfied with the purchase.
Creating this type of relations between items seems to be a simple and achievable process from Magento 2 backend when you need to make it for a few items. When it comes to a large number of items, automation of this process basing on some criteria and conditions would be useful feature and save lot of time. Store Manager for Magento gives such possibility with its Related Product Generator for up-sells.
How does Related Product Generator Work for Up-Sell Products Association?
The first thing to start with is proceed to Related Product Generator tool in Store section of Store Manager and press Add button on the toolbar.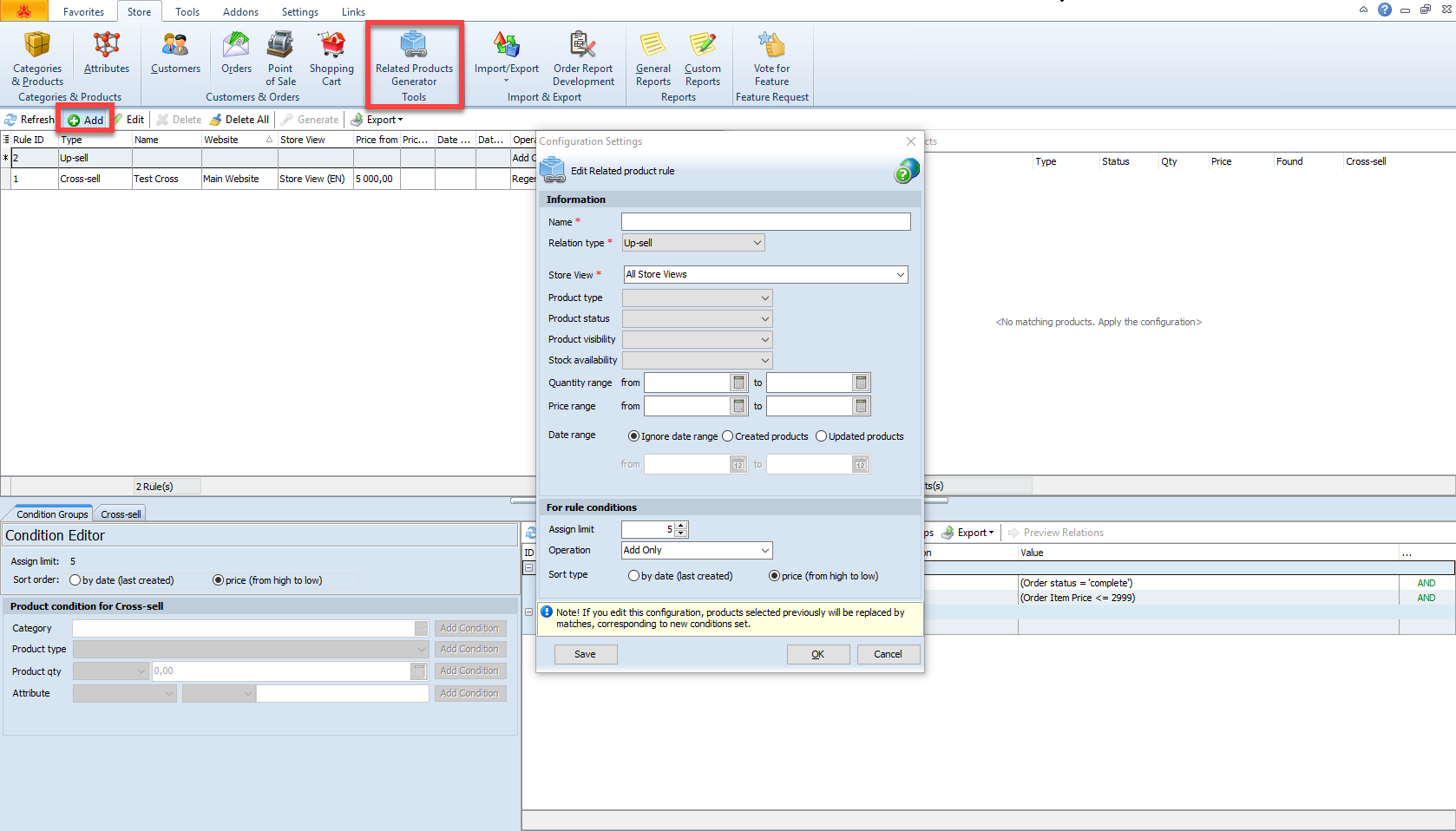 Configuration Settings window contains the following information to be specified:
Information tab defines the conditions for product list, that later the up-sell associated products will be added to.
Name - specify the name for your future configuration.
Relation type - select up-sell items type that will be generated to the merchandise.
Product type - choose among simple, grouped, configurable, bundle, virtual, downloadable products the ones, future up-sells will be added to.
Product visibility determines enabled or disabled articles in the list.
Stock availability allows to pick in-stock or out-of-stock items.
Further, specify product quantity range, price range and date range parameters of items that should be formed in the list.
For rule conditions tab consists of:
assign limit - the number of up-sells that will be shown with the main product depending on the sort type you will choose further (date or price);
operation that has to be executed - Add Only option for new configuration and Regenerate for the existing one;
sort type by date or price.
Regenerate operation allows to edit the existing rules of current configuration (in such case, previously selected products will be replaced by matches, that specified in new conditions).
After the configuration settings are completed, you can see the list of products up-sells should be applied to on the right section of the tool. There you can also go to a certain product or clear a list if it does not fit your needs.


The section on the left below - Condition Editor - requires you to set conditions that determine the list of items that will be assigned as up-sells. Specify the category, product type, quantity and attribute conditions that have to be applied to current configuration. You can also create additional Condition Groups to make associated items search more flexible.


After all the conditions are set, proceed to Preview Relations option in the Condition Group management section. Once the catalog is uploaded, you may Apply to Configuration and check the result at the product page.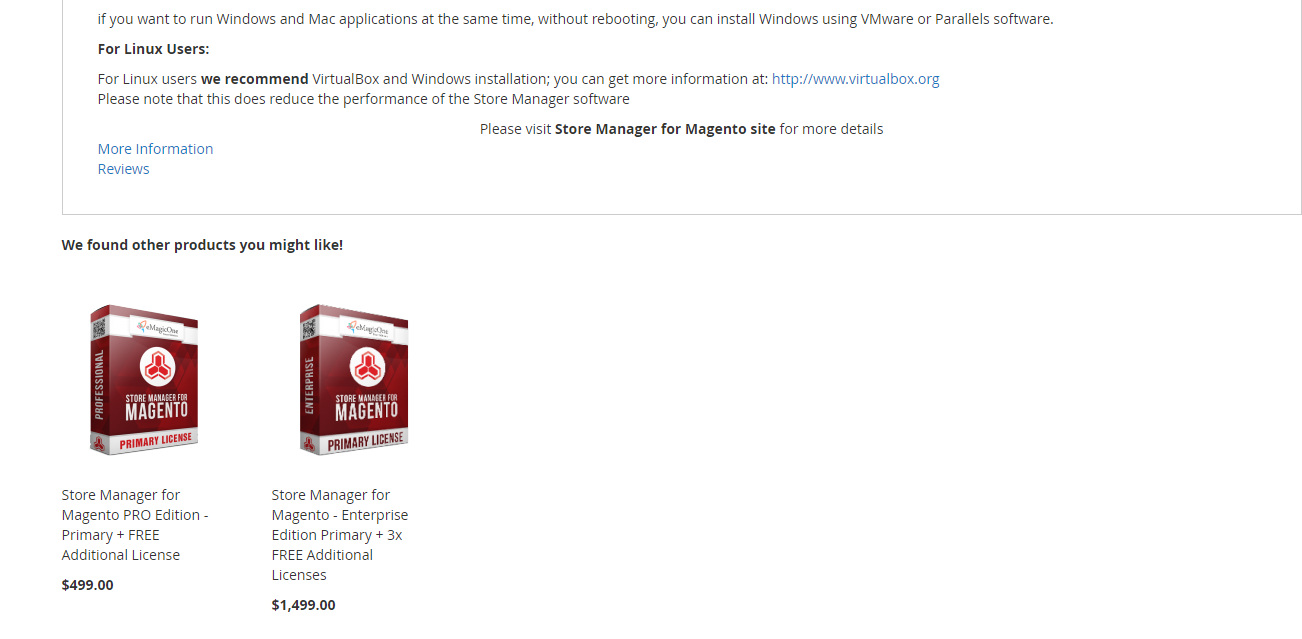 In case the list of items does not correspond your needs and has to be edited or completely deleted - you can Clear all Results or Return to Condition Groups. In addition, there is a possibility to export existing configurations into Excel and HTML.
Related Product Generator for up-sells is available in Store Manager for Magento v.3.10.0.2049 and newer (Professional and Enterprise Editions).