Date: 12.06.2017Modified: 11.12.2021
Magento 2 related products generator
Store Manager for Magento provides an opportunity to create several types of associated products: related products, up-sell products and cross-sell products. Generation of such relations may help you considerably increase your sales value by means of growing a number of orders.
In this article, you will learn how to generate related products for Magento 2 automatically using Store Manager application.
Important
Automatic Related Products Magento 2 Generator is available in Store Manager starting from v.3.10.0.2049 (only Professional and Enterprise Edition).
What Are Related Products?
Related products are additional items which might appear useful along with the product being viewed. The aim of offering such products is to make a customer wish to buy them in one order with the main one.
Related products usually have a checkbox beside them and show up in the right column on the same page with the product being considered by a shopper: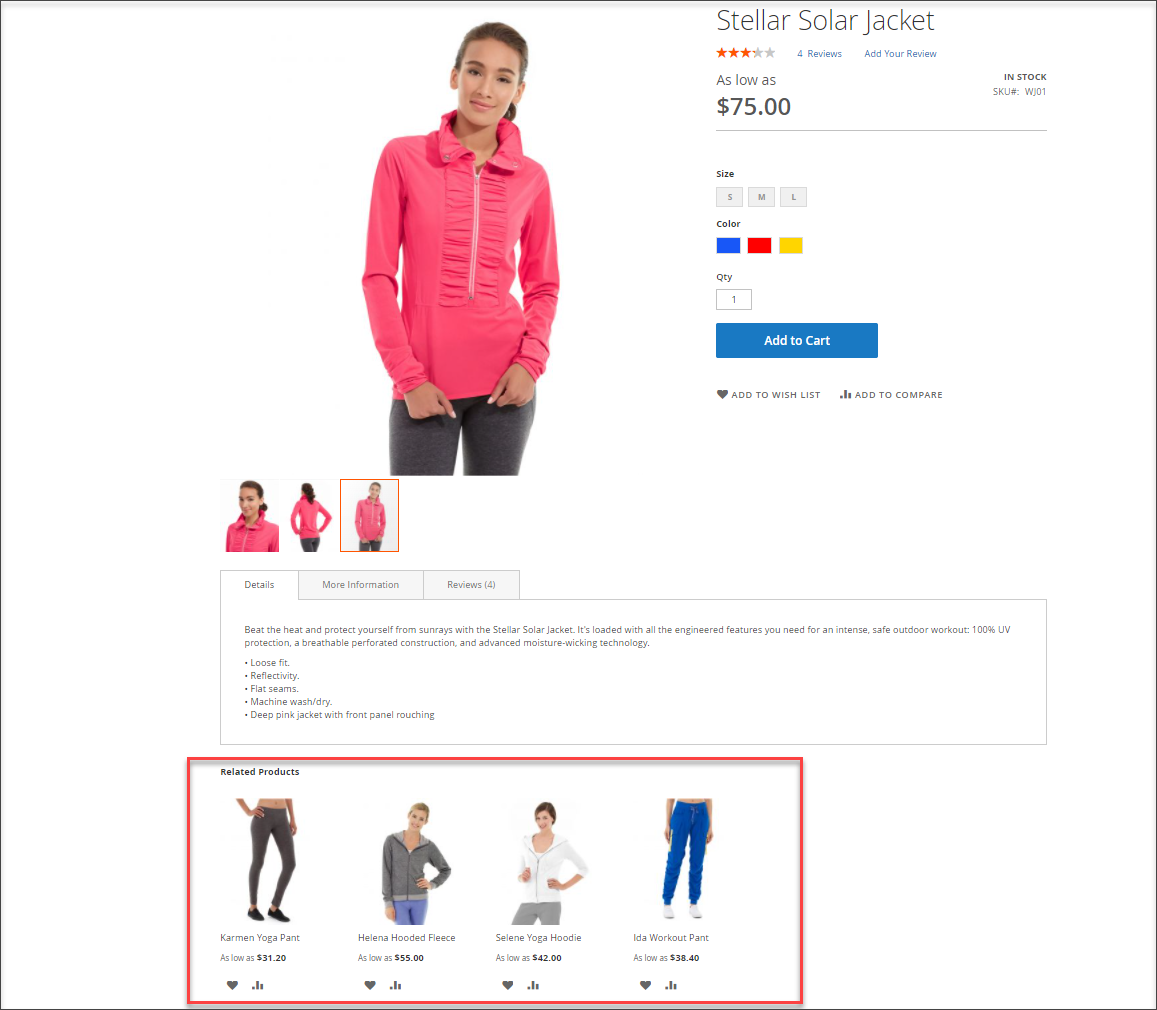 Related products can be added for each product individually. For example, in Store Manager you can select a product, go to the lower grid > Related products and click the "Add" icon: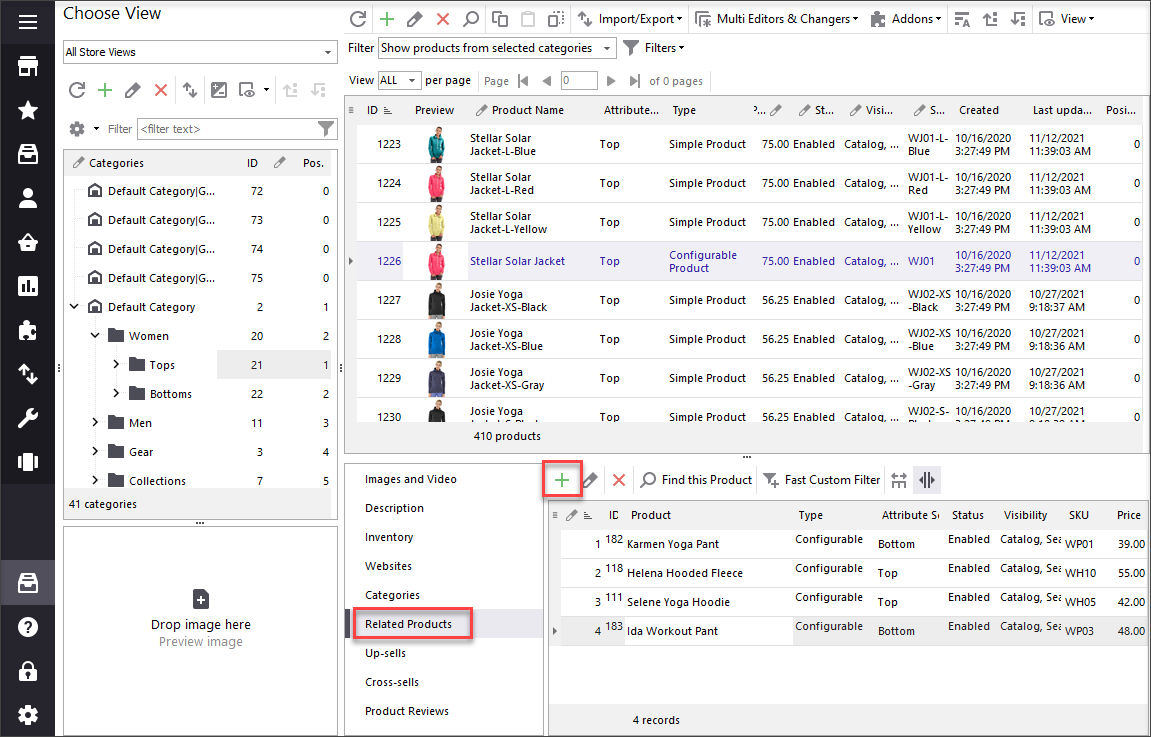 Though, if you have hundreds of products in your database, adding related products one by one is not an effective solution.
For such cases Store Manager offers a Related Products Generator tool.
An Introduction to Magento 2 Related Products Generator Tool
Related Products Generator provides a possibility to add related products massively. The logic of the tool is as follows. You specify a set of conditions to define the main products (with which related products will be shown) and linked products (that will be shown as related). This set of conditions is called configuration.
In the screenshot below, you can see the Related Products Generator window with the previously added configuration. As you can see, the upper part of the window contains a list of some watches (we've chosen them with the filter). In the lower part of the window, there is a list of related products - from the category "Watch bands":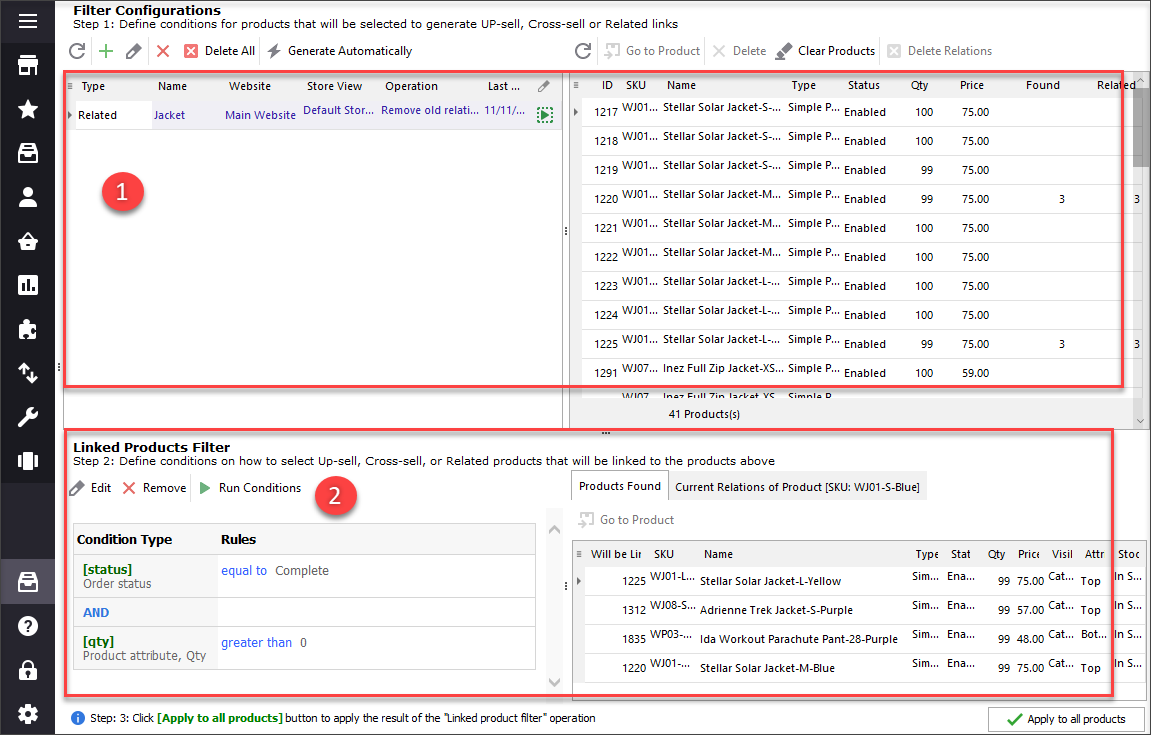 By pressing the button "Apply to all products" the products from the lower grid (2) will be added as related to the products from the upper grid (1). This is how it looks on the storefront: the viewed product is a "Swatch a Cote" watch and the related products are three watch bands: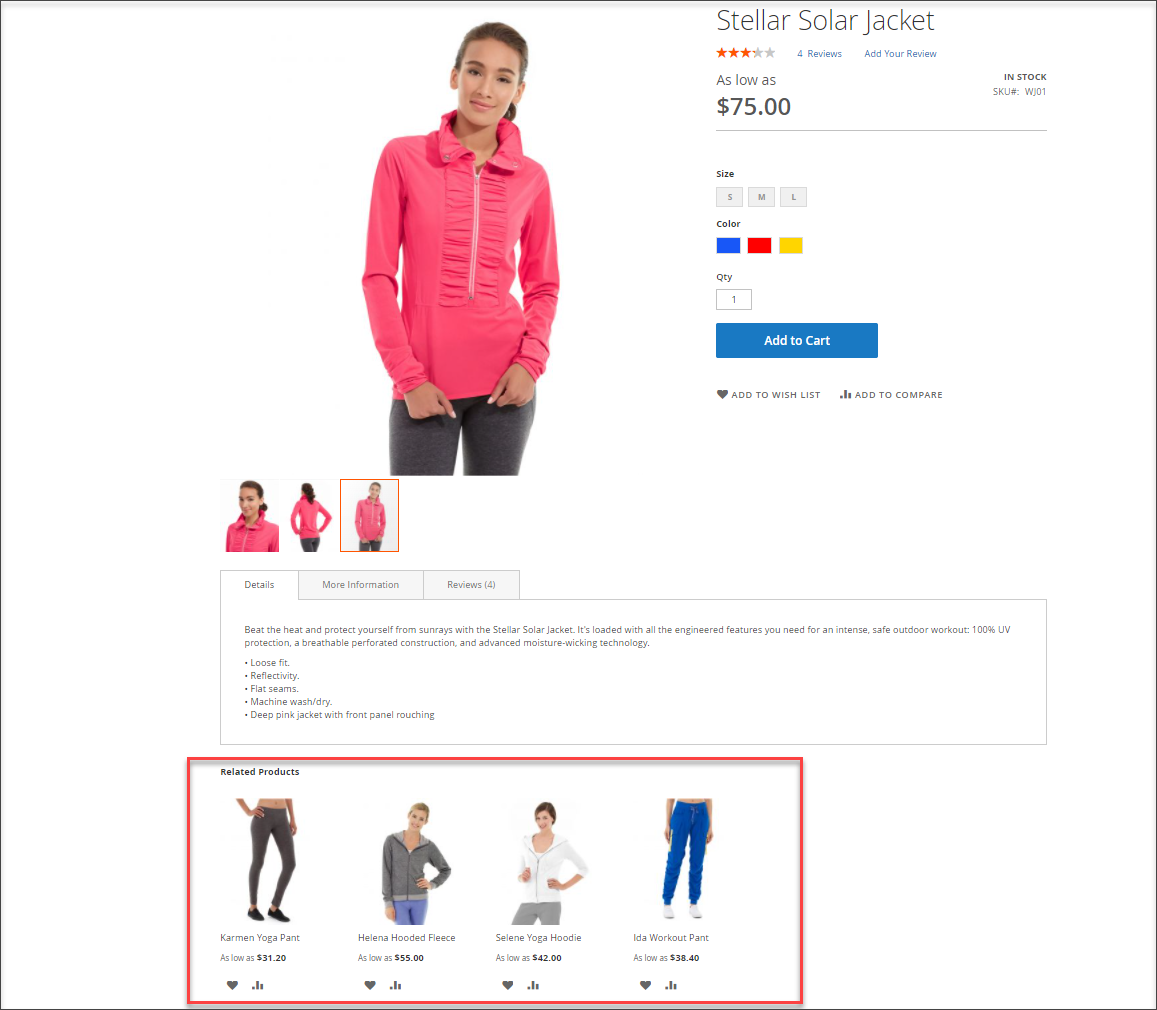 Now we will describe how to create such configurations using Related Products Generator and what conditions you can set to choose necessary products.
How Can I Automatically Create Magento 2 Related Products Using Magento Store Manager?
In order to automatically generate Magento 2 related products in Magento Store Manager, follow the next algorithm:
Launch Related Products Generator Tool and Add Configuration



On the toolbar, open the "Store" section and select the "Related Product Generator" tool. In the open window you will see a toolbar to edit existing configurations and a button "Add Configuration". Press it to create your first configuration:




Magento 2 Related Products Generator



Specify General Settings and Create Attributes Filter



After you click "Add Configuration", the window "Filter Configuration" will open. It has two tabs: General Settings and Attributes Filter:

Magento 2 Related Products Generator

Let's figure out what the settings in each tab are used for.




General settings




Name – specify an informative name so that you could distinguish different configurations (we named our configuration "Swatch Watches + Watch Bands).




Relation type – choose whether you want to generate related, up-sell or cross-sell products.




Store view – tick the box to apply changes to a certain store view.




Select no more than – set a limit to a number of products to be displayed in the filter results.




Link no more than – specify maximum number of products that can be shown as related to the viewed product.




Operation (select an option from the drop-down list):
Remove old links, add new – if some products already have related products, new related products will be created and previous relations will be removed.
Keep old links, add new — newly created related products will be added to the existing ones. Links to the previous related products will be preserved.
Sort type (select an option from the drop-down list):
By date (last created)
By price (from high to low)
Randomize.
Attributes Filter
Now let's switch to the "Attributes Filter" tab. Here you can specify the conditions to select "main" products: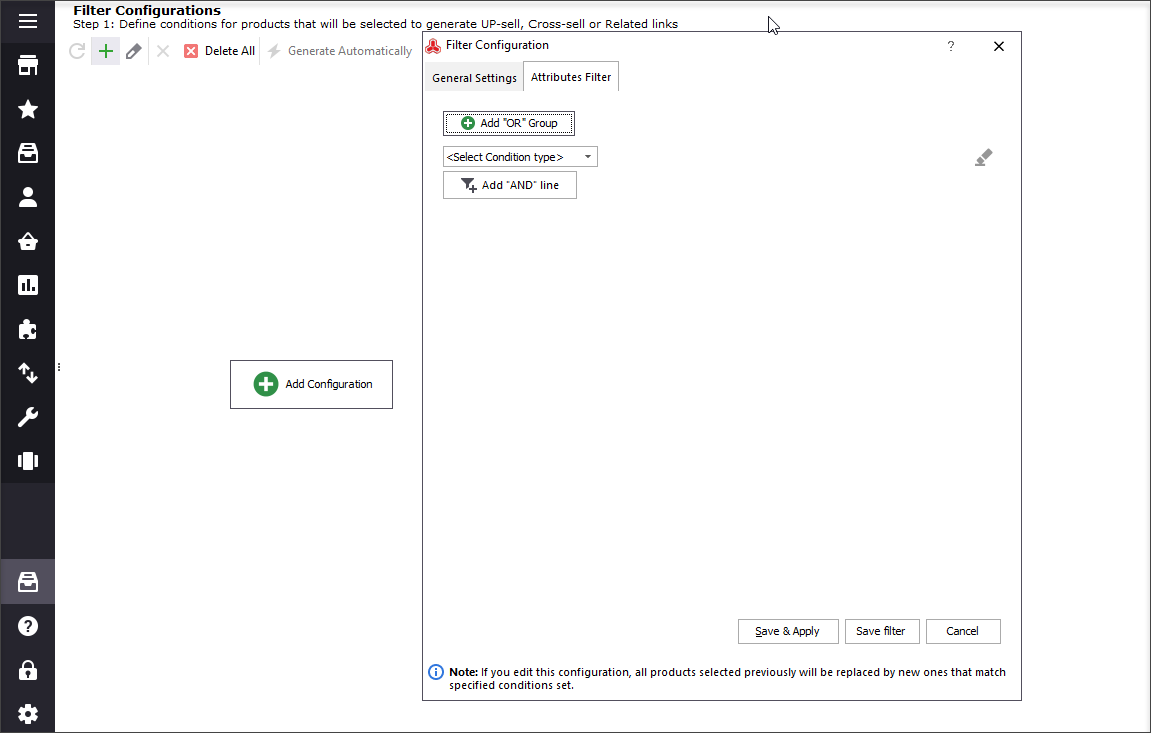 As mentioned above, on the first step you should select the "main" products to which lelated products will be linked. In our example, for users who are viewing "Swatch" watches we want to offer watch bands as related products. So first we should filter all watches under the "Swatch" brand: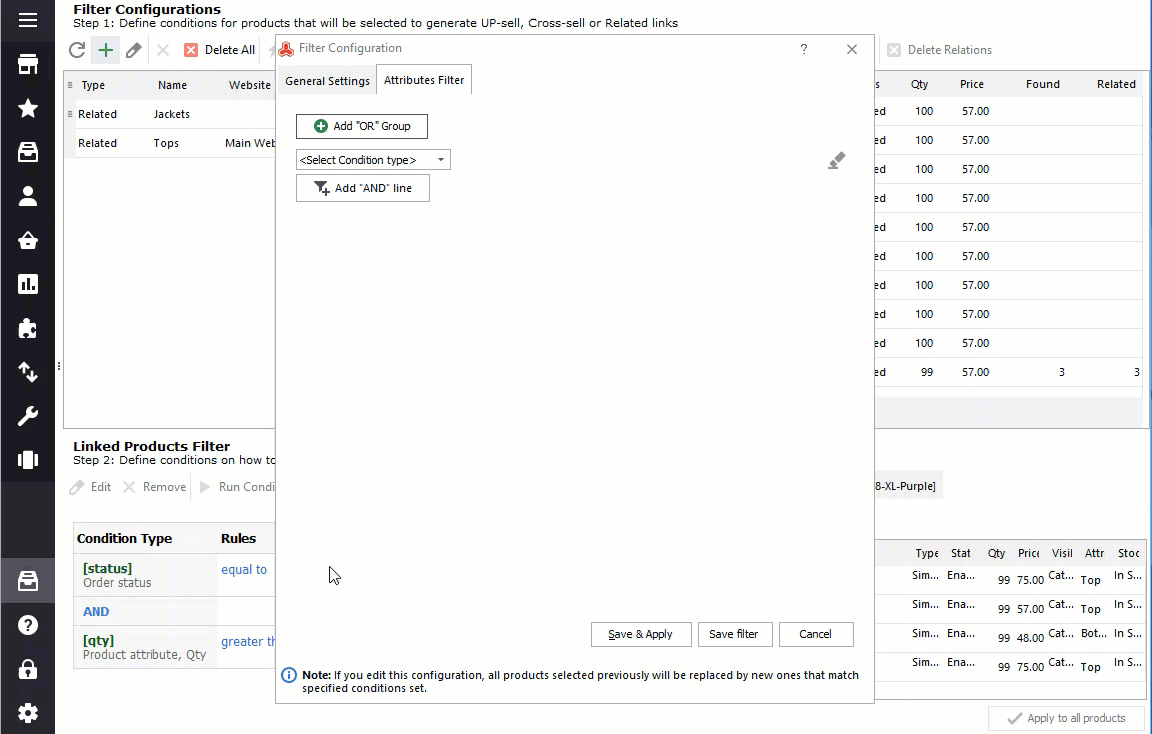 Add the "OR" group to specify alternative conditions that should be met. For example, filter the products with the manufacturer "Swatch":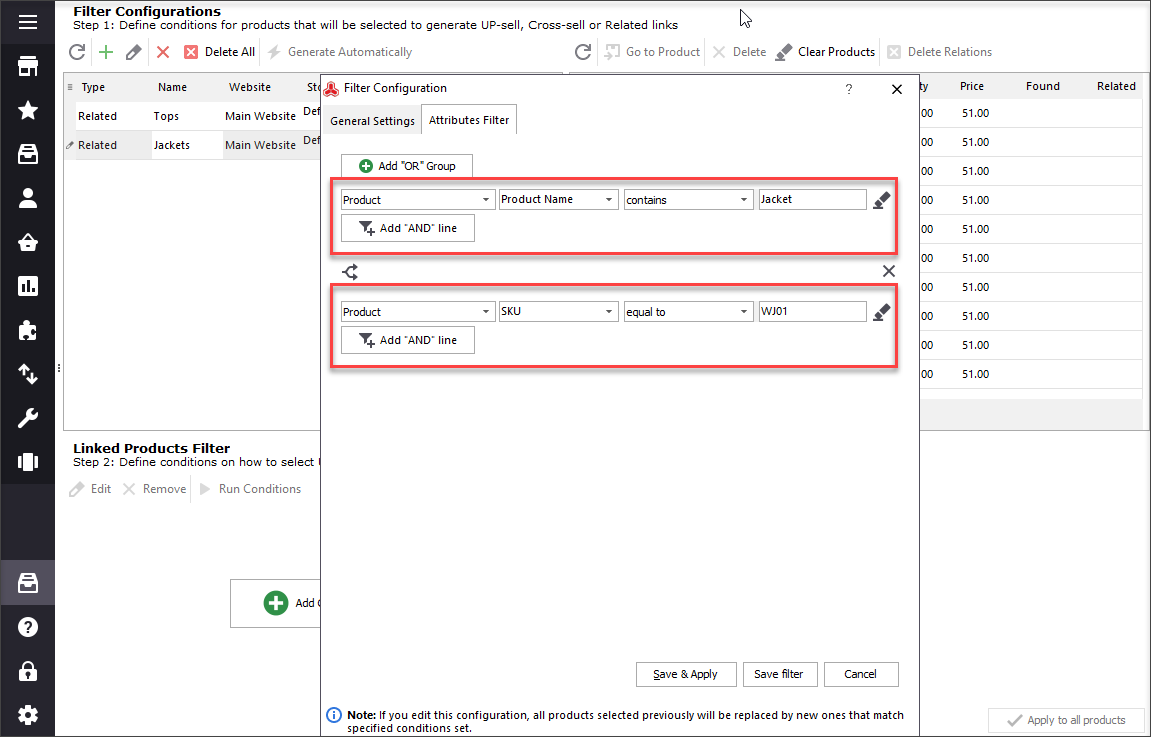 When you are done, press "Save&Apply". You will see the products filtered in the upper grid.
Add Condition to Filter Linked Products
Next you have to specify conditions for the linked products. For that, click "Add Condition":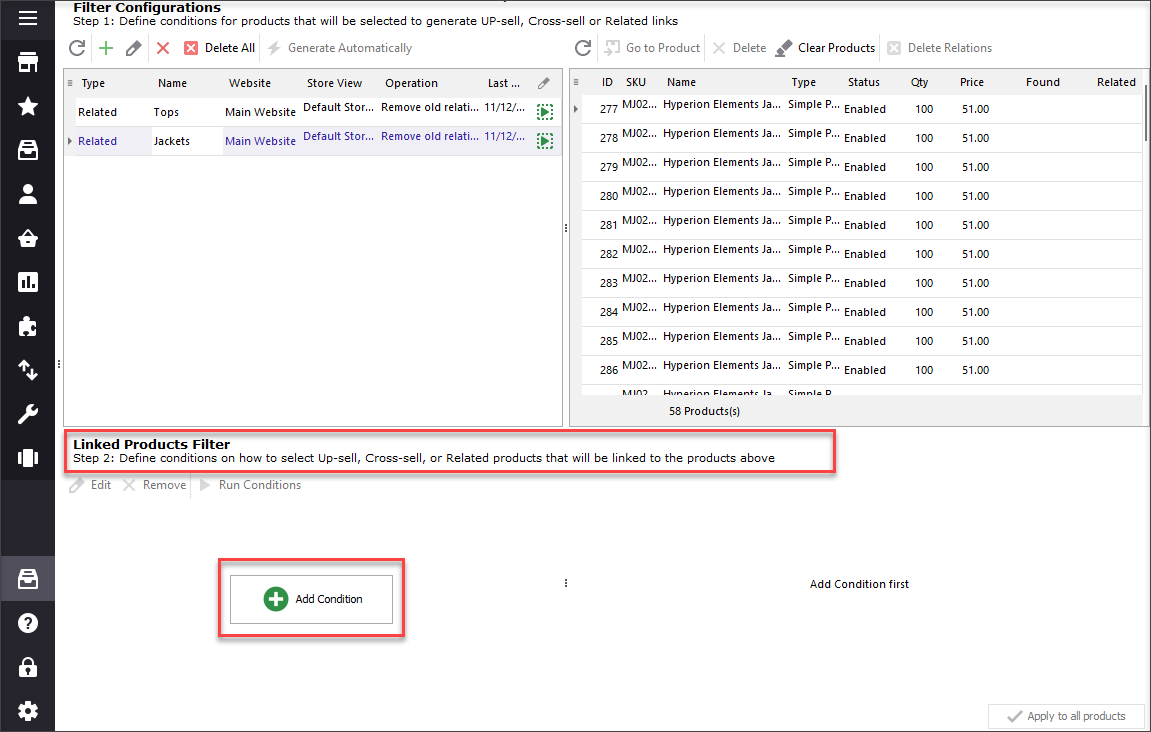 In the open window, specify conditions for the linked products that will be shown as related. In our example, we will show the products from the category 'Watch Bands". To select a category, click on the "Browse" icon and tick appropriate checkboxes: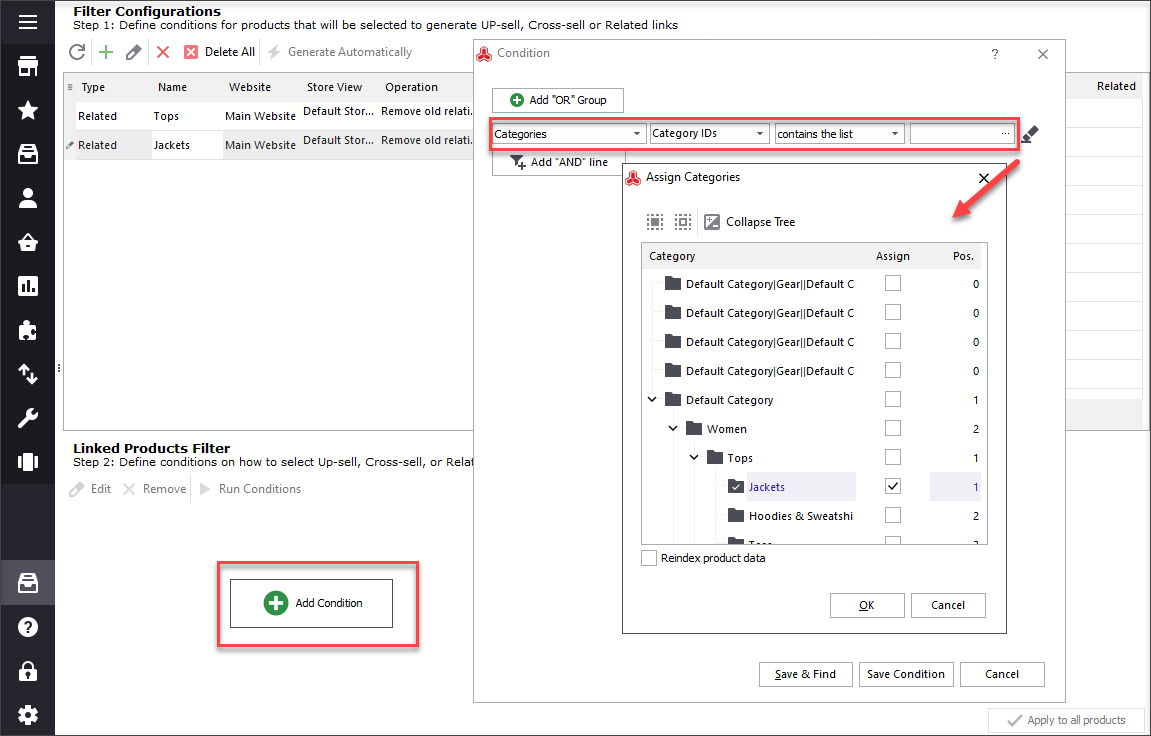 Press "Save&Find". Now the products that meet the specified condition are listed in the lower grid: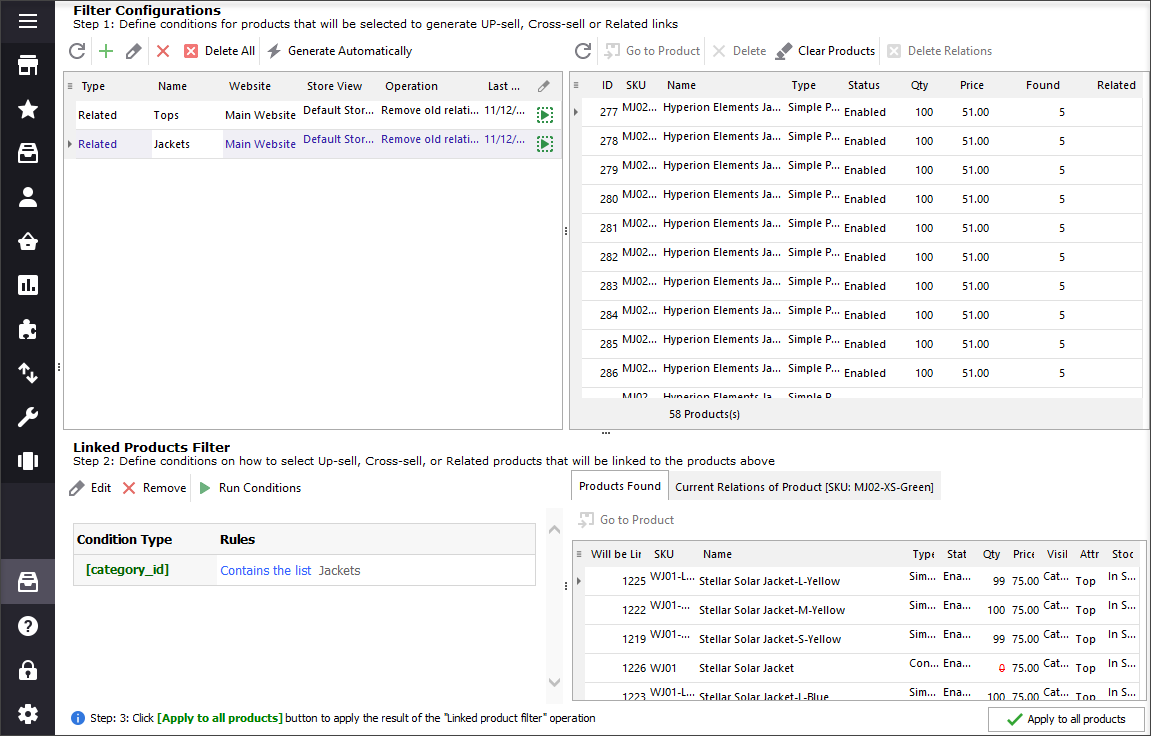 Run the Generator Tool to Add related Products
Finally, click "Apply to all products" to run the generator. Now, let's check the result. Open "Categories&Products", find a "Swatch" watch and open the "Related Products" tab in the lower grid. As you can see, watch bands were added as related to the main product.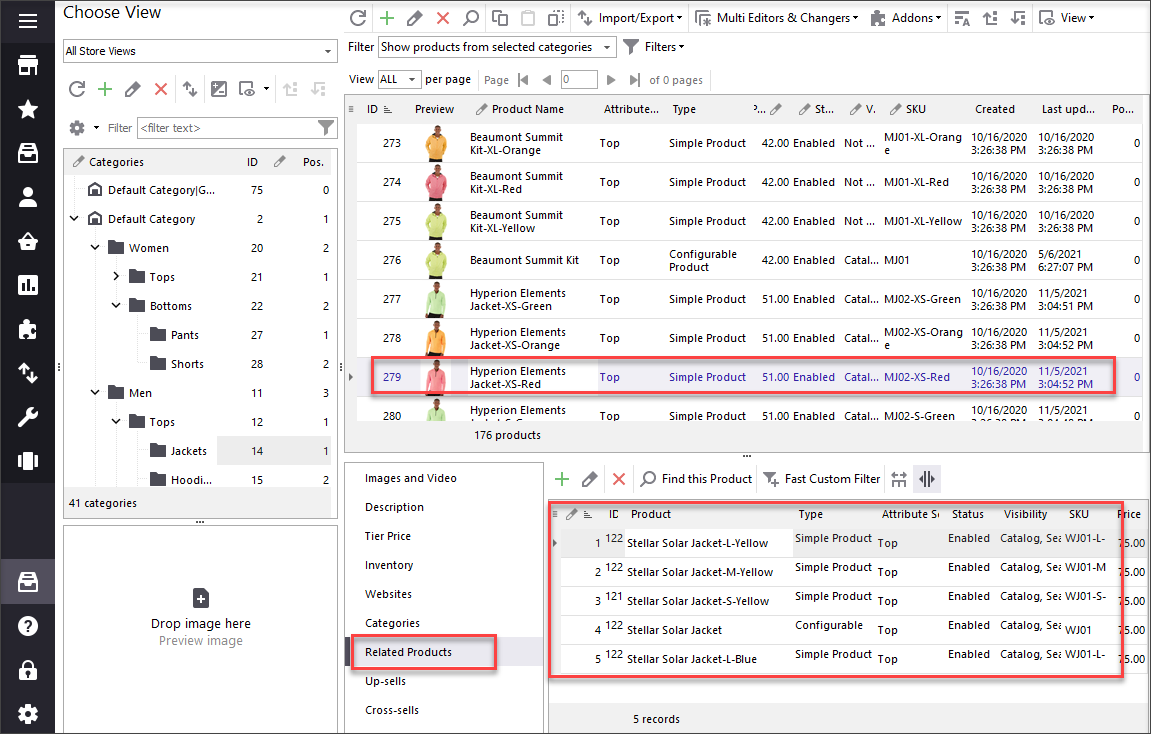 Now you know how to use Store Manager to generate related products in Magento 2 store for multiple products at once.Save your time and increase revenue offering relevant merchandise to your customers!
---
Use Store Manager to add related products at once automatically!
Buy Now


Related Articles:
COMMENTS