Date: 10.10.2018Modified: 05.26.2023
Magento 2 reports tutorial
In Magento 2 reports can provide you with full sales and marketing statistics. This tool can help you a lot in determining your best approaches in selling goods and increasing customers loyalty.
Use this Magento 2 reports tutorial to guide you through the process of order creation and management in Magento 2.
There is a wide range of reports available in Magento 2. In this tutorial, we will consider the most important Magento 2 reports that are Sales, Marketing, Products, Customers, Reviews and Statistics reports, each with multiple subselections. Each of the reports can be generated and exported in few clicks.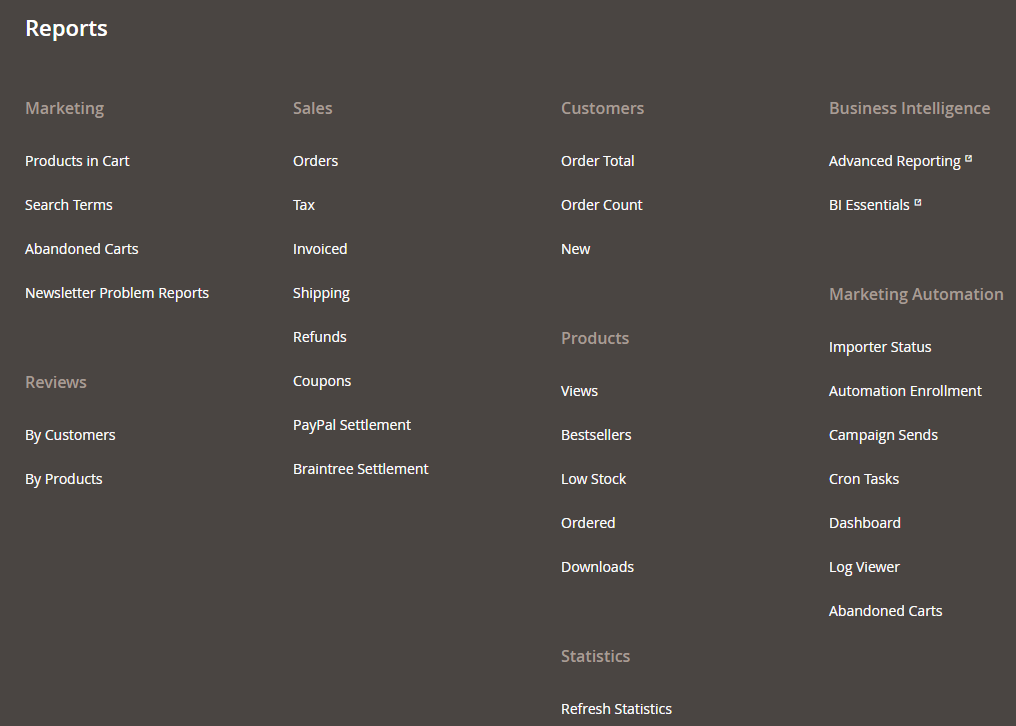 Magento 2 Report Types
Sales reports
All reports of this type (except PayPal Settlement) can be filtered by order creation date, period and status.
Orders report includes the list of orders with totals, amounts invoiced, refunded, shipping charge, taxes, and discounts.
Tax report contains tax rules and tax rates used, number of orders and tax charged.
Invoiced report includes number of orders and invoices, amounts invoiced, paid and not paid.
Shipping report allows to get the number of orders with carrier or shipping method specified in filters.
Refunded report shows the number of orders refunded, total amount refunded.
Coupons report contains the list of coupon codes, related price rule, number of times used.
PayPal Settlement report can be filtered by date, merchant account, transaction ID, invoice ID, PayPal reference ID, event, gross/fee amount.
Marketing reports
Products in Cart report includes all products that are currently in shopping carts with their names and prices.
Search Items report shows what your client search for in each of the store views, the number of matching products, and the number of times a particular query has been used.
Abandoned Carts report contains the list of registered customers with abandoned carts which have not still expired. You can view customers' name, emails, number of products in cart, the date of creation and latest update.
Newsletter Problems report shows data about newsletter queues that transmitted unsuccessfully.
Reviews reports
By customers report contains the list of customers who submitted a product review with their number and the links on the reviews.
By products report lists the items that have been reviewed, the number of reviews, average rating, and links to each product reviews list.
Customer reports
Order Total report shows orders created by a particular customer during specific time period, average order amount and total amount.
Order Count report includes the number of orders per customer created within particular time period, average order amount and total amount.
New Accounts report shows the number of new accounts registered during specific time interval.
Products reports
Product views report lists the products that have been viewed during particular time period with their names, prices and the number of views.
Bestsellers report shows five best-sold items within the specific interval of time, their names, prices, and quantity ordered.
Low Stock report contains the list of goods with stock levels within selected range.
Ordered Products report shows all products that have been ordered during particular time period.
Downloads report contains all downloaded products within specified date range with their names, download links, SKU and number of purchases or downloads.
Magento 2 Sales Report Tutorial
Sales report is likely most frequently used in Magento 2 as it provides with figures that are most important for every merchant. Check how to generate a sales report in a proper way.
Go to 'Reports' and find 'Sales' section. Select the report you want to create.



Magento 2 Reports Tutorial



Refresh the latest statistics to get most recent data.



Magento 2 Reports Tutorial



Filter out the data you want to get.
Tap the 'Show report' button in the right upper corner to generate the report.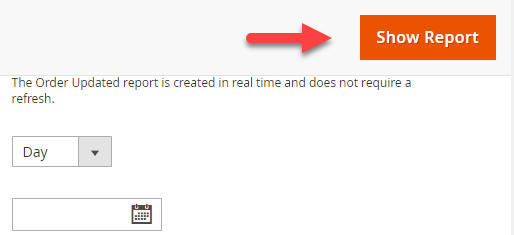 If you want to save the report to file, use the 'Export to' drop down in the right lower corner and select the file format, after that press 'Export'.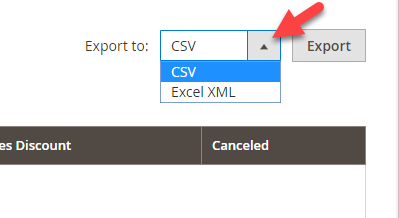 It is highly recommended to use Magento 2 reports feature as it can clear out store's performance in deep details and concerning any side of your online business. In case the possibilities of the provided report selections are not enough for you, you can try Magento Store Manager reports generator and create a bulk of additional reports.
---
Manage Magento 2 reports via Store Manager for 14 days for free - Try now
---


Related Articles:
COMMENTS