Date: 06.19.2018Modified: 05.26.2023
Magento 2 one-time buyers report
One-time buyers make a very important customer group indicating on store's ability to attract new shoppers. However, you should constantly keep on tracking their number to avoid too much single-time buyers at your shop. If their number prevails over the number of your loyal customers, you should hurry to redress the situation. First, you have to determine precise ratio between these two groups. Magento 2 One-Time Buyers report is an excellent tool for getting such data.
How to Automatically Create Magento 2 One-Time Buyers report via Store Manager
With the help of Store Manager you can instantly generate Magento 2 One-Time Buyers report and get the percentage of your store's one-time buyers and returning customers. The procedure can be fulfilled in few simple steps.
Open 'General Reports' section and select necessary store view.



Magento 2 One-Time Buyers



Double-click on 'One-Time Buyers' report type.

The report contains two sections:

The pipe graph displaying the percentage of one-time buyers and returning customers;



Magento 2 One-Time Buyers



The list of customers with their e-mails and order count.



Magento 2 One-Time Buyers



Having prepared the report, you can print it, save it as a PDF file or send it by e-mail. In case, you need to modify some information of the report, select 'Edit page' option and change the text or add some graphics or company logo etc.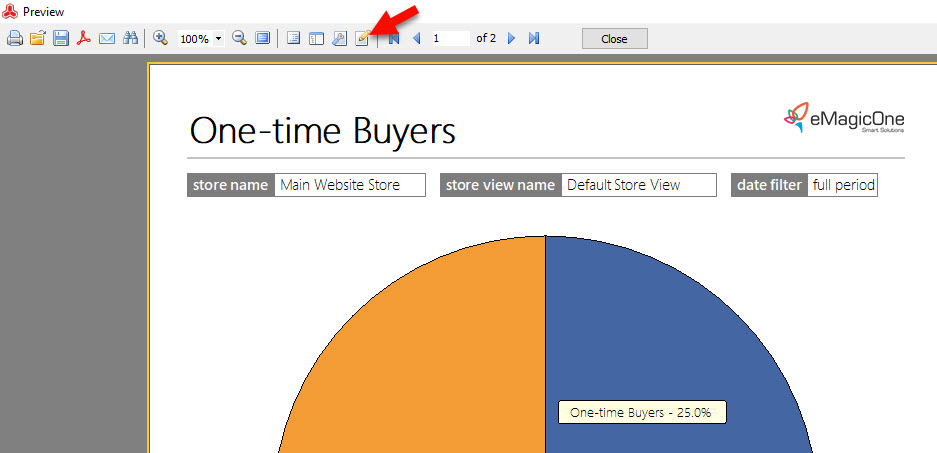 How to Use the Report's Results?
The received results will considerably help you in defining whether your marketing strategy is effective or requires some modifications. The optimal ratio between these two customer groups is 40% (one-time buyers) to 60% (returning customers). In any case, the shoppers who purchased from your store only once need to be turned into returning buyers. So you need to come up with some tactical methods of getting them back for making more purchases.
Personalization and targeting are likely the best ways to make single-time buyers purchase once more and become your regular clients in future. At the same time, your loyal customers require appropriate attention in the form of offers, gifts etc.
Store Manager for Magento provides with a bulk of reports for getting precise order statistics, defining your best sellers and best vieved products. With their help you can easily get the whole picture of your store's performance.
---
Try automatic creation of Magento 2 One-Time Buyers report for 14 days free - Try Now
---
COMMENTS
sidebar]
Be the first to comment.