Date: 02.01.2019Modified: 06.14.2023
Check Magento data integrity with store diagnostics tool
Magento store owner needs to pay attention to data storage, processing and transfer to keep database accurate, thus its tables, records and fields could be unique, filled in, and correspondent. You may think that actions you perform over data are safe and cannot cause any issues, though, even import process may damage the database. So, from time to time, it is recommended to investigate whether everything's fine with your Magento store. Maintaining Magento data integrity means making sure the data remains invariable throughout its entire life cycle. It can be preserved with the help of the separate section of Store Diagnostics tool available in Store Manager for Magento.
What types of data integrity diagnostics are at user's disposal and how they help keeping the database precise? Let's have a closer look.
Types of Magento Data Integrity Diagnostics
Both Professional and Adobe Commerce (Magento Enterprise) Editions of Store Manager offer 5 types of Magento data integrity diagnostics, among which are: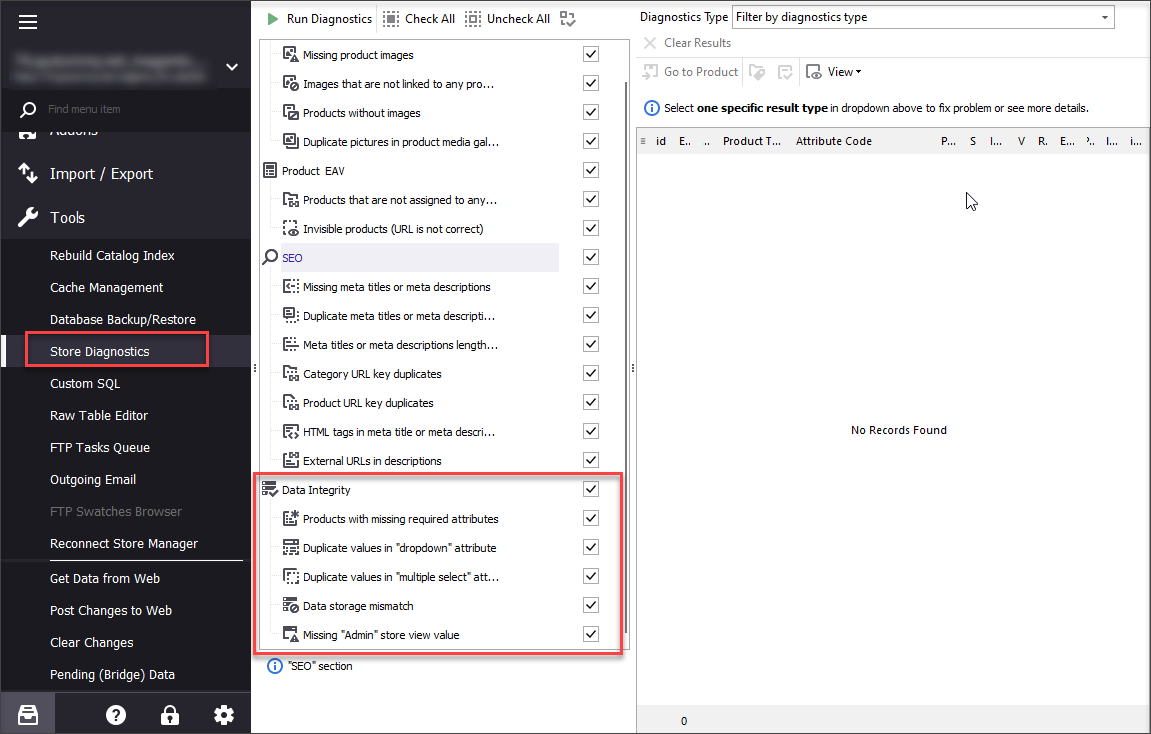 Products with missing required attributes - if for some reasons obligatory attributes in Magento products (name, price, etc.) are missing. This type of diagnostics retrieves the list of described items.


Duplicate values in dropdown attribute - allows to check identical attribute values for the existing dropdown attribute.


Duplicate values in multiple select attribute - works identically to the previous type but for multi-select type of Magento attribute.


Data storage mismatch - detects products with attributes, whose backend type had been somehow changed and as a result, data storage was corrupted.


Missing "Admin" store view value - checks for products that do not have values specified in Admin store view and therefore, cause issues with other store views on the website.
Running Magento Data Integrity Diagnostics
Once you decide to perform particular type of Magento data integrity diagnostics or all of them taken all together, tick the respective checkbox and hit "Run Diagnostics" button.
You will see the diagnostics being processed in the corresponding dialog window. After it is finished - you will see the number of product records with data issues that need to be fixed in front of the certain diagnostics type.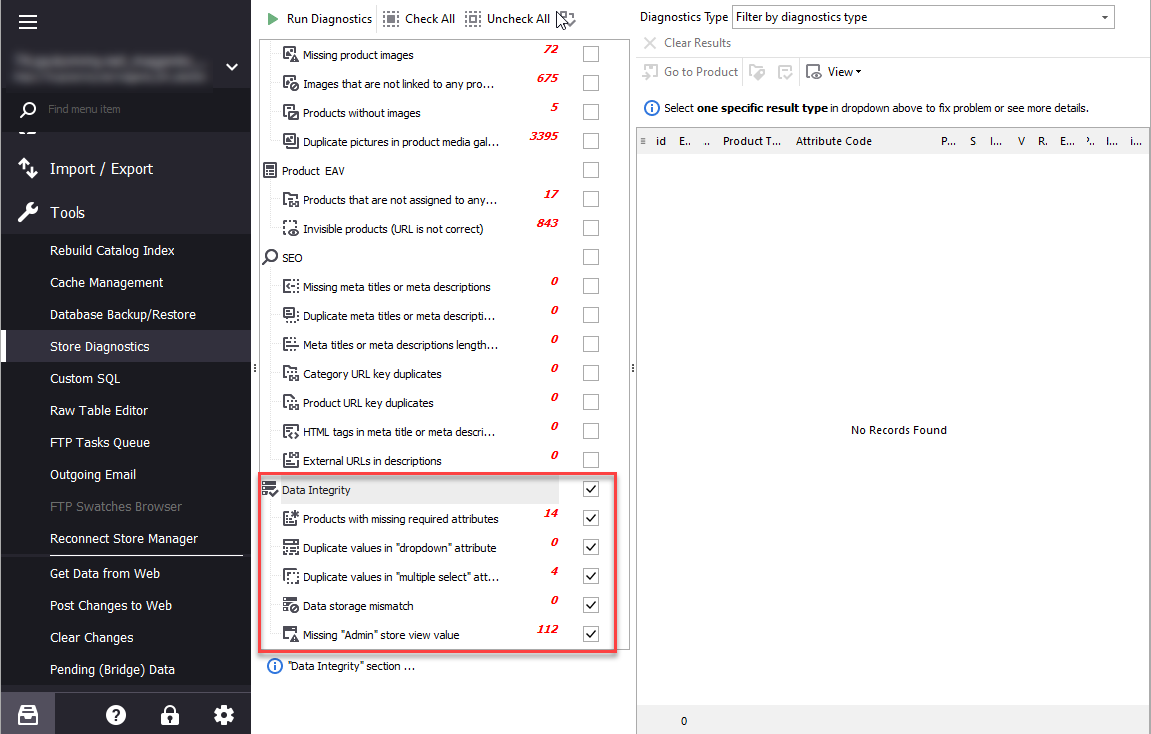 To go to the list of merchandise, filter the needed type via the corresponding button on the right pane of Store Diagnostics section.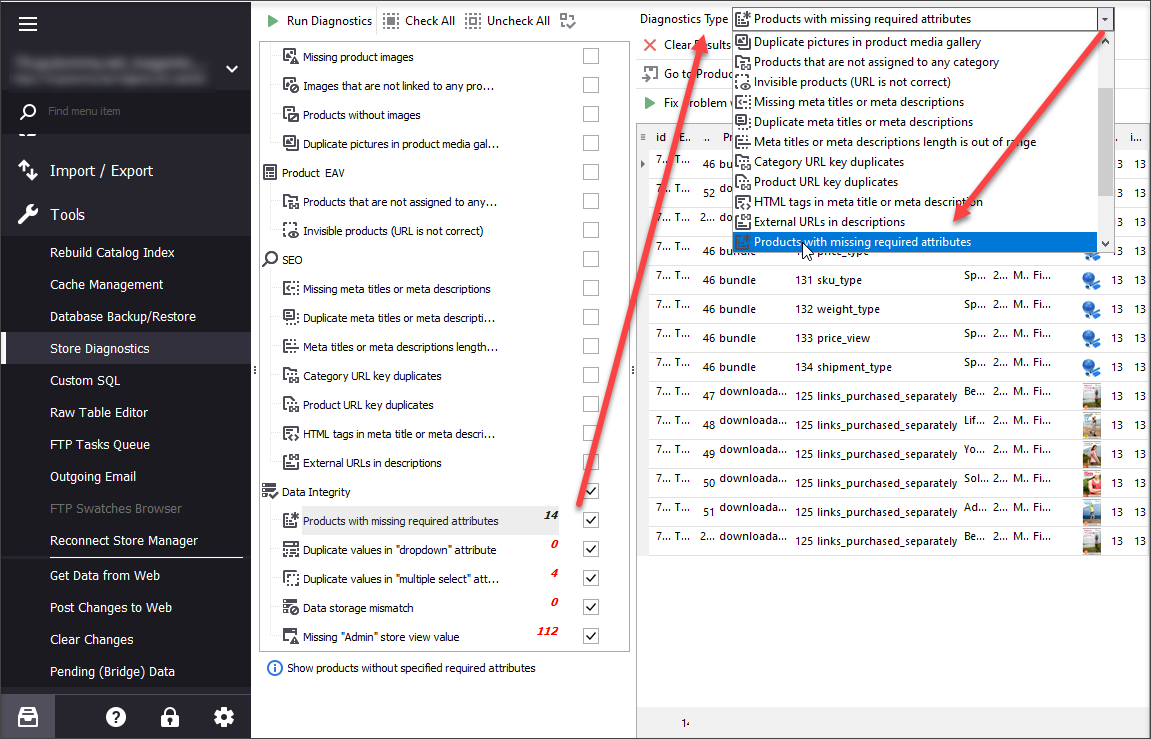 Items in the list contain exact explanation about the issue and recommendations on how to fix it by executing the recommending action.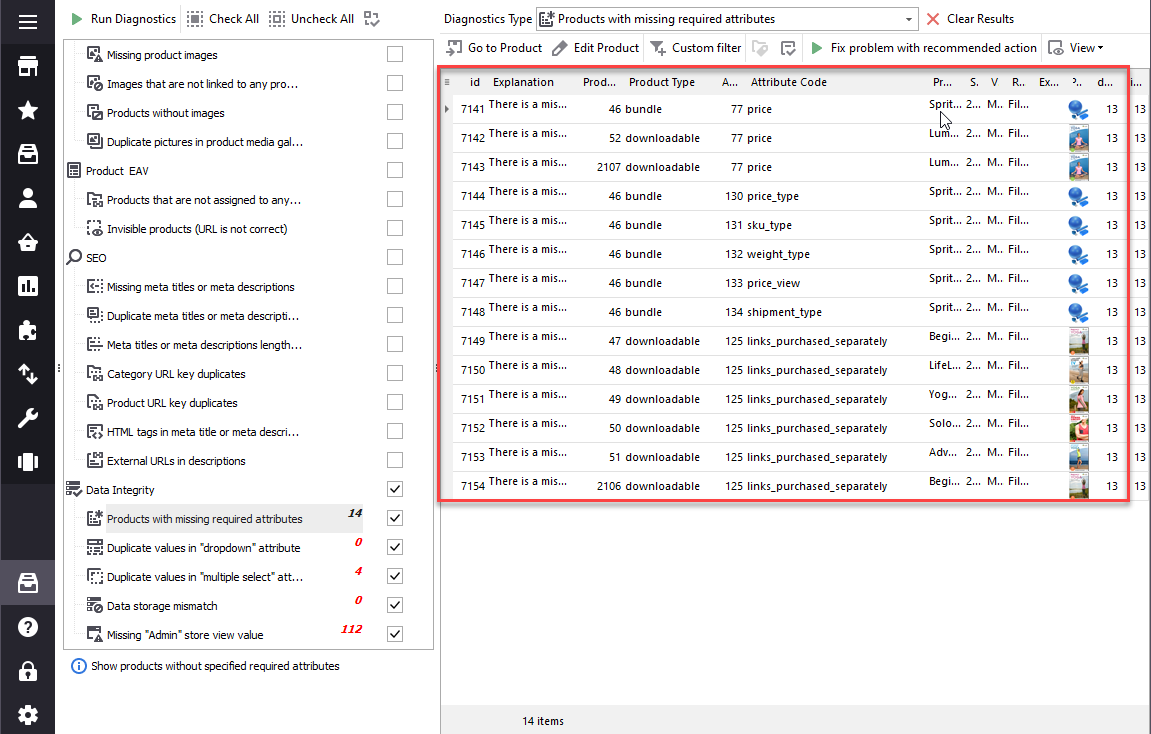 If there are lots of details to correct, for example, "Products with missing required attributes" returned the list of products with no name specified, you can filter them and export to Excel that will save hours of manual work. After the titles are added in the file, you can use import functionality to upload corrected products back to your store.
Further Reading:
Check your Magento data integrity for accuracy with Store Manager - TRY FREE
COMMENTS