Date: 01.14.2016Modified: 11.25.2021
How to Bulk Upload Magento Swatch Images
Magento swatch image support is a cool feature, designed to enhance configurable product display and its visual representation. You can set images for any configurable attribute in the way that allows a customer check how each of variations looks like when choosing Magento swatch changes imagefrom the drop-down.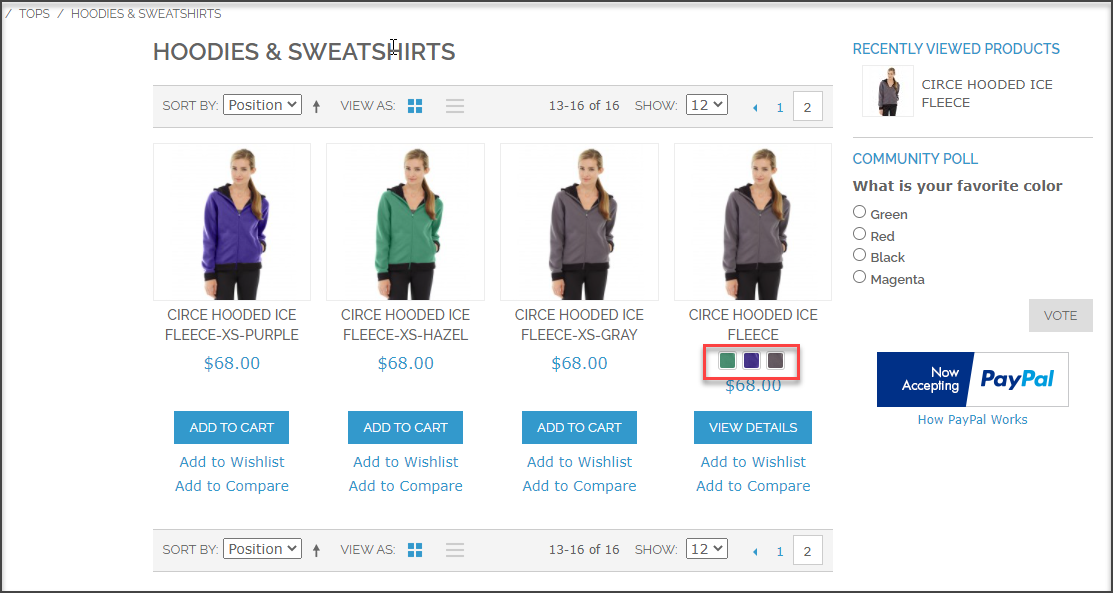 You might have read between the lines and experienced yourself that Magento swatch changes image in case this image is set as Base for simple item, representing this selection. Correspondingly, each and every associated product should have Base image assigned and this very image will show when you click on swatch at the product page.
Have hundreds of configurables with numerous associated simple products each? Adding pictures one by one to simple items may really be a tough nut to crack and beget inconveniences. Although you can bulk upload Magento swatches and bypass tedious tasks accomplishing. We offer you extended tutorial on how to import images to configurable product selections with Store Manager for Magento and get Magento swatch to change image when one hits its icon at the frontend.
Before you start bulk upload Magento swatches procedure, make sure Swatches are enabled in Magento backend and attributes, to be displayed as swatches, are chosen in settings. In the post mentioned above you will find all these details.
Bulk Upload Magento Swatches: Preparations
Successful swatch image appending requires you to structure import file properly.
As to swatch image import, consider the following:
Provide Base image for each simple product in the file
This image will be displayed when certain swatch icon is clicked at the frontend. For example, simple product with attributes zise=XS, color=gray and SKU WH12 - has "wh12-gray.jpg" image provided in the file, the same image we have for simple product with attributes - size=S, color=gray and simple product with attributes size=M, color=gray
Starting from version 1.9.1 Magento claims for unique image titles. We have identical pictures for each color, but Store Manager will regenerate image names in the process of import. Although you can create several copies and input unique name for each.
At the screenshot below you can see sample file with one configurable product, having multiple associated simple products. There is Base Image column listing images for each row, that is for each simple product as well as for main configurable item. Additionally we add image to the Media Gallery and thumbnails.
Download sample of .csv file for Magento swatch image import Get File!
Swatch Image Upload Settings
We will draw your attention to settings you have to configure properly to bulk upload Magento swatches.
Import Wizard: Step "Fields Delimiter and Additional Settings"
First of all, consider image settings here
enable image import checking "Import Images" box
let the application change special symbols if there are some as part of image name, for example "space", #, %, @
if you have one and the same image assigned to several products (with identical name) or simply there occur pictures with the same titles, tick "Regenerate new image name if image already exists" option and Store Manager will add "_1" to image name
uploading images stored locally, indicate path to this local folder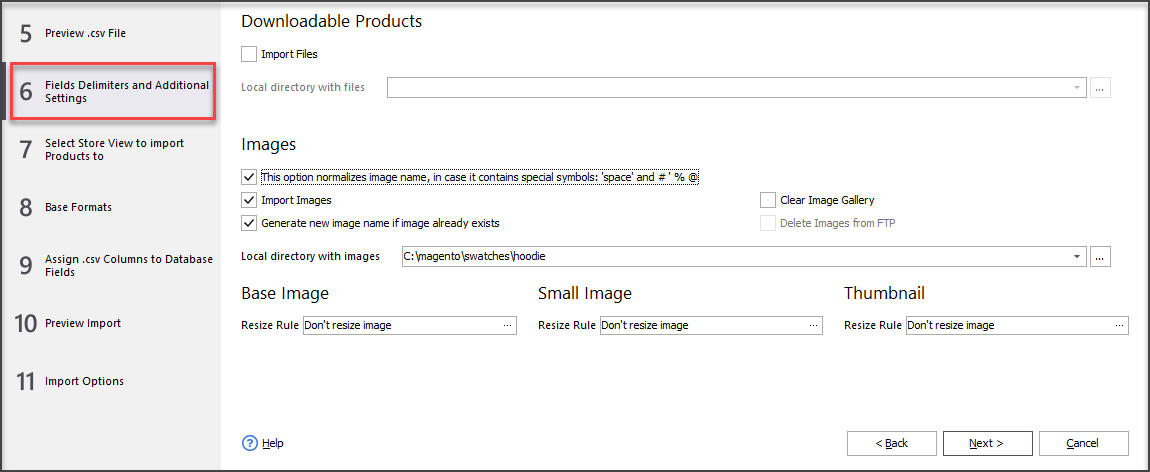 Do not forget about delimiters:
uploading multiple images to Image Gallery, set separator you use for detaching images in the file
do not mix previously mentioned delimiter with the one, used for multiple values within one column separating. Check whether indicated in "Select delimiter which will be used to separate multiple values in one column" symbol is not present in Media Gallery column of your file as part of image name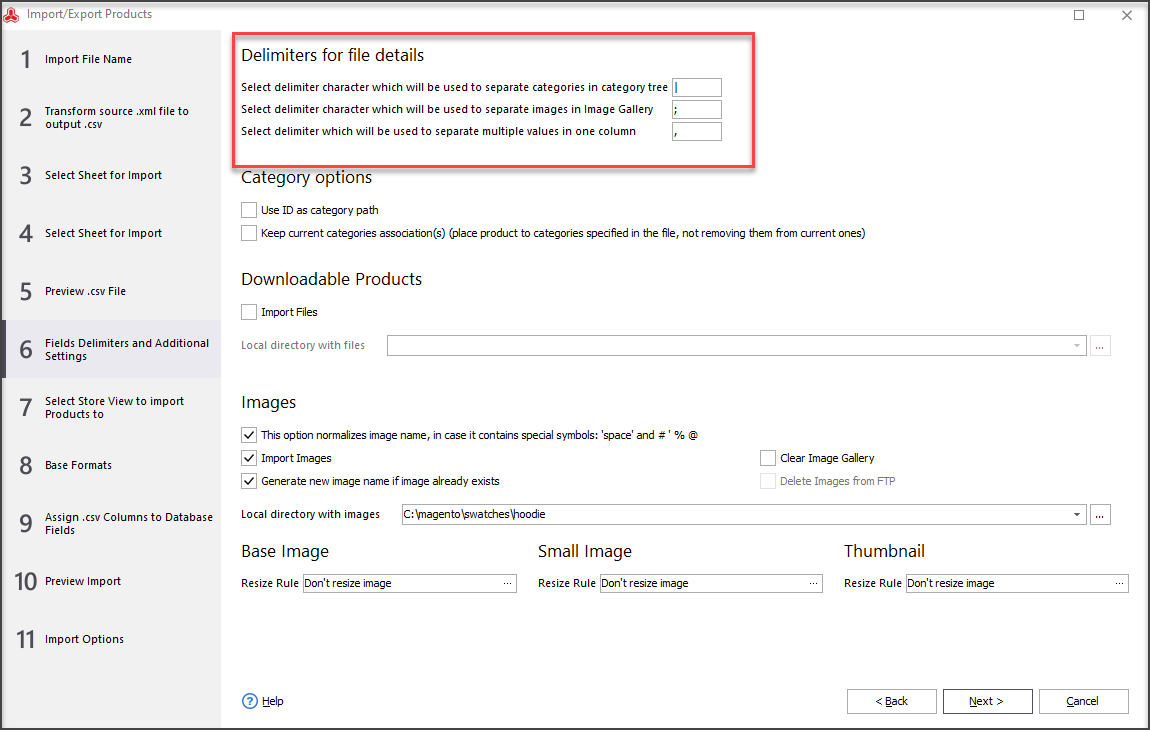 Import Wizard: Step "Assign .csv Columns to Database Fields"
As it has been mentioned, you need to set Base images for simple products. Assign file column, containing base images to Base Image field of Magento database. Additionally you can upload Small images, Thumbnails, images to Media Gallery.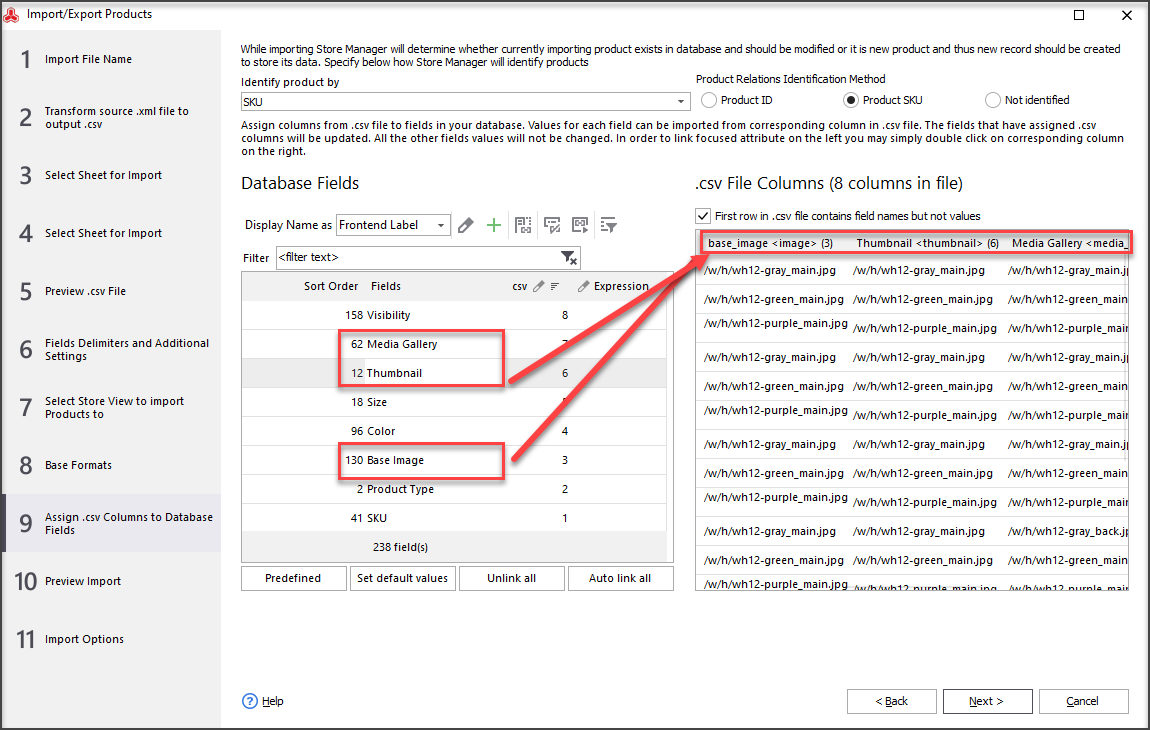 Consider Product Relations Identification Method. You are uploading configurable products to Magento, so do not miss relation identifier, in other words, you need to link simple product to main configurable by ID or SKU.
At data import preview step you can check whether fields were assigned properly to avoid muddles. Once Magento import wizard accomplishes upload, check products in Store Manager and ensure each Magento swatch changes images at the frontend.
| | |
| --- | --- |
| How to Bulk Upload Magento Swatch Images | How to Bulk Upload Magento Swatch Images |
The screenshot below demonstrates that images flawlessly change at the frontend when certain swatch is pressed.
Provide you customers the ability to see how each color or pattern looks on the product they are viewing. Upload image to each of product selection with Store Manager and see how Magento swatch changes image at the storefront.


Related Articles:
COMMENTS
Molly • 01/22/2016
Thanks for tutorial. Really helpful.
But what if configurable and associated products are created, but I need to add images to them only? Again import relations?

Magento Store Manager

Mod
Molly
• 02/15/2016
Hello, Molly.
If you have configurable products created, you do not need to export/import product relations. You may have in the import file simple product identifier and Base image only. In the process of import configuring via import wizard assign these fields to database ones to get images uploaded and set as Base for simple products.