Date: 10.23.2015Modified: 12.08.2021
Magento – IceCat Integration: Step-by-Step Tutorial
Integrating your Magento and IceCat catalog you can solve one of the most important difficulties managing online store - where to get relevant images, descriptions, specs and other product data.
There is no need to ask your supplier to send you product data-sheets formatted according to requirements default Magento import/export has or manually search over the web for details to enrich your content with.
All you need to do is to have Store Manager for Magento installed and IceCat Integration addon registered, plus an account to Full or Open IceCat.
Download Store Manager for Magento to try FREE! Try Demo!
You will be able to update the whole product list in your Magento or selected items with information from IceCat. This tutorial will guide you through each step.
Update the Entire Database from IceCat
If you are performing the update from IceCat for the very first time or planning to renew all of your goods with relevant short or long descriptions, images, manufacturer etc., you need to follow these steps.
1) Run IceCat addon
In "Addons" section of Store Manager's ribbon menu. If you are running it in Demo mode you will be able to update 5 first products as a test. To renovate all of products you need to purchase the addon separately.
2) Setup settings
Open "Settings" tab. There you will see a few tabs corresponding to configuring addon.
General settings:
IceCat authorization - where you have to indicate username and pass to your Open or Full IceCat account.
Languages - if you are selling goods in specific geographical area and need only details in some definite language, you can select it here and further you will be able to find matches for selected localization.
Search settings - there you can indicate minimal words length and minimal relevancy.
Update - you need to use "Entire database" if you have not retrieved IceCat database locally yet and using addon for the first time. "Daily updates" option suits for further usages of IceCat addon for your repeated updates of new products appearing at your shop.
Fields to check when finding matches on IceCat - here you should select what fields on IceCat addon should check matching up your store products automatically.
Advanced search - the most important settings in this section are the ones related to identifiers that you have got for your products.
Opening any product on IceCat you will see that it has fields 'Product Code' and 'UPC/EAN' with values:

When trying to update these products with values from IceCat, your products need to have one of those unique identifiers.
If your unique identifier for product is named differently than on IceCat, you need to specify the attribute code* of that Magento product attribute either in 'IceCat code field name' or in 'EAN code field name' fields (depending on code you have).
*Attribute code should be formatted according to Magento requirements (no spaces or special symbols, lower-case letters only). You can check codes of your attributes going to 'Attribute' section, opening edit form for needed attribute and viewing tab 'Attribute Properties'-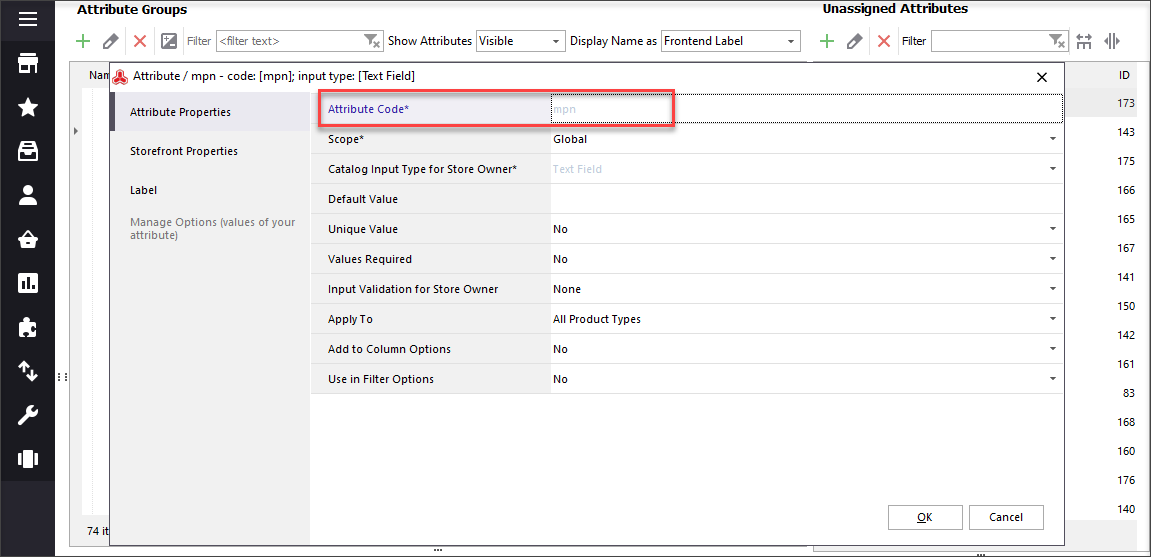 Let's view a few examples of most-often used identifier fields and settings for them.
SKU
This example is very often used. Lots of stores have their SKUs as universal product codes. If this is your case as well, then put 'sku' in settings field 'IceCat code field name' like here -
| | | |
| --- | --- | --- |
| Magento – IceCat Integration | Magento – IceCat Integration | Magento – IceCat Integration |
MPN
You've got in your database products that have unique universally accepted value in the field mpn and want to use it as identifier for lookup. So you need to put the exact name of this field (in our case mpn (or other specific attribute code you have) in the the field 'IceCat code field name' of the settings).
| | | |
| --- | --- | --- |
| Magento – IceCat Integration | Magento – IceCat Integration | Magento – IceCat Integration |
EAN
If you have EAN code in the field named 'Ean' for your Magento goods, you have to put 'ean' for the field 'IceCat code field name'.
| | | |
| --- | --- | --- |
| Magento – IceCat Integration | Magento – IceCat Integration | Magento – IceCat Integration |
UPC
UPC also may be used for product identification. So if you have value with product UPC code in fields let's say named 'upc code' with attribute code 'upccode', put it into 'EAN code field name' settings field.
| | | |
| --- | --- | --- |
| | Magento – IceCat Integration | Magento – IceCat Integration |
Any Custom Attribute with Identifier
In case for example identifier for your products is placed to some specifically-named attribute, you also can specify it. For example, having EAN code value in your Magento in attribute named 'Code' you need to configure settings in this way -
| | | |
| --- | --- | --- |
| Magento – IceCat Integration | Magento – IceCat Integration | Magento – IceCat Integration |
Products features (specifications) settings
If you open 'Product features' tab, there you will be able to configure settings to add IceCat specifications as separate attributes or as a part of description.
To add specifications to your product description, just check the box responsible for this setting.

Magento – IceCat Integration



If you want specifications to be displayed as attributes, or update specific attribute value you've got in your store, then you have to create in advance the same attributes with exactly the same names as on IceCat (attribute codes may be different) at your database. Moreover, you need to uncheck box 'add product features to description'. After that you would be able to Import all 'Detailed info' from IceCat as attributes to your store.
Read more details on how to configure these settings at:
www.mag-manager.com/useful-articles/how-to/how-to-add-icecat-specifications-as-separate-attributes-or-a-part-of-description/
Advanced settings
If you have different manufacturer attribute for different attribute set, you can specify them here. For example, if your have attribute set 'Printer' and manufacturer for them specified for example in 'Brand' attribute, you can indicate this.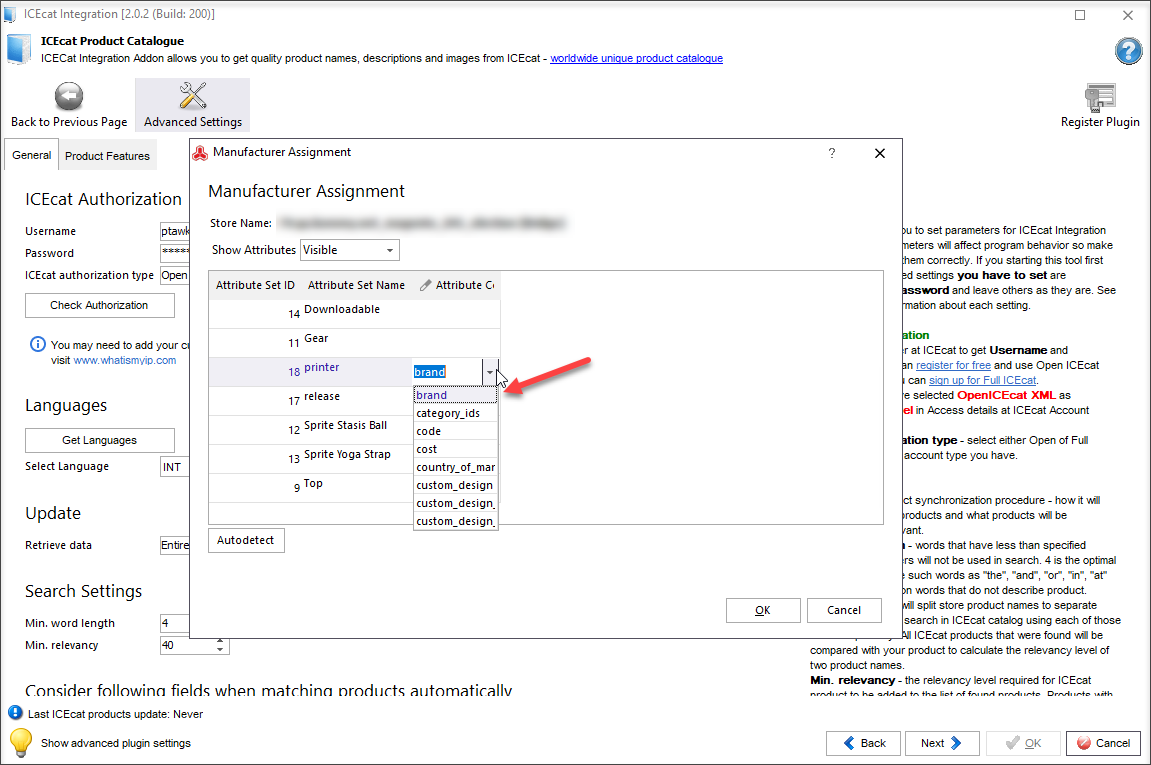 3) Retrieve products from your store
After the settings are set, you can go back to previous page and you will see the button that allows you to load all the products from your store. When done, you can move to the next step.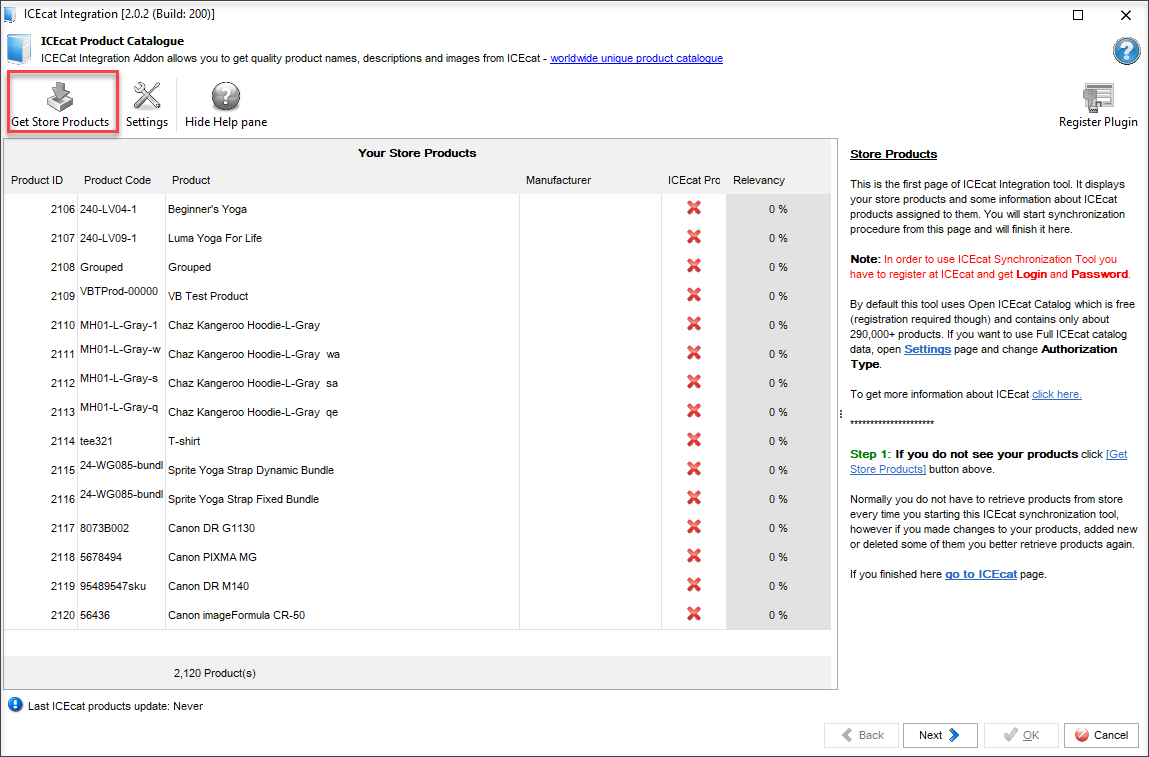 4) Select categories and suppliers to find matches on IceCat
If you sell goods belonging to certain categories only you might select the necessary ones. Do not worry, IceCat categories might not coincide with your store categories, you just need to select the ones that are the closest to your selling field.
However, if you are performing update for the first time it is recommended to check all categories (right-click on any category and choose to select all) and suppliers to get copy of the whole IceCat database saved locally. It will be used for further updates (in case you enrich your store with new products regularly) without repeating the mentioned 4 steps once again.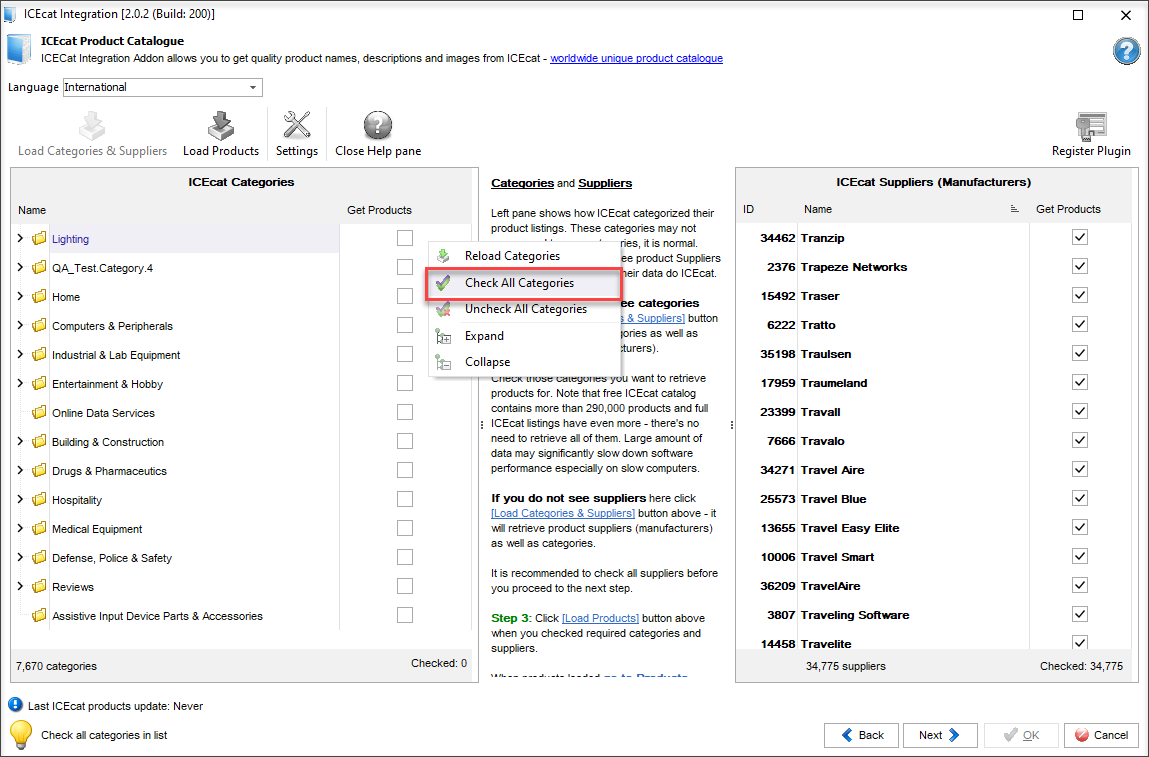 5) See loaded from IceCat products by category
At this page you will see the products retrieved from IceCat corresponding to categories and suppliers you have selected at the previous step.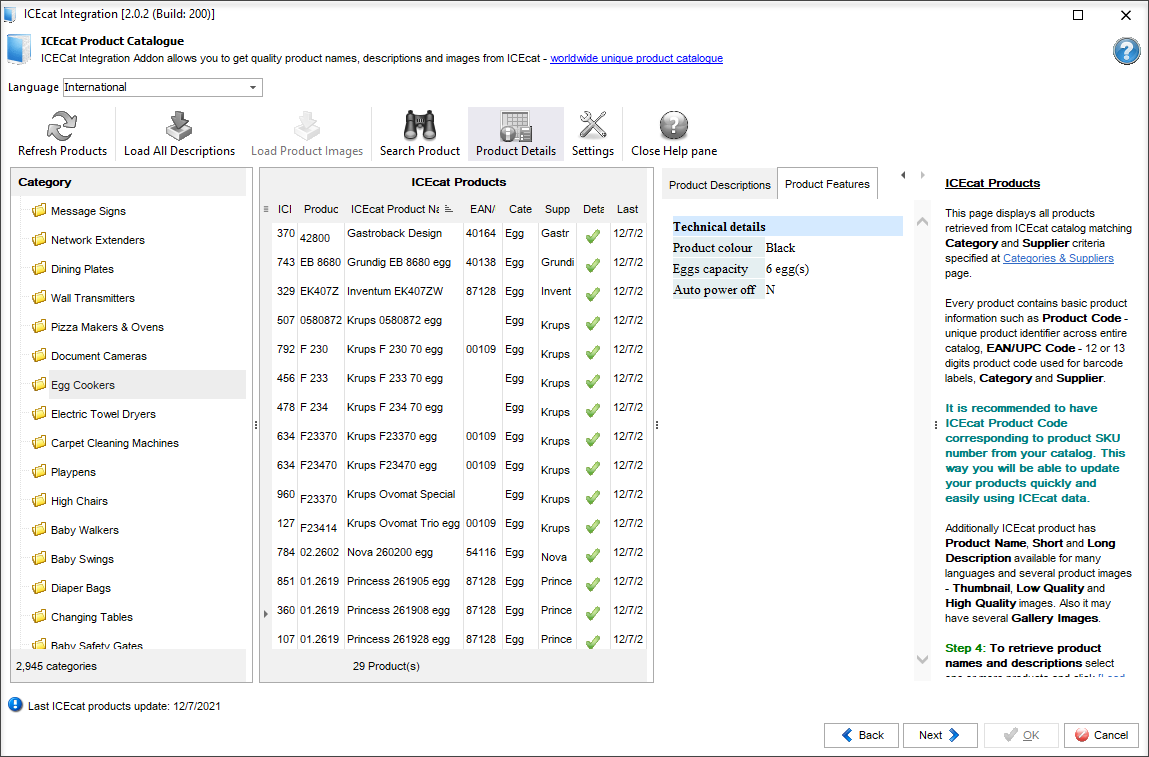 You can switch between different IceCat categories and see the products belonging to them. If you press 'Product details' button, you will see products features and descriptions that IceCat catalog offers. In case there are no any, you can load products images and descriptions to goods (by categories) from IceCat, but note that this may take considerable amount of time.
If you do not load all the product details here to view and compare them, you will be able to do this at the next step for each IceCat matching item.
6) Link your store products with the ones matching from IceCat
The next step is to find IceCat products that correspond to your Magento goods by pressing "Find IceCat matching products".
You will see matches found and select what info to update for them, checking the boxes - name, short and long description, manufacturer, thumbnail and gallery images.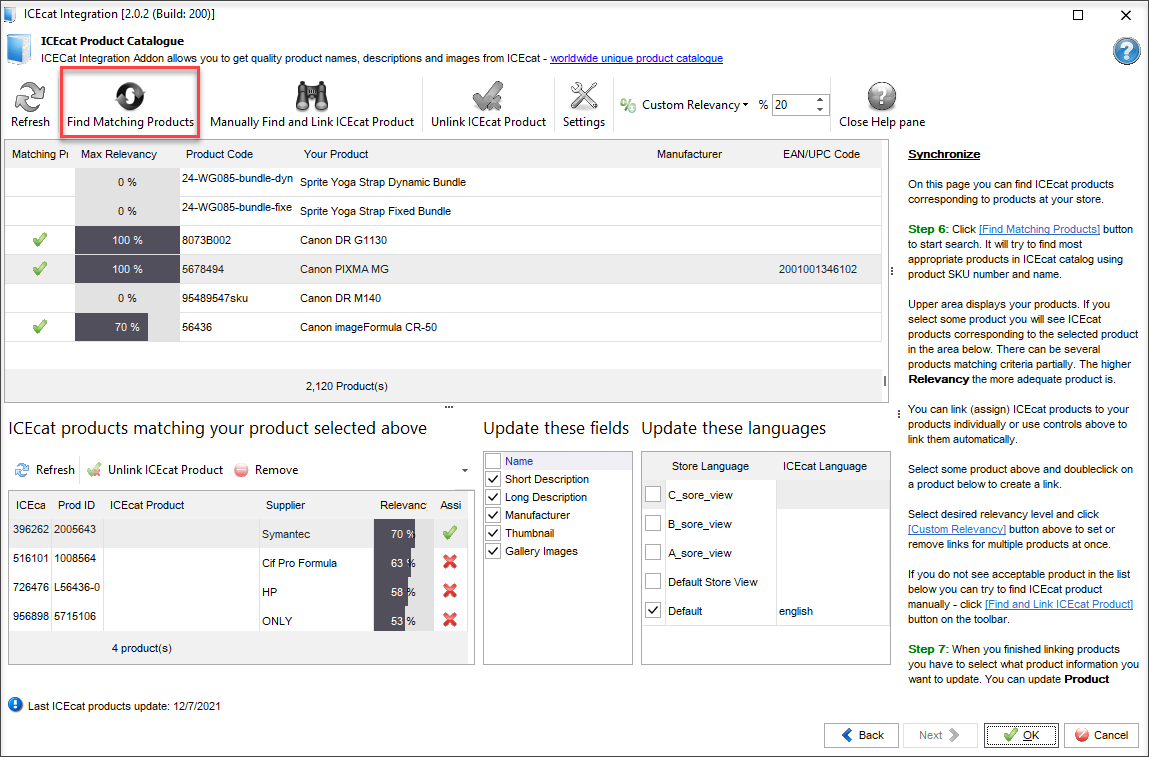 Moreover, various suppliers can provide different details. You can load specific descriptions, images and other details by manufacturer and apply the most relevant for you. These settings are available if you click on matching product and use buttons and tabs of lower grid.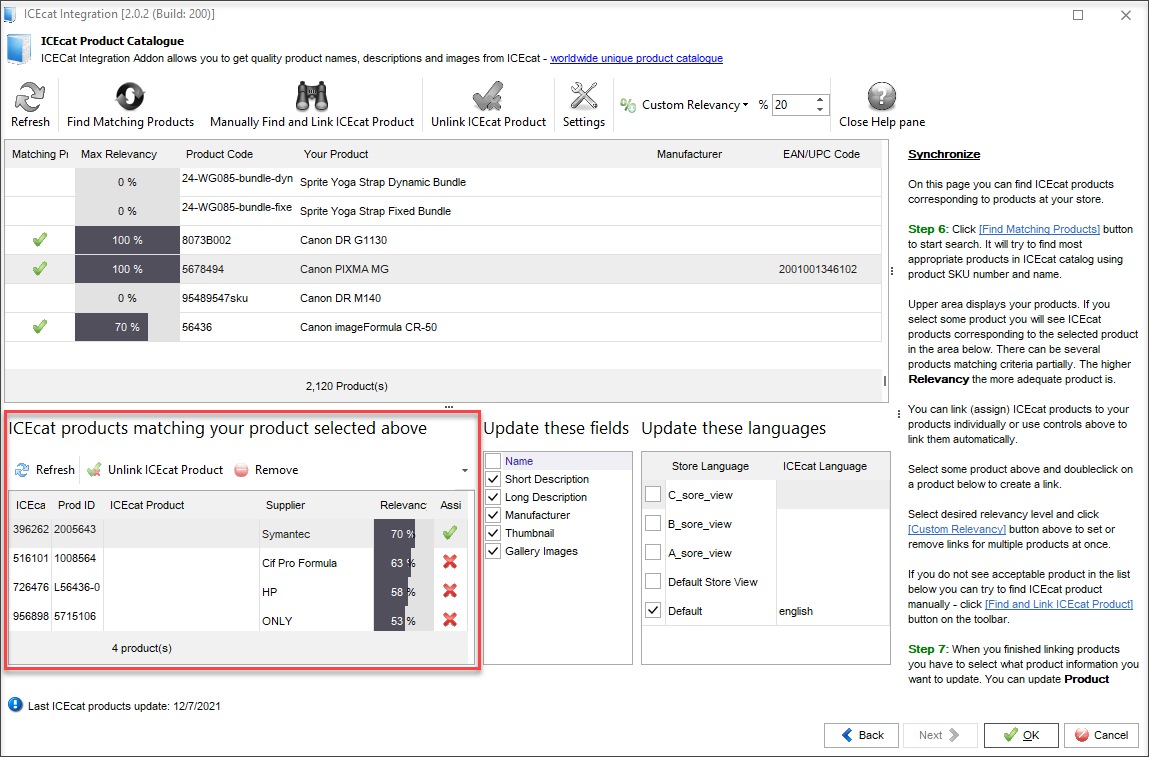 Enrich Certain Items with Details from IceCat
You might need this functionality in case you have added some new items to your shop which have not been updated using IceCat yet, so they can be amended individually without the need to load all the products once again.
Note: if you are performing update of products from IceCat for the very first time, please, follow steps 1-4 mentioned above. After IceCat database was retrieved and saved at your PC locally you can use it to update your products.
1) Select Magento goods
In Store Manager for Magento choose products you would like to update and right-click at any of selected items to call out context menu. From it select Addons -> Find IceCat Matching Products.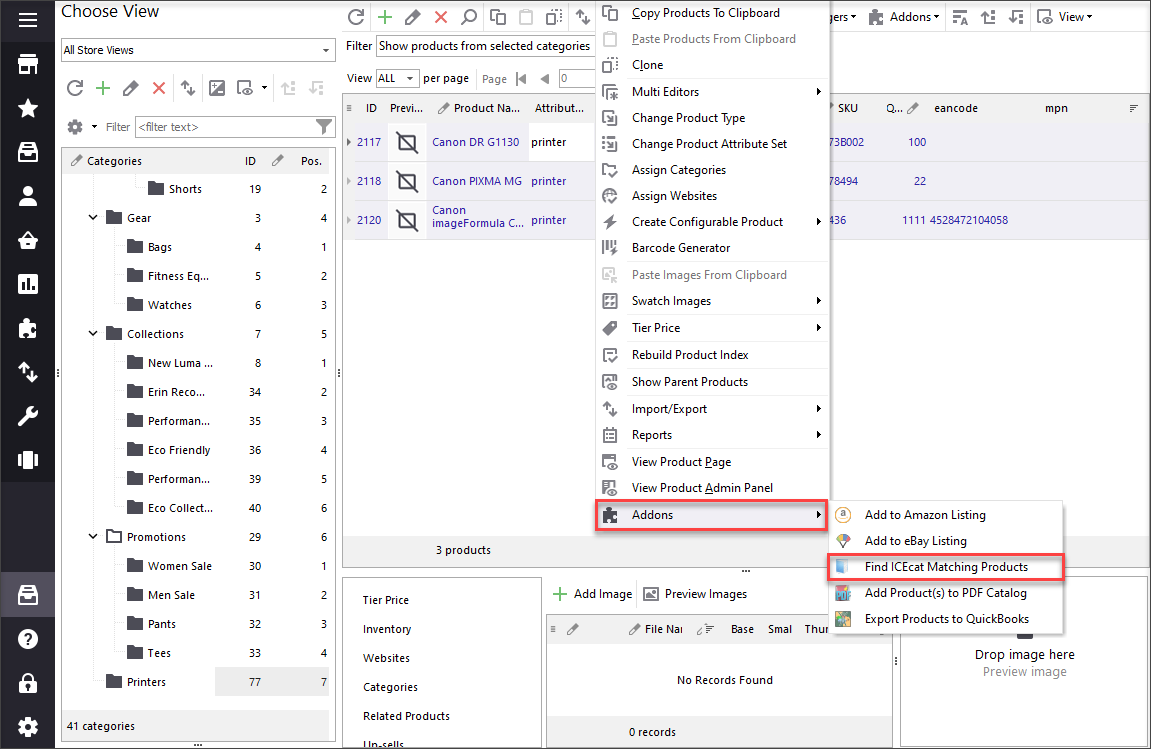 2) Find IceCat matching products
You will be directed right to the step when you can check if the same products can be found and mapped to the ones at IceCat. If the matches are not found you can find the option to check your settings at the same page.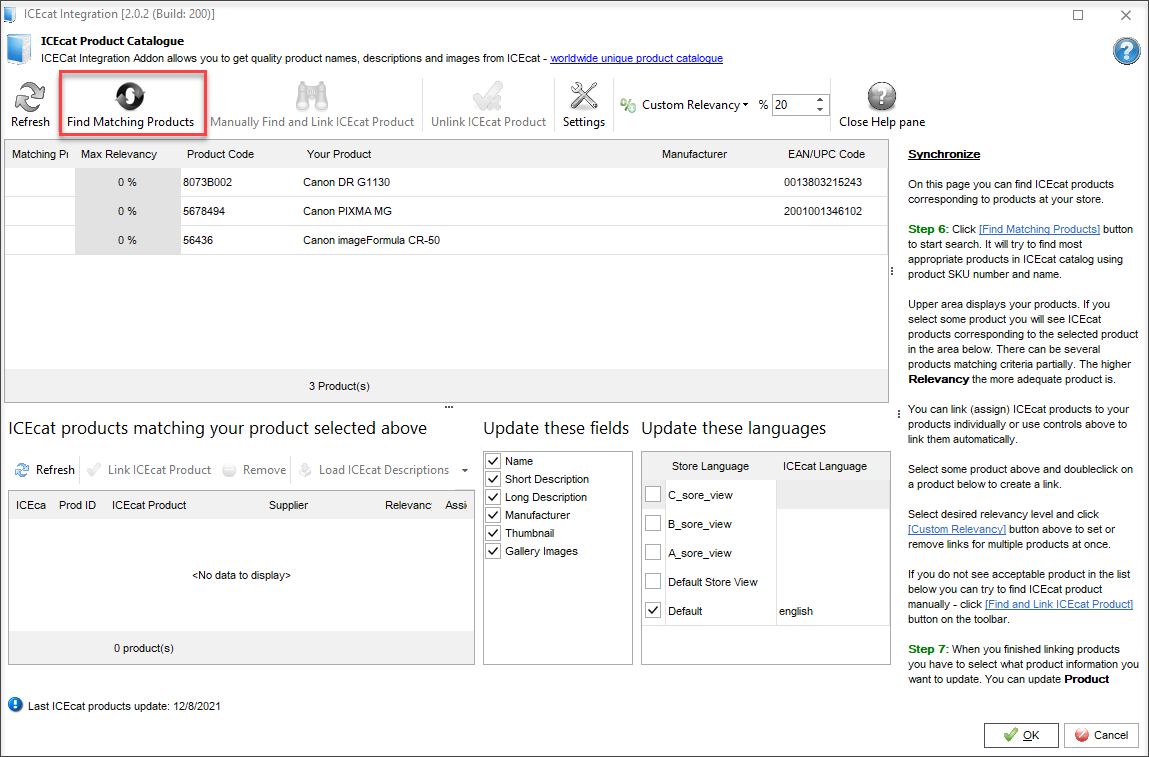 3) Select fields to be updated
If the matching items were found, again at this page you can view and load new products IceCat details and sync them with your Magento products.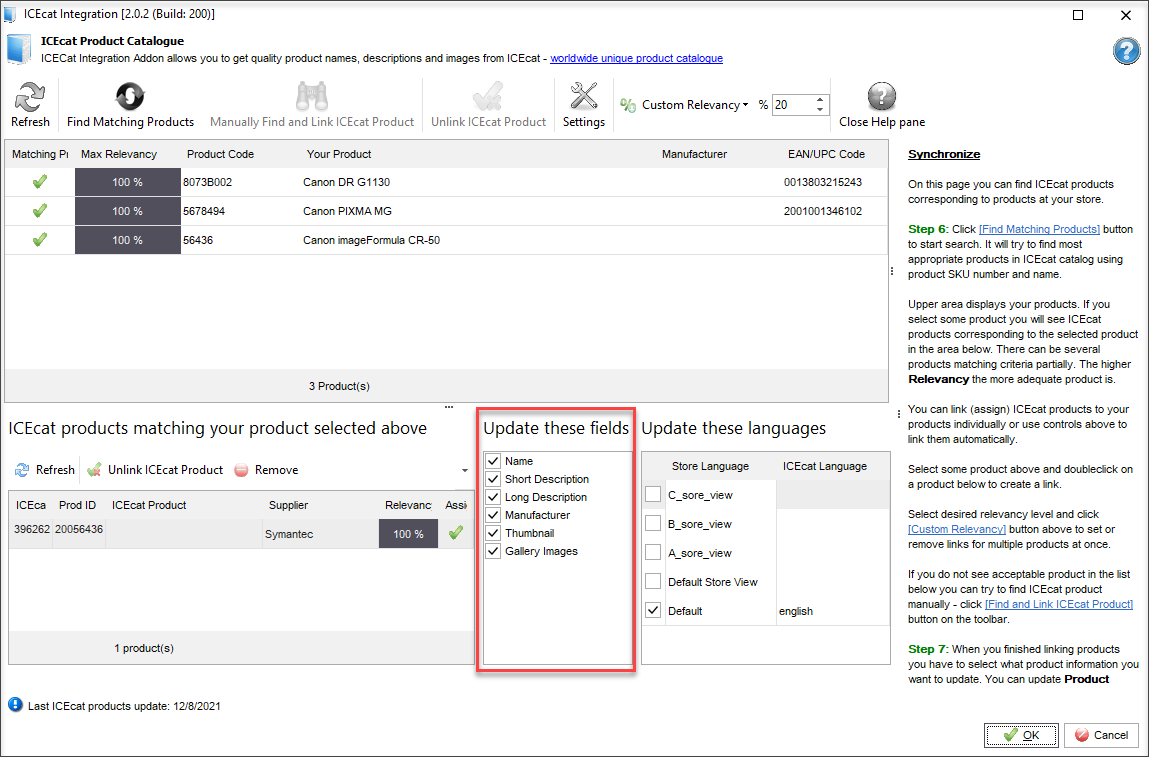 Results
Example of product before update with details from IceCat and after that:
| | |
| --- | --- |
| Magento – IceCat Integration | Magento – IceCat Integration |
If you cannot find matching products on IceCat, check the following:
Make sure that you have the data retrieved from IceCat (entire database)
[singlepic id=1602 w=900 float=сenter]

Check identifier code of your products that is used as source to find matching items. Check the examples of identifier fields settings described above.


If you have product code created as some specific custom attribute in your Magento, you need to use attribute code in the addon settings (again check above points).


Pay attention that Full IceCat plan has wider database than Open IceCat. Try to look for product at IceCat catalog. If you have found it, check if you have the same identifiers (product code, EAN/ UPC codes) for your Magento products and once again double-check the settings.


Contact us with screenshots of your settings and we will try to guide you in the right direction if you are facing the difficulties.
---
Want to enrich products with detailed and accurate data? Integrate your Magento with IceCat! Integrate Now!


Related Articles:
COMMENTS