Date: 07.22.2013Modified: 05.26.2023
Clone Magento custom options to assign them to multiple products
Magento custom options provide an easy way to offer a selection of product variations to your customer. These product options are good solution in case you manage mainly simple products and your inventory needs no strict tracking.
Adding custom option for a product is easy, but if you want to add the same custom option(s) for many products that you are having, it will take more time.
So if you need to add the same custom options to large number of products, you don't need to edit each of them, spending endless hours. With Store Manager for Magento you need to have products options set for one product and then you can copy them to other multiple products.
Store Manager allows to perform the task of assigning custom options to multiple products in 2 ways:
1) Copy/Paste Custom Options
Using this useful functionality you can copy custom options from one product and then paste them applying to other goods selected.
Let's see the example for better understanding of the process. Imagine that you have a product - jeans in different colors (for instance dark-blue, navy and black) and various sizes (S, M, L). The same size options you need to have for shorts, trousers and skirts you sell.
In this case, first of all, you go to the product where custom options are already set, go to the tab "Custom options" of lower grid select option(s) and press "Copy" button. In case there are no ready products options, you need to create them.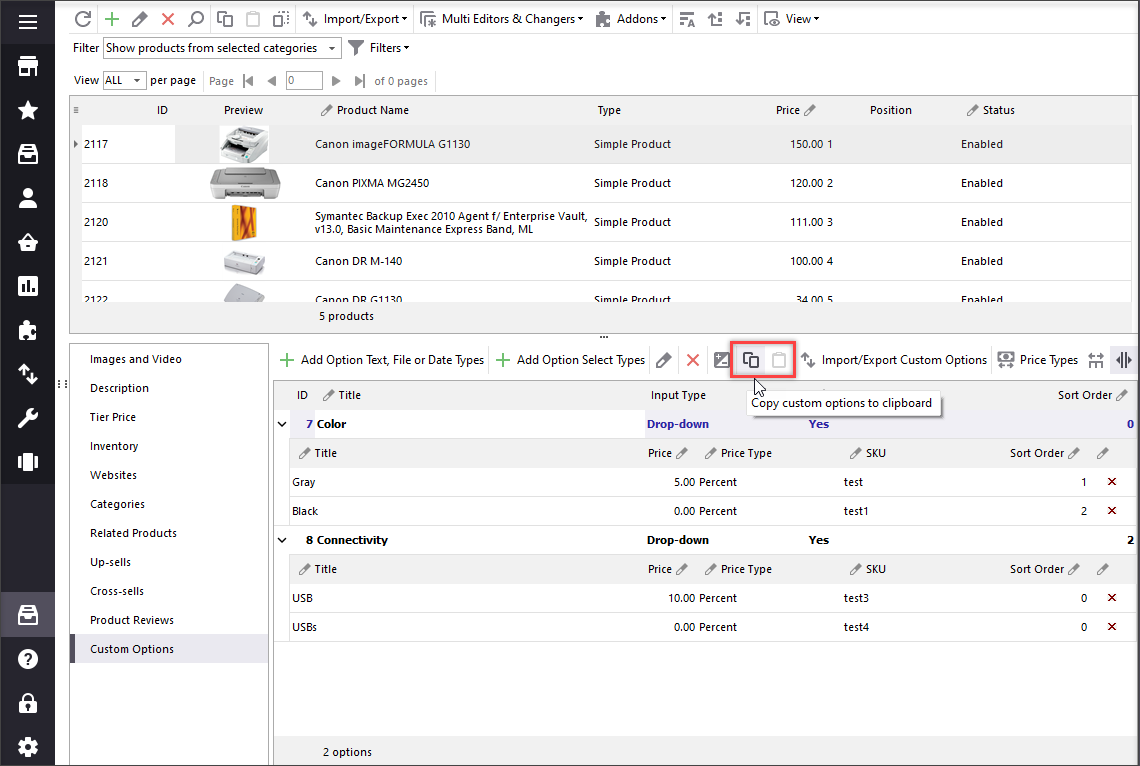 Next select or filter out the products to get the list of the items for which you need to have custom option of size with values S, M, L. It is possible by means of series of built-in and advanced custom filters Store Manager possesses.
The last step: after selecting the goods, open the tab "Custom options" of lower grid once again (for chosen entities) and press "Paste" button.
This way copied Magento custom options will be applied to selected products. Simple combination of copy/paste buttons allows you to avoid hours of routine work.
2) Import Custom Options
Alternative way of assigning custom options to multiple products is importing them. This method is good when you need to have multiple custom options applied to products.
You need to create custom options for one product, then export these product options, spread values for multiple products in the file and import it back bringing changes.
For the mentioned purposes in Store Manager there is separate wizard for import of custom options separately from other details. Comprehensive explanation on the process you may read here -
www.mag-manager.com/useful-articles/how-to/how-to-import-custom-options/
Store Manager is an optimal means for spotless Magento custom options handling. Replicate product options for multiple products either via import or through copy/paste operations. No matter of the way you select, you will definitely be the winner. Overlap the possibilities of Magento itself and do more within less time with Store Manager for Magento!
Clone Magento custom options with Store ManagerTry It Now!


Related Articles:
COMMENTS