Date: 12.03.2018Modified: 05.26.2023
How to create a printable Magento 2 PDF catalog without a designer
When you need to create a printable Magento 2 PDF catalog, it might take too much time to make it from scratch. But what if you could select some products from your Magento store, take one of the professionally designed templates, and create a Magento 2 PDF catalog on your own? Well, the solution is there.
With Store Manager for Magento and its built-in Magento PDF Catalog Creator addon, you can easily create and print Magento 2 PDF catalogs based on your store listings.
The addon offers a bunch of templates for different industries. The templates include title, index, and product pages. You can edit them by adding your logo, text, pictures, background, and other elements.
Store Manager is a downloadable application that presents Magento admin in a streamlined way and enhances the default functionality with tools for bulk edits, automated import/export, database backup, data generation, as well as an addon for PDF catalog creation.
If you don't have Store Manager yet, download a free trial and install it on your computer. Connect the application to your store database and enjoy the simplicity of your store administration.
Steps to Create Printable Magento 2 PDF Catalog
Launch Store Manager and follow the steps below to create a catalog based on your Magento listings.
Launch a PDF Catalog Creator Addon
In the left sidebar, navigate to Addons > PDF Catalog Creator: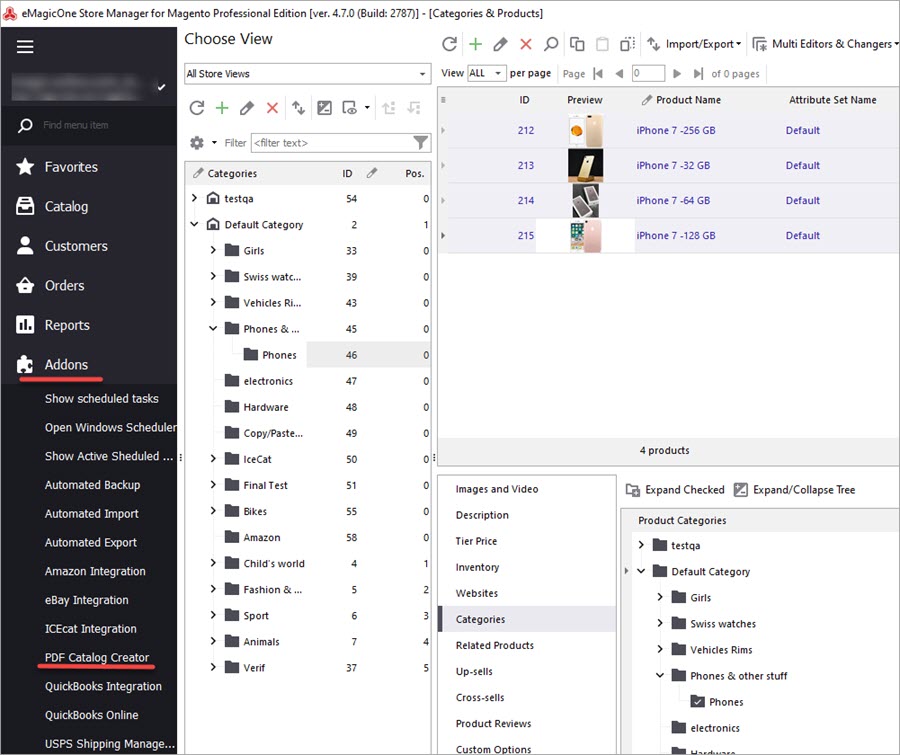 Launch the Catalog Wizard
In the addon's welcome window, click "Catalog Wizard" to launch the tool.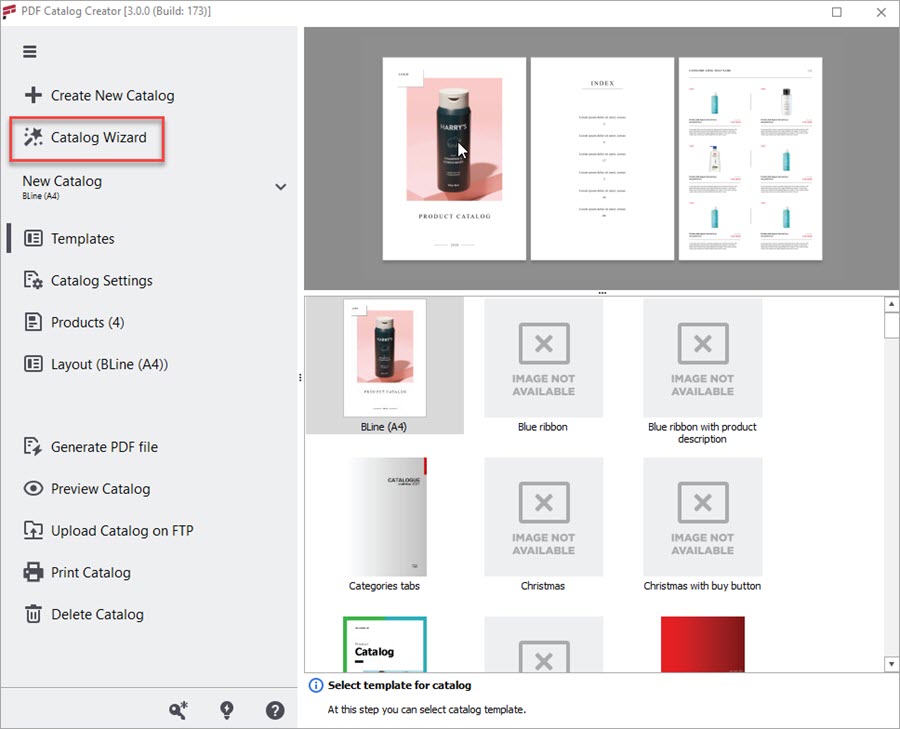 Select a Template
Browse the previews of available templates and pick the one that fits your product specifics: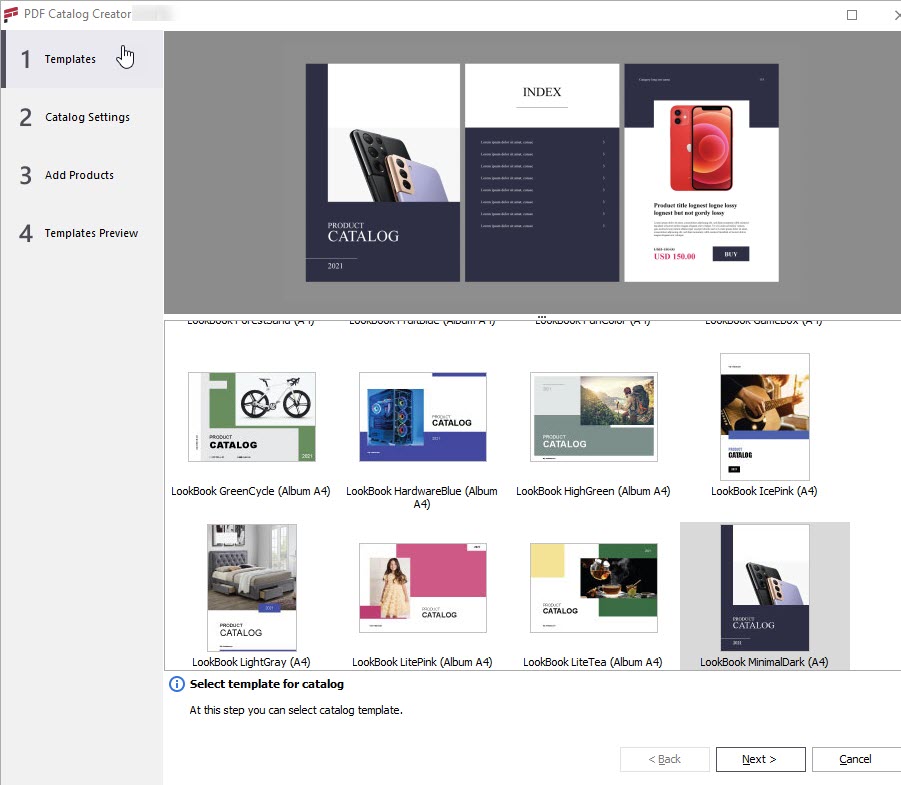 Configure the Catalog Settings
Fill in your store information to reflect it in the catalog: website address, phone, physical address, currency, and other details: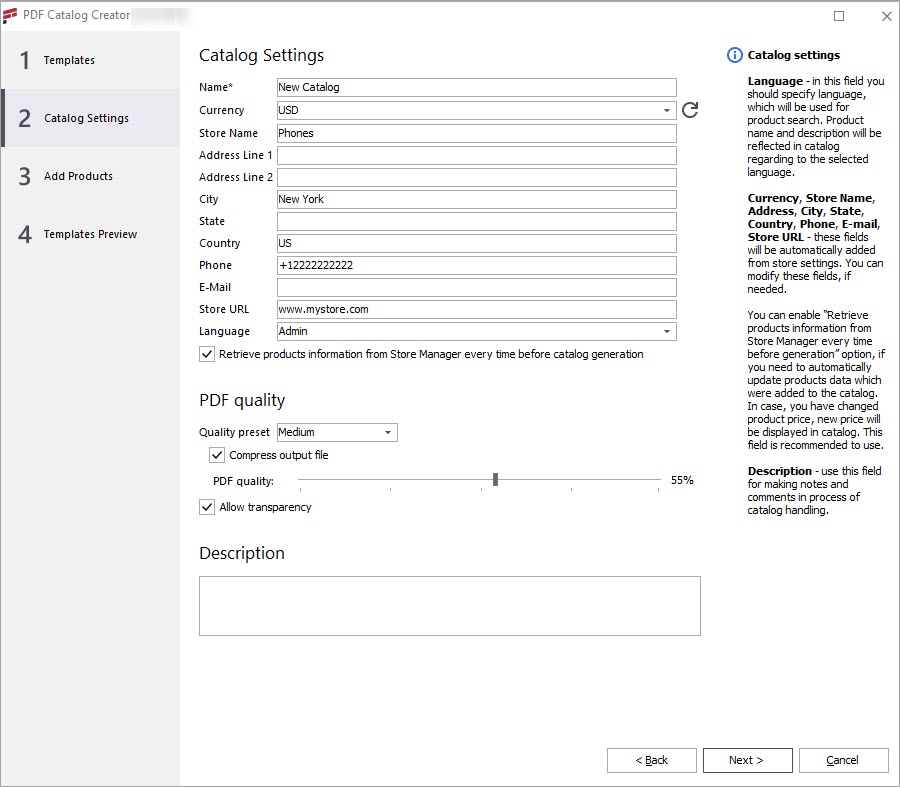 Add Products to the Catalog
You can add products by selecting specific categories. If you check several categories, they will be reflected on the 'Index' page as chapters.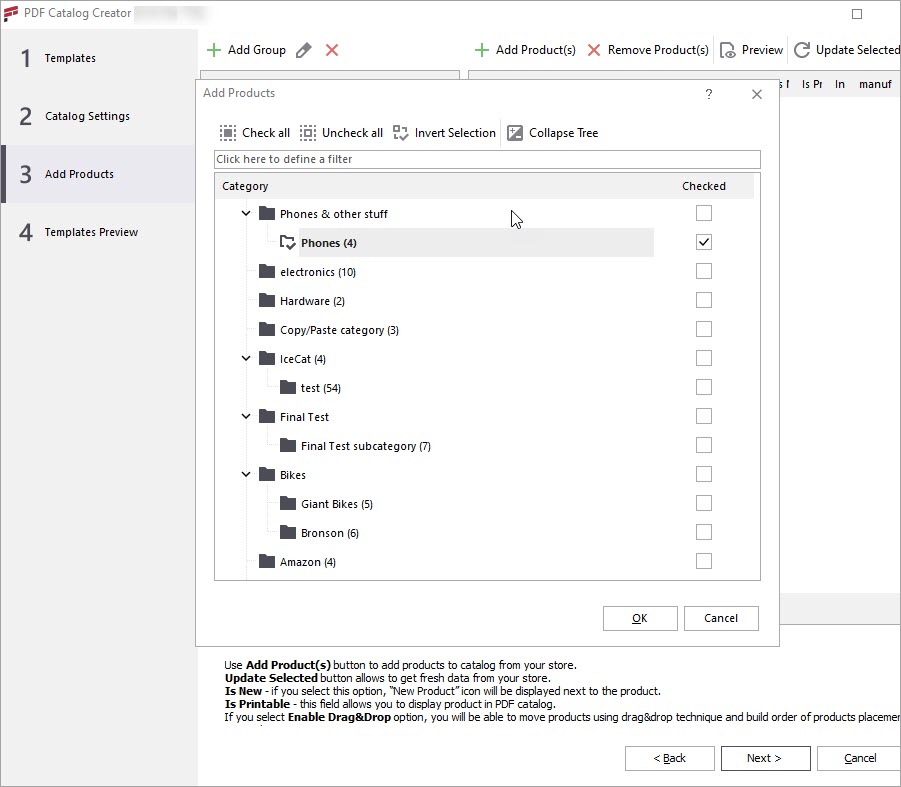 Preview the products you've selected. If you don't want to show certain products in the catalog, uncheck the option "Is Printable".
If you check the option "Is New", these products will have a corresponding label in the catalog.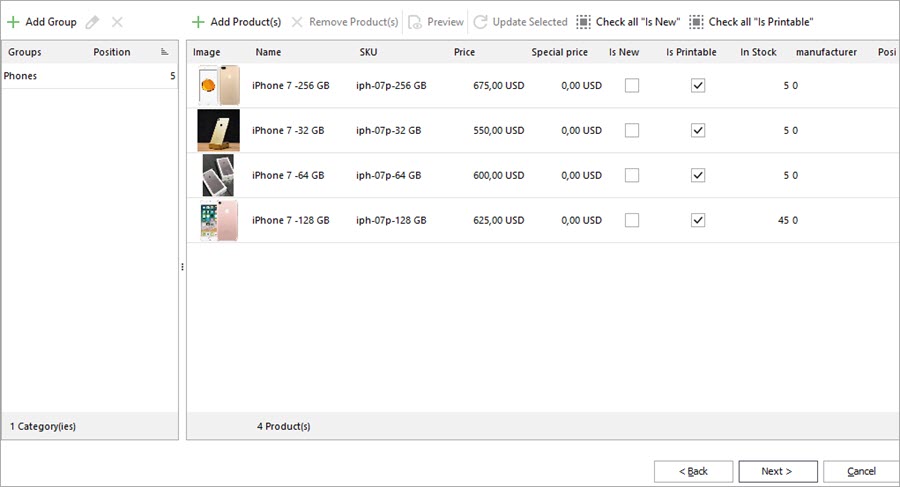 Preview the Catalog
A catalog template includes three pages: a Title, Index, and Product page. Click the tabs to preview the contents of each page.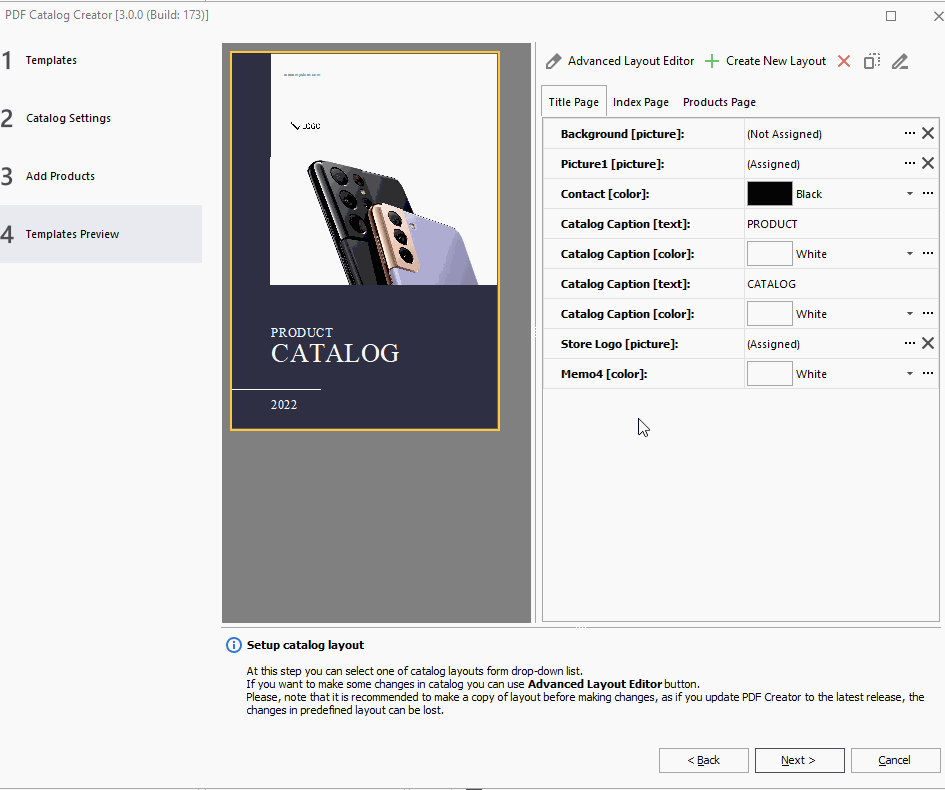 When you click a Title, Index, or Product Page tab, you can see a list of editable fields below.
Depending on the layout, you can:
Change the background picture.
Change contact information color.
Upload your store logo (as a picture).
Change catalog caption (text).
Select catalog caption (color).
When you've finished editing the catalog, you can print it out immediately or save it as a PDF: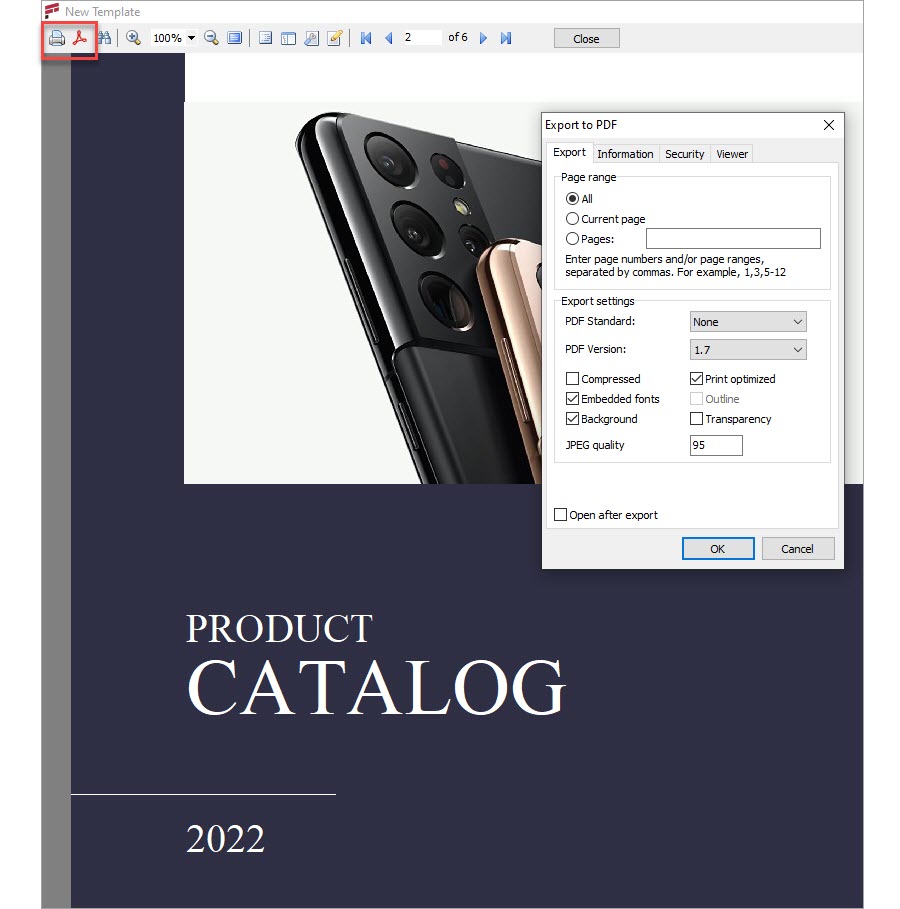 Advanced Tools for Creating a PDF Catalog
You might need to change the default layout of the template, for instance, change a currency sign. Here is how you do this:
Open the template and switch to the Advanced mode.
Switch to the Product tab. Click on the "Product" label inside the brackets. In the dialog window, delete the lower row.
Add the required currency sign before the upper line. Click OK and save the template.
Starting with Store Manager v.3.31.0.2459 (PDF Catalog Creator version 1.5.0.157), it is possible to use custom SQL scripts to select additional Magento product attributes to display them in a catalog.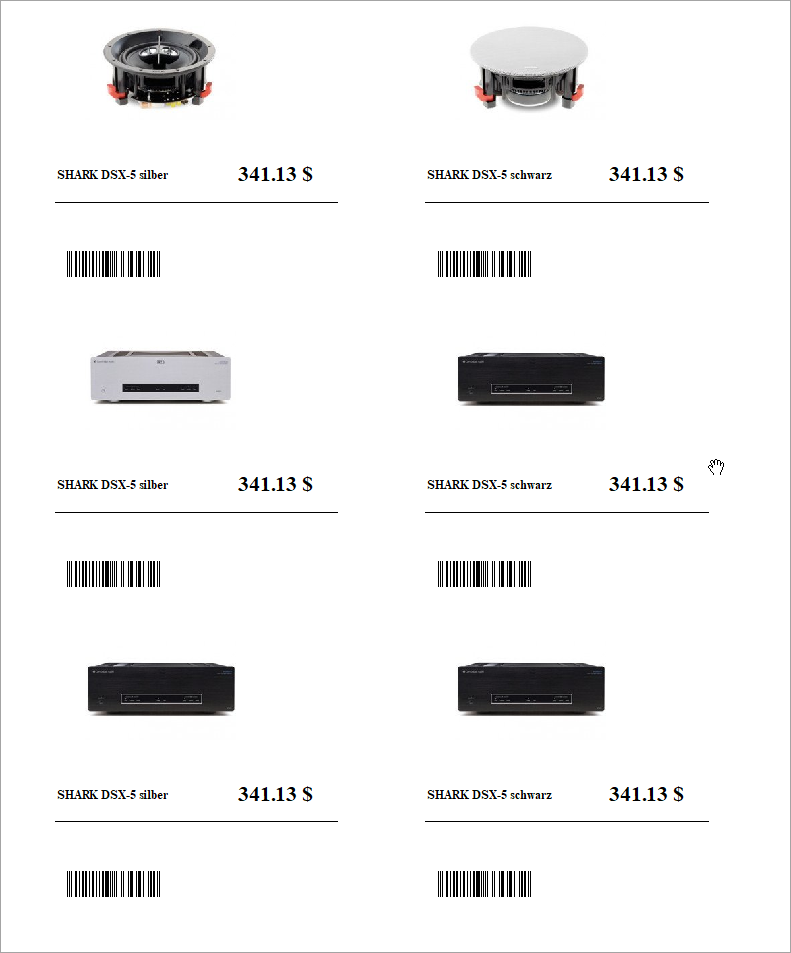 This kind of customization can be performed by our tech engineers. If you need to add some fields or edit the layout, please contact us for detailed information.
Try the PDF Creator addon to create and print a catalog for your Magento 2 store. Create professionally-looking marketing materials yourself!
Create Printable Magento 2 PDF Catalog without a designer! Try FREE!
---
COMMENTS