Date: 01.12.2018Modified: 11.02.2021
Magento 2 backup/restore via Store Manager
When rearranging or altering your online store by uploading or updating some data, it is essential to ensure these processes are maintained in a secure way. Some global transformations may damage the whole database of your store, and you will not be able to get its previous version back. Store Manager for Magento provides you with a possibility to backup/restore your Magento 2 database by copying all the data and saving it to file.
Use this article to leran how to backup Magento database and schedule an automatic backup.
In order to begin the backup, find Database Backup/Restore Wizard in the Tools tab on the main toolbar and start it up.
Important! To avoid issues with the database, we strongly recommend using Direct connection to make the backup/restore.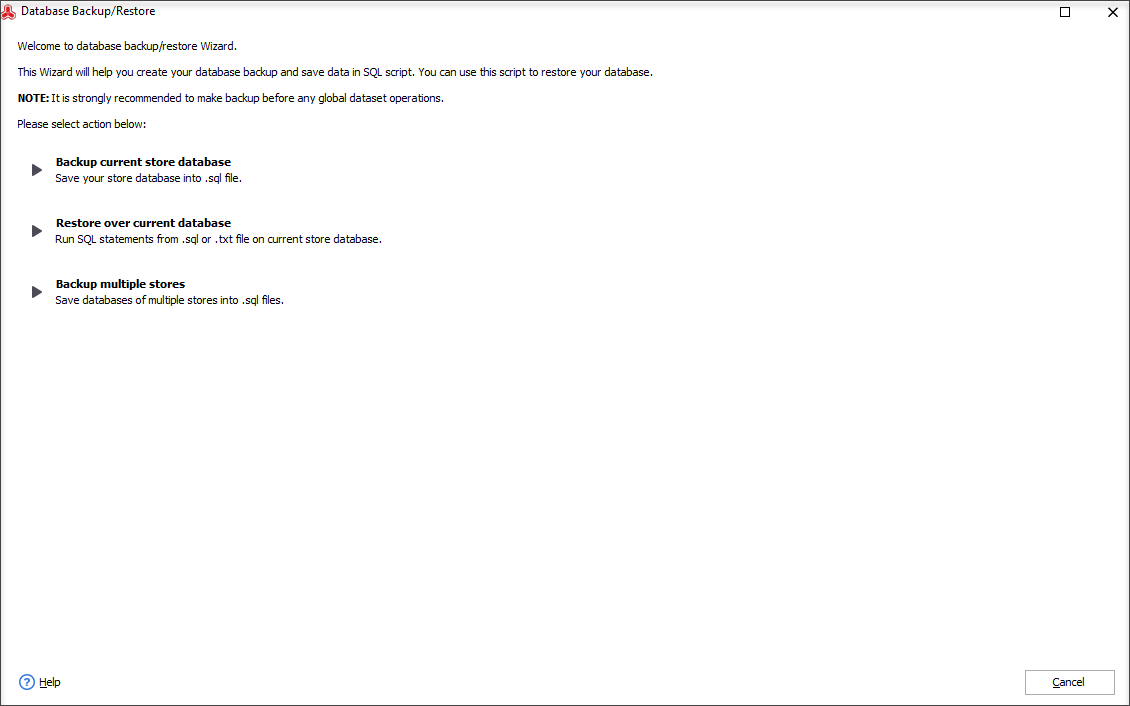 Select the necessary action to be performed:
Backup current store database;
Restore over current store database;
Backup multiple stores.
Let's check each of these processes.
Magento 2 Backup
To start the backup, select the place to save the information to. If you have already performed the backup earlier, you can use saved configuration.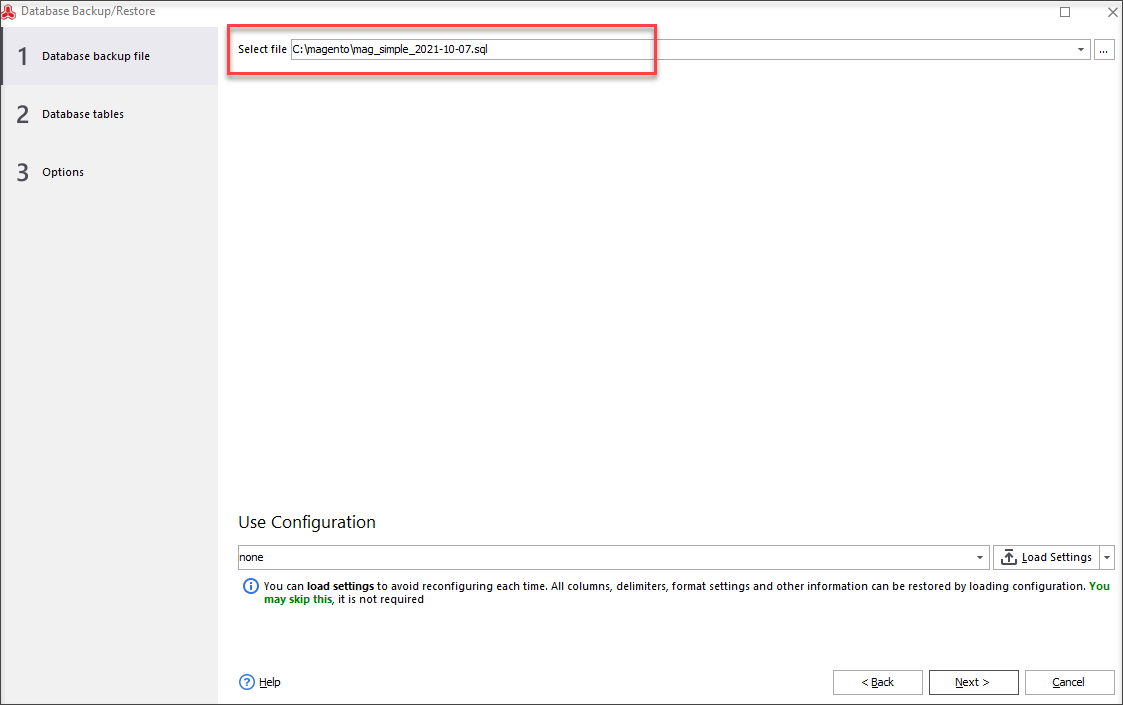 After that specify what tables you want to backup. There are options allowing you to select all tables, clear the selections, invert the selections or make a preset: select products related tables or select customers related products.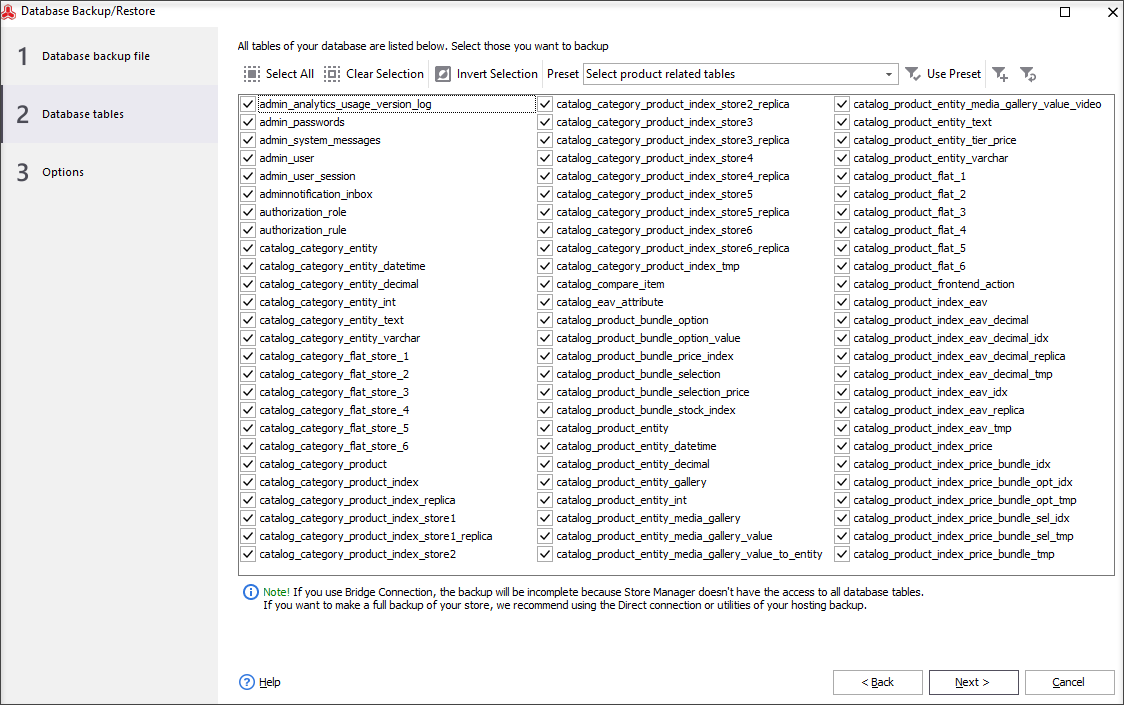 Tick the indicated boxes if you want to backup only database structure (not data itself) or backup the files.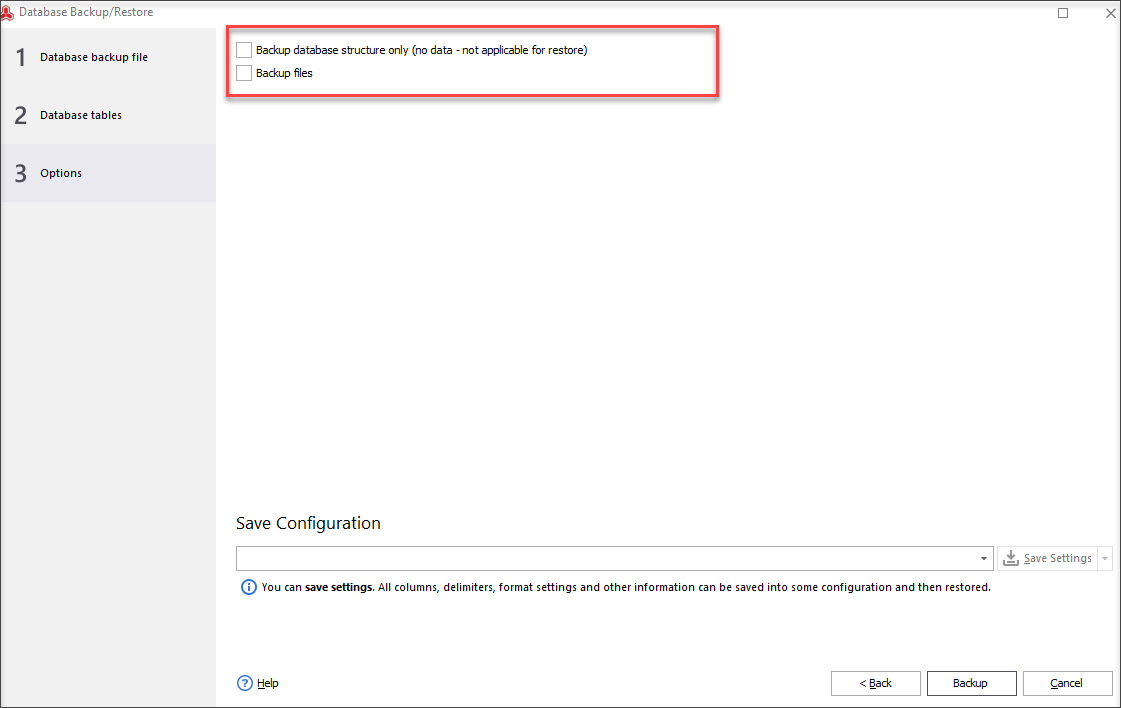 To finish the process, press Backup and view the results.
Magento 2 Restore
Select the file to restore data from and specify file charsets. If you have a saved configuration, you can load it.
Press Next to preview the script, that is going to be executed by the wizard.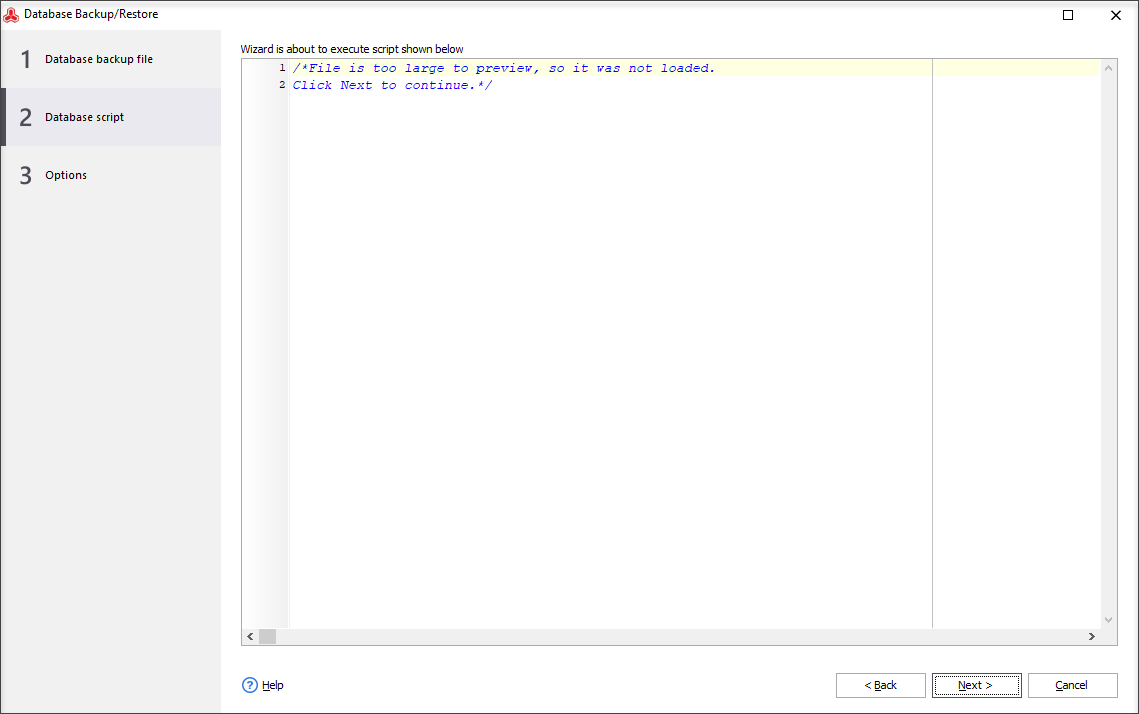 On the last stage of restoring you can force clear database before executing the process and restore the files (the data). To do so, tick the boxes next to these actions.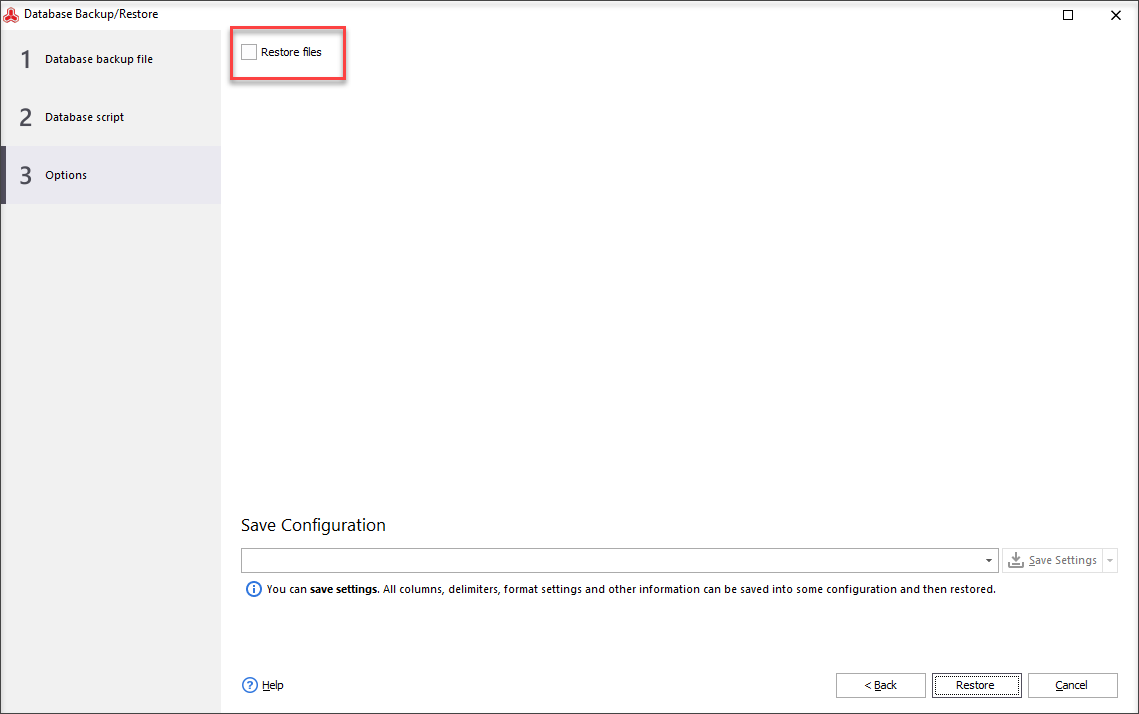 Press Restore and have your data restored.
Automated Magento 2 Backup
Magento Store Manager foresaw the tediousness and impracticality of making backups manually each time. It delivers you an opportunity to arrange an automated backup which will be executed according to preset time and using specific configuration.
In order to set an automated backup, you have to create a configuration or change the existing one first. You can proceed with this task by going to the Automated Backup window in the Addons section. To save new settings, simply press Save at the last stage of their creation or modifying.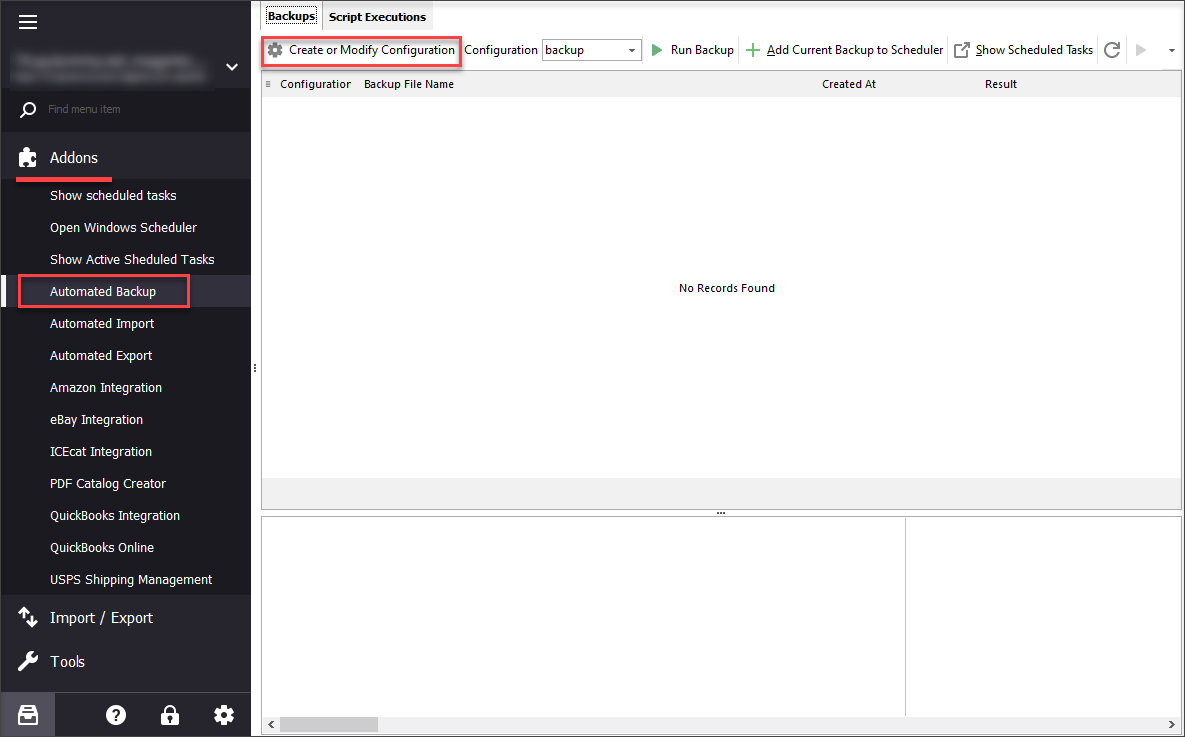 After that add current backup to scheduler and set the tasks of when and how often the automated backup must be performed. If you want to receive e-mail notifications when the task is done, tick the corresponding box and specify your e-mail. Press OK to save the timeline.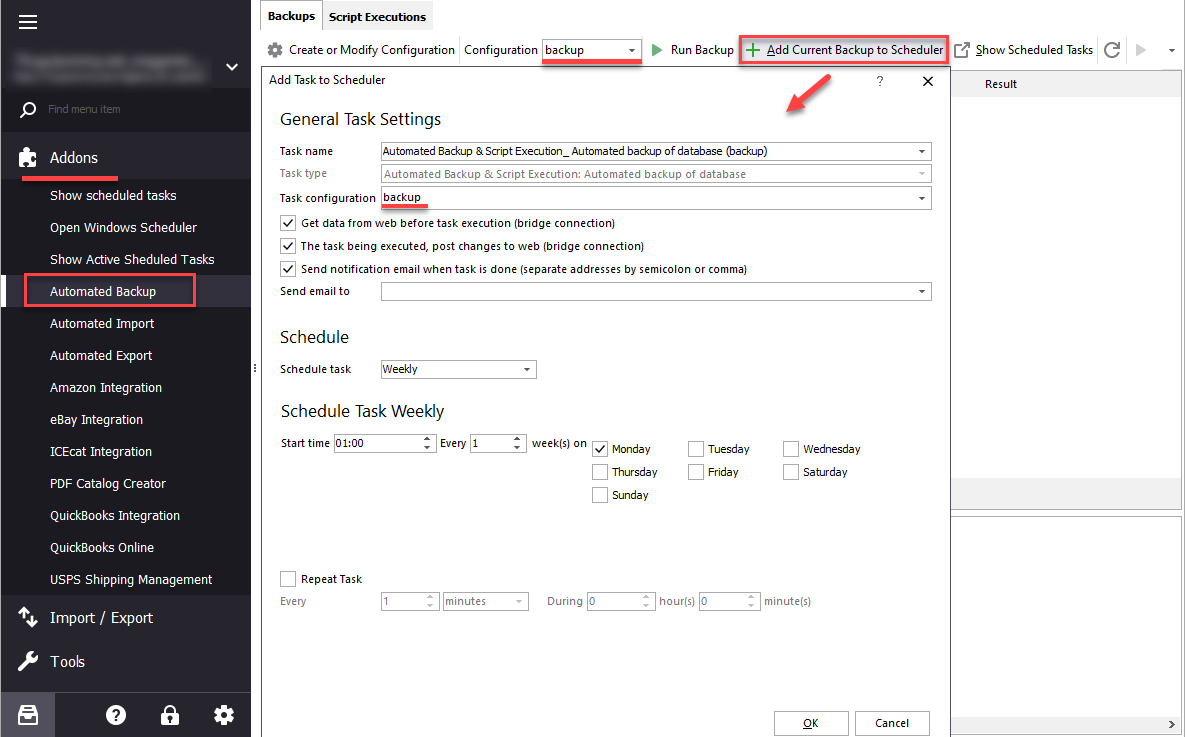 If you want to avoid spending hours rebuilding your Magento 2 database, security must become an integral part of your store management. Entrust this highly important task to Store Manager and forget about the fear of losing or damaging your data.
---
Backup and restore Magento 2 database with Store Manager for Magento
Try Now


Related Articles:
---
COMMENTS