Date: 08.28.2018Modified: 02.06.2023
Magento 2 product reviews
Product reviews and ratings are the main source of feedback about a product usually searched for by shoppers before making a purchase. A high product rating is often a decisive factor in attracting customers to visit your site.
Naturally, the more reviews you have, the more users will visit your site for recommendations or a piece of advice.
Why Are Online Reviews Good For SEO?
Apart from being very useful for shoppers, product reviews are also a perfect way to boost your SEO by filling your pages with user-generated content which is constantly updated. Search engines prefer pages often visited by customers, so by enabling online reviews for your Magento 2, you increase chances to optimize your SEO in a great way.
Product reviews are also great long-tail keywords generators. You can study your product commentaries to find low-competition keywords and furtherly use them on your site, in order to attract more customers.
How to Enable Magento 2 Product Reviews?
From Magento 2 admin panel go to 'Stores' => 'Settings' => 'Configuration' => 'Catalog' => 'Catalog'.
Expand 'Product Reviews' settings, uncheck 'Use system value' option and set 'Allow Guests to Write Reviews' to 'Yes'.



Magento 2 Product Reviews




When you got product reviews activated, you need to know how to approve them or reject them:

Go to 'Marketing' => 'User Content' => 'Reviews'
Find newly added review and tap 'Edit'. Here you can manage a review by setting its status as Approved, Pending or Not Approved or by changing its text if it contains advertisements.



Magento 2 Product Reviews



Press 'Save Review'.
How to Enable Product Ratings?
Move to 'Stores' => 'Attributes' => 'Rating'
Press 'Add New Rating' and fill the required information.



Magento 2 Product Reviews



Select Magento 2 store view where you want product ratings to be enabled.
Specify Sort order (the number will determine the priority of the rating among the other ratings where '0' means the highest priority). Tap 'Save Rating'.
How to Manage Magento Product Reviews via Store Manager?
Open 'Categories & Products' section and click on the product whose reviews you want to moderate.
Open 'Product reviews' tab from the product edit grid.

In order to add, edit or delete a review, press the corresponding button. The edit form allows you to modify the review status, store view visibility, the author's nickname and the review summary.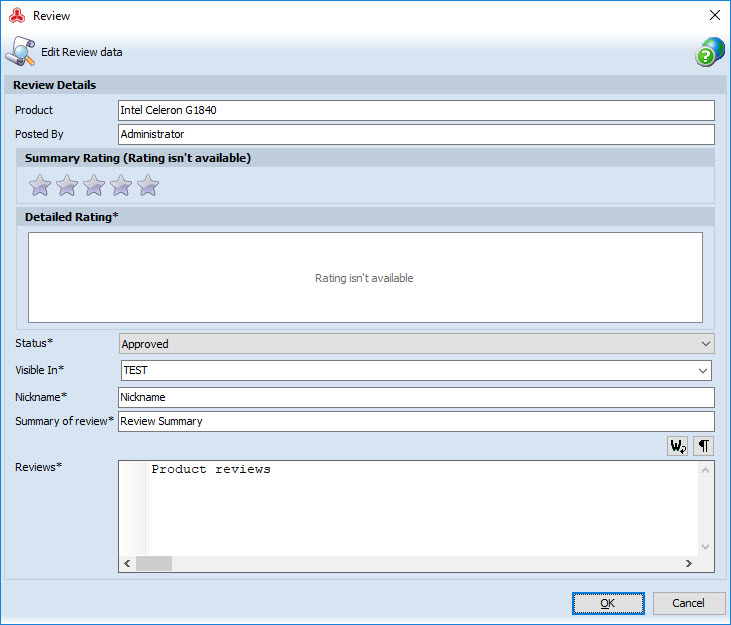 Conclusions
As you can see, product reviews and ratings are helpful for both shoppers and your SEO. Fresh user-generated content filled with well-directed keywords can boost your SEO and bring many more customers to your site.
Magento 2 admin allows to easily activate and moderate product reviews and ratings, so it is possible to contribute to your Magento 2 SEO optimization in a few clicks.


Related Articles:
COMMENTS